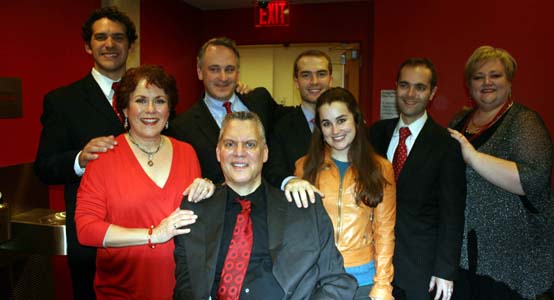 photo by Bruce-Michael Gelbert
"AGoyisheChristmas" front row (left to right) Judy Kaye, Steven Blier & Lauren Worsham; back row (left to right) Joshua Jeremiah, Alan Kay, John Brancy, Joshua Breitzer & Stephanie Blythe

.......................................................................................................................................................................................
When the New York Festival of Song's (NYFOS) endlessly inventive, stunningly gifted Artistic Director Steven Blier came up with the idea of presenting NYFOS' first Christmas concert ever, it had, as expected, a twist: that all the composers and lyricists, whose work was represented, were known to have been or, in one case, thought to have been, Jewish. The resulting, ebullient program, cheerfully billed as "A Goyishe Christmas to You!—Yuletide Classics by Jewish Songwriters"—was presented on November 29 and December 1, at Merkin Concert Hall, and Q on Stage was present on the later date. Blier was at the Steinway and his exceptional and diverse company of performers, hailing from opera and theater, the concert hall and the synagogue, consisted of singers Stephanie Blythe, Judy Kaye, Lauren Worsham, Joshua Breitzer, John Brancy, and Joshua Jeremiah, and clarinetist Alan Kay.
Blier, Jeremiah, and Kaye began blithely with Howard Levitsky and Marc Miller's ecumenical number, "Candle in My Window (God Bless the Christmas Jews)," about being Jewish and lusting after Yuletide Cheer, instead of "dreary"—the song's word—Chanukah tradition, but, in a verse sung with Yiddish accents, acknowledging misgivings about such a "shondeh" (sin)! With Blier pointing up the piece's intrinsic haymishness, baritone Brancy caressed lines of Walter Kent and "Kim" Gannon's "I'll Be Home for Christmas," tugging the heartstrings with the World War Two-era song. In Frank Loesser's seduction duet, "Baby, It's Cold Outside," baritone Jeremiah refuted soprano Worsham's reluctance—feigned?—to remain with a gently persuasive reminder about the icy weather that would await, were she to leave.
Blier noted that Jay Livingston and Ray Evans' "Silver Bells" reflects the outsider's sad viewpoint, and Kaye sang it simply and aptly wistfully. In "I'm Naïve," from Jule Styne and Bob Merrill's "campy" musical-for-television, "The Dangerous Christmas of Red Riding Hood," which starred Liza Minnelli (Little Red Riding Hood), Cyril Ritchard (the wolf), Vic Damone (the woodsman), and the Animals, Worsham conveyed the protagonist's conflicted state: having just gotten her first kiss, from the woodsman, she's apprehensive, but she's excited. Ervin Drake's "What Makes Santa Run," taking off from his musical "What Makes Sammy Run?," has as its premise, Blier told us, "What if Santa Claus went into psychoanalysis?"—with Sigmund Freud! Jeremiah played the humorless father of analysis, wondering about his client, "Why does he dress so loud?," with wry commentary coming from Kay's clarinet. Blythe achieved a suitable balance between swinging and unleashing her full Metropolitan Opera mezzo-soprano, in Styne and Sammy Cahn's "Let It Snow," and with Blier's moody bit of "Jingle Bells" as a prelude, lavished full feeling and immaculate vocalism on Mel Tormé and Bob Wells' "Christmas Song"—"Chestnuts Roasting on an Open Fire." As Blythe stopped the show with her pair of solos, so did tenor and cantor Breitzer with his Yiddish-language "Rudolph the Red-Nosed Reindeer," in an arrangement of Johnny Marks' song by klezmer group Kugelplex, Breitzer's fraylach 'scatting' abetted by Kay's clarinet's wailing.
Backed by Breitzer, Brancy, and Jeremiah, Worsham vamped, purred, and wheedled, in Eartha Kitt's Christmas classic "Santa Baby," written by Joan Javits, Philip Springer, and Fred Ebb. Felix Bernard and Richard B. Smith's "Winter Wonderland" became, not illogically, a same-sex lovers' song, with Brancy and Jeremiah sweetly harmonizing, assisted by Kay—there might have been a bit of dance break, too, had not the guys' feigned quarreling about who would lead! Blier sat out the last song in this playful group, while Worsham, with Breitzer on guitar as well as singing, proffered a lilting Roy Zimmerman plea, "Don't Let Gramma Cook Christmas Dinner," as Gramma's fare is a little heavy, to say the least.
Adolphe Adam might have been Jewish—maybe—so his "O Holy Night"/"O Nuit Chrétien," with poem by Placide Cappeau, translated by John Sullivan, was included, with Brancy delivering a beautiful, bilingual, and classically sculpted account of it. Kaye, in contrast, aired a not so modest "My Simple Christmas Wish," by cabaret's David Friedman: merely to "be rich, famous and powerful," while putting a minimal amount of effort into achieving it. Irving Berlin's "White Christmas" concluded the concert, with the ensemble singing solos and duos to begin it, then joining together for an a cappella vocalise, and harmonizing on the final line—just breathtaking! Blier and Kay rejoined the classy sextet of singers for their rollicking encore, "Rocking Around the Christmas Tree."
Join NYFOS at the Juilliard School on January 18, 2012 at 8 p.m. for "Invitation to the Dance," with Blier, Associate Artistic Director Michael Barrett, and Juilliard students performing songs about and with dance, by Respighi, Brahms, Sellars, Hahn, Rodgers, Gershwin, Warren, Youmans, and others, and at Merkin on February 14 and 16 at 8 p.m. for "A Modern Person's Guide to Hooking Up and Breaking Up," with Anne-Carolyn Bird, Liza Forrester, Alex Mansoori, and Jesse Blumberg, in music by Berlin, Sondheim, the Bobs, Bolcom, Coward, and Kleban, and on March 13 at 8 p.m. for "New York to Paris, Paris to Paradise: New Yorkers and Parisians at Home and Traveling the World," with Blier and Barrett on piano, and Caramoor's 2012 Vocal Rising Stars singing songs by Rorem, Trenet, Milhaud, Roussel, Gershwin and others. In "Over the Rainbow," its spring gala at Weill Recital Hall on April 2, at 7 p.m., NYFOS celebrates the music of Harold Arlen, and singers Laquita Mitchell, Mary Testa, Jason Danieley, Darius de Haas, and Bucky Pizzarelli are expected. On April 24, at 7 p.m. as part of its NYFOS Next series, at Mary Flagler Cary Hall at the DiMenna Center for Classical Music, the festival welcomes composer Russell Platt and friends. Visit http://www.nyfos.org for further information.