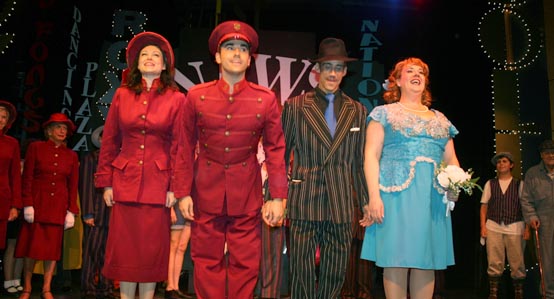 photo by Bruce-Michael Gelbert

Amanda Ferguson, Charlie Logan, Michael Francis Stromar & Cynthia Murray-Davis'curtain-call


.......................................................................................................................................................................................
With the 10th anniversary of 9/11 just around the corner, what better way to salute the indomitable spirit of our beloved New York, New York than with Frank Loesser—and Jo Swerling and Abe Burrows'—paean, after Damon Runyon's stories, to a Big Apple where the colorful underworld can meet the preaching elite, "Guys and Dolls," the Fire Island Pines Arts Project's (FIPAP) Labor Day weekend offering, pulled together in short order, due to Hurricane Irene's interruption of rehearsal time, but still quite polished. Kudos go to Music Director Eric Martin; Director and Set Designer Glen Weilgus; Choreographer Joe Barros; and Co-producers Steven Alan Black and Michael Savino for coordinating this amazing effort.
How many memorable standards this score has given us, starting with the shady gambling guys' "Fugue for Tinhorns" and "Oldest Established Permanent Floating Crap Game in New York," and later "Luck Be a Lady," sung with flair by James Duus, Steven Alan Black, Lou Bullock, Michael Francis Stromar—as Nathan Detroit—and Charlie Logan—as Sky Masterson—and company. The two leading pairs—unlikely lovers Masterson, devout master gambler, dashingly depicted played by Charlie Logan, and Sarah Brown, the missionary devoted to saving souls, sung in a sweet soprano by Amanda Ferguson, and more clearly well-matched ones Detroit, inveterate organizer of the crap games, played by Stromar, and Miss Adelaide, star showgirl at a not very classy joint, developing "psychosomatic symptoms" from a 14-year-long engagement, endearingly portrayed by Cynthia Murray-Davis—made highlights of Sarah and Sky's romantic "I'll Know" and "I've Never Been in Love Before" and Adelaide and Nathan's comic "Sue Me." Ferguson and Murray-davis' duet "Marry the Man Today," convincing themselves and each other to accept their flawed mates as they are--and change them later--merits mention as well.
Murray-Davis' Adelaide, particularly well-rounded, shared, at first, the riotous version of her familiar "Lament" and then, in the reprise, brought out all the pathos and bitterness, and stopped the show with her two burlesque production numbers, "Bushel and a Peck" and "Take Back Your Mink," assisted, in a piquantly Pines twist, not by "dolls," but by a quartet of hunky male dancers, David Ballard, Robert Conte, Erik Magnus, and Stephen Simowski. Duus, too, proved no slouch at scene-stealing, with "Sit Down, You're Rocking the Boat," with the rest of the company, and title song "Guys and Dolls," with Black.
Veterans Bob "Rose" Levine, as the Salvation Army-like Save-A-Soul Mission's General Rose Cartwright, leading the big-time sinners in a hymn; Rita and Jack Lichtenstein; and Mike Hartstein, as Sarah's grandfather, encouraging her to follow her heart, made valuable contributions, as did John Cassese as one of the big-time lowlifes; Demetrios Sengos, as the cop who's after them; and Lise Zinn, Britton Saffer, and Molly Grob, who completed the cast.