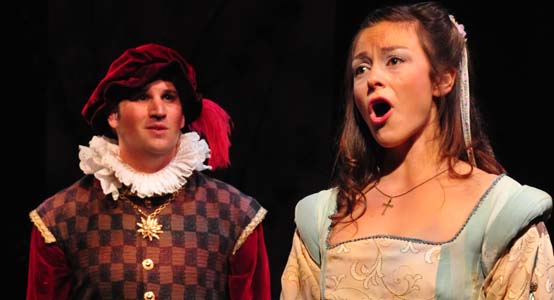 photo by James Martindale

Alex Richardson as Vaudemont & Corinne Winters as Iolanta

.......................................................................................................................................................................................
Dicapo Opera Theatre's December offering, knowingly guided by conductor Pacien Mazzagatti and director Michael Capasso, is Pyotr Ilyich Tchaikovsky's rarely performed final romantic opera, "Iolanta," with libretto by Modest Tchaikovsky, the composer's brother, written as a companion piece to "The Nutcracker" and given its premiere on the same day as the ballet. The one-act opera concerns the eponymous French Princess, blind from birth, but never told about her difference, who miraculously gains sight, light, and love. The opera is sung in Russian and there are English-language titles.
Heading the high-level company, as Iolanta, and displaying a particularly strong lyric soprano, is Corinne Winters. Lyric tenor Alex Richardson is her love, Count Vaudemont, a Burgundian knight. Protective of her are bass-baritone Seth Mease Carico, as her father, King René of Provence; mezzo-soprano Rachel Selan and bass Ryan Allen, as Marta, her nurse, and Bertrand, the gatekeeper and Marta's spouse; and soprano Roza Tulyaganova and mezzo Donna Breitzer, as her friends Brigitta and Laura. Gustavo Feulien lends a polished baritone to the role of Robert, Duke of Burgundy, Iolanta's betrothed from childhood, who has never met her and now loves another. Bass Brandon Coleman, as the doctor, Ibn-Hakia, who helps Iolanta gain her sight, and tenor Jonathan Winell, as Alméric, King René's squire, complete the cast.
Winters and Richardson blend voices in an impassioned love-at-first-encounter duet. Most of the cast and the chorus, in full cry, collaborate on the grand concerted central number, after Vaudemont has violated the ban on mentioning light, sight, and color to Iolanta, and faces death, and the exultant final prayer, when love conquers all and happiness reigns. All are in fine fettle for their solos, as well, and kudos, too, to the chorus and orchestra.
Much is made of roses, white and red, but designers John Farrell (sets) and Susan Roth (lighting) have, interestingly, decreed that all the flowers be black, as Iolanta might perceive them. The set turns bright white, when Iolanta first sees light, and red and white rose petals put in their appearance at the dénouement.
One cannot fault the music and the drama here, but I did wonder what a blind person might make of all the pity and over-protectiveness of the Princess in her plight, akin, perhaps, to Jerry Lewis' now discredited encouragement of pity for the 'poor kids' for whom he put on his telethons.
Dicapo's "Iolanta" opened, at the theatre at 184 East 76th Street, at Lexington Avenue, in the basement of the church of St. Jean-Baptiste, on December 8 and is repeated on the 10th and 16th at 8 p.m. and 18th at 4 p.m. For tickets at $50, visit www.dicapo.com or call Smarttix at 212/868-4444. The Dicapo season continues with Gian Carlo Menotti's drama of bureaucracy in a totalitarian state, "The Consul," on January 26 and 28 and February 3 and 5, 2012; Frank Loesser's musical "The Most Happy Fella," from March 8 through 11; and Giuseppe Verdi perennial "La Traviata," on April 12, 14, 20 and 22.