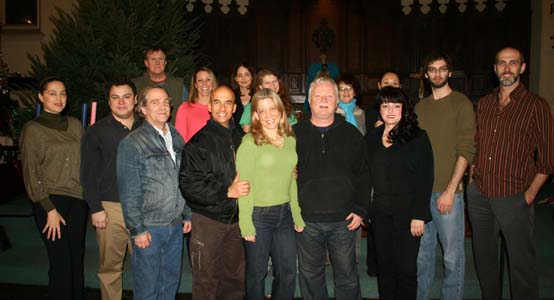 photo by Bruce-Michael Gelbert

cast of West Side Opera Society's December 16 "Il Trovatore"

.......................................................................................................................................................................................
If you like your "Il Trovatore," by Giuseppe Verdi, brimming with the unbridled passion the opera cries out for, with every one of the five principal roles brilliantly cast, with most repeats included, and solos capped with the high notes that you've never heard, but that you just know belong there, then I wholeheartedly recommend that you go—rush!—to the West Side Opera Society's performance this Friday, December 16 at 7 p.m., at Trinity Lutheran Church, at 164 West 100th Street, just east of Amsterdam Avenue. This concert hearing benefits the LGBT youth of the church's Trinity Place Shelter, and the company, which is led by David Clenny, who elicits a whole orchestra's worth of sound from a piano and this passionate performance from the cast, does not in the least permit the concert format to prevent them from giving these roles all they've got, to judge from the dress rehearsal they graciously invited me to attend.
Beverly Butrie, the dramatic coloratura soprano Leonora we've been waiting for, not only sings the written, but rarely attempted, high D-flats in her "Tacea la notte placida" and "D'Amor sull'ali rosee," she also interpolates the high E-flat, as the penultimate note of her ornamented repetition of "Di tale amor, che dirsi," and high F, yet, as the final note of her embellished "Tu vedrai che amore in terra," that you've only, in your wildest dreams, ever imagined hearing there. She adds, as well, two high Cs, as Frances Alda did, on recording, and Kitty Carlisle did, in "A Night at the Opera," the Marx Brothers movie, to Leonora's part in the "Miserere." Antonio Giuliano, as Manrico, joins Butrie on high D-flat at the end of Act One, and will undoubtedly bring down the house with "Ah sì, ben mio," and "Di quella pira"—twice—which includes no fewer than three high Cs—if you count the final "All'armi!" as containing two.
Maestro Clenny touts Galina Ivanakova as a natural successor to Giulietta Simionato and Fiorenza Cossotto, no less, as Azucena, and he doesn't exaggerate. Dr. Ivanakova contributes an uninhibited, scorching portrayal of the vengeful gypsy. She and Giuliano generate considerable heat with their second act, supposed mother-and-son scene, which will keep you riveted, and she doesn't stint on the written high C, in her cadenza, as some mezzo-sopranos do.
Robert Wilber, tossing off baritone high G and G-flat with ease, as Count di Luna, and David Auxier, beginning the opera with flair, as Ferrando, with "Di due figli … Abbietta zingara," are the "heavies." Olga Shyp, Jovier Q. Sanchez, and Brad Baron complete the slate of soloists. Kudos, too, to the ensemble, playing gypsies, nuns, soldiers, and monks—you'll want to sing along with their "Anvil Chorus."
The suggested donation for tickets is $10. Telephone 646/645-0158 for further information.
And while you're in the neighborhood, do yourself a favor and stop in, before the opera, to one of my favorite restaurants there, Krik Krak, at 844 Amsterdam Avenue, between 101st and 102nd Streets, for savory Haitian cuisine. The phone number is 212/222-3100 and the web site is www.KrikKrakRestaurant.com.