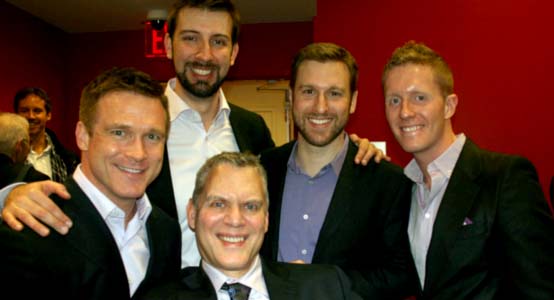 photo by Bruce-Michael Gelbert

cast of "Manning the Canon" 2011 (left to right) Scott Murphree, Matt Boehler, Steven Blier (seated), Jesse Blumberg & Timothy McDevitt
.......................................................................................................................................................................................
On November 17, an encore performance of the New York Festival of Song's (NYFOS) brilliant program, "Manning the Canon: Songs of Gay Life," took place. The concert was originally presented at the LGBT Center on 13th Street and was given, in a revised version, at Merkin Hall last season. On this occasion, again at Merkin, soloists were Scott Murphree, tenor; Jesse Blumberg, baritone; Timothy McDevitt, baritone; and completing the vocal quartet, the gloriously orotund bass of Matt Boehler, with NYFOS Artistic Director Steven Blier on piano and arranging the music.
Divided into five sections, the evening began with Boehler singing Marc Blitzstein's "Purest Kind of Guy." Blier provided colorful program notes throughout and among them, the fact that only two words were changed in the entire song. Boehler is a raconteur throughout and, while originally meant as a birthday tribute to a buddy, this song makes it obvious that men were finding like-minded individuals even when they could not be as "out" as we are today. Many of the featured composers and lyricists were in the audience last night, and among them was Christopher Berg, whose setting of Frank O'Hara's "Is it Dirty" was Blumberg's first offering of the evening. The refrain, "you don't refuse to breathe, do you," answers the unasked questions of whether or not to act on one's erotic impulse. As Blier put it, "It's important to honor the expression of one's erotic nature." Rounding out the first set, Murphree articulated what we all must have once felt in "An Admission" from poet Mark Campbell's "Songs from an Unmade Bed." A collaboration with several composers, this particular piece is Joseph Thalken's contribution outlining someone's–er–surprise at the difference between the beloved clad versus unclad. Quel dommage, quite literally!
The next section brought gay heritage to bear with music from classical composers with a louche lavender leaning. First, the ensemble performed the quartet verison of Schubert's "Der Gondelfahrer," written with Johann Mayrhofer with whom the composer may have been involved at the time. The brio and charm of men in the flower of their vigor shines through the arrangement and Schubert's music even tolls the changes of the bells of St. Mark's, as we glide on the midnight canals of Venice, our gondolier the only one awake, save the speaker. We moved then to Murphree's contemplation of a lovely youth who is blond and hot, but certainly not a scholar. But then, with lush vocal style, both intimate and innocent, Murphree's caresses of the French lyric, in Francis Poulenc's setting of Guillaume Apollinaire's poem "Montparnasse," tells the true story. Blumberg's treatment of Tchaikovsky's "At the Ball" gives us the dreamy afterglow of having met "someone" whom in contemplation seems ripe with possibility at a time when it was de rigueur to hide one's feelings–this was no Monsieur du Jour. And the vocal quality beautifully captured the sweet moments of contemplation with delicate dynamics and great passion. The first solo by McDevitt was turn of the century composer Charles Griffes' "Evening Song," where the sweet, creamy vintage sound of his voice was so perfectly suited to the picture he was painting of love in sandy, salty climes. Part of Griffes' very passionately Romantic period, the poem he set was by Sidney Lanier, who was related to Tennessee Williams–somehow there are so few degrees of separation. Griffes was only as "out" as a gay man as the early 20th century permitted, but when you listened to McDevitt's performance, there was no trace of doubt.
Gay life is sometimes a drag, but then we know drag to be a most high form of art. The next portion of the program illustrated this through contrast. Boehler's rendition of John Wallowitch's "Bruce" was a full on, delicious "read your BEADS, Mary" moment where the absurdity of the lyric sung in Boehler's rich deep voice was more than half the fun. In fact, every one of the soloists drew out the nuance in lightning swift characterization by turns soulful, silly, romantic, erotic, honest and bold to a man, which is part of what made the evening so rich. The "boardwalk scene," from William Bolcom and Arnold Weinstein's "Casino Paradise," featured Messrs. Blumberg and Boehler in a quite interesting situation, augmented here and there with color commentary by Messrs. McDevitt and Murphree as Boehler's "girls"—you see we have three of four men singing the role of drag queens, working girls. And girl, they work it! Stanley (Blumberg) entered prison as a hippie and left a Metrosexual and the current object of his affections is Sonny (Boehler). What begins initially as a negotiation ends in a beautiful duet where the final harmonies blend in a dark combination of lullaby and ballad.
The art song–what could be more evocative of the more tender emotions? In the hands of gay composers however, the most interesting things emerge. Saint-Saëns' setting of the Victor Hugo poem, "Si vous n'avez rien a me dire," in the hands of the gifted Murphree, posed the question of whether someone's interest is beyond the merely friendly. Blumberg then rent the heart with Benjamin Britten's setting of W. H. Auden's "Night covers up the rigid lands." Britten and Auden had been collaborators for some time, when, in 1937, something amazing happened, dreadful for Auden, who was in love with Britten, but wonderful for Britten, who met Peter Pears, whom he would spend his life loving. Ardent Auden wrote this poem, ceding the field for smitten Britten, who set it for his peerless Pears. Triangle logic, and in Blumberg's artful hands, it became a wisftful rumination on the meaning of love. The final piece of this section belonged to McDevitt, who dove in to Manuel de Falla's "Polo," shaking his figurative fist at the Heavens and at someone, who has inspired such strong feelings—but this love may not be revealed, shared or discussed. He chewed nails and spat tacks, on the one hand and, in the next, contemplated the nature of his passion.
Blier's programming is sublime, and the last section was a crowning moment for the concert. Bringing us into the present day, Blumberg and Murphree duetted on Cy Coleman's "Tennis Duet," from "City of Angels". Typically sung by a man and a woman, when put in the hands of two arch power players, it becomes very obvious that this is the proper couple–especially when the game of tennis begins with "love." Perhaps the most moving piece, in my eyes, was McDevitt's performance of "Walt Whitman in 1989," a Perry Brass poem set by the late Chris De Blasio in broad American melody. Walt Whitman cared for Civil War soldiers who were badly injured during the war and it moved him deeply. Brass' poem imagines Whitman ministering to young men equally at war with AIDS, as it tore their bodies apart in a time when there were few treatments and a diagnosis was a death sentence. McDevitt limned a vision of Walt Whitman taking a dying young man in his arms and sailing on the river to whatever is next for him and my mind sees Charon crossing the Stygian abyss to the unknowable. The music and Whitman suggest the unseen wind moving those leaves of grass, and the young man goes forward with someone who loves him. Seguing into Boehler and the ensemble singing Leonard Bernstein's setting of Walt Whitman's poem "To What You Said," the meditation became about a different kind of love and loss–and not being able to be true to one's visceral being. This is heady, heavy thought. Leaving a few moments for the import of what was said to sink in, the final song of the program was the light and frothy Cole Porter confection "You're the Top," from "Anything Goes." Of course, the final risqué verse, rumored to be by Irving Berlin, was included and made a perfect ending to a dazzling program. Not content to leave, the audience demanded just a little bit more and Blier and Company obliged us with a toe-tapping arrangement of "My Guy" as an encore. Quite honestly, the cream of the crop was before us and we went off whistling in the dark.
The next NYFOS performances will be on November 29 and December 1, at Merkin Concert Hall, when the company presents "A Goyishe Christmas to You!" It features Stephanie Blythe, Judy Kaye, Lauren Worsham, Joshua Breitzer, John Brnacy, Joshua Jeremiah, clarinetist Alan Kay, and Blier in Yuletide songs by Frank Loesser, Jule Styne, Sammy Cahn, Johnny Marks, Irving Berlin, Jay Livingston, Howard Levitzky, and others. I've got my seat already and I'm saving one for you! Visit NYFOS.org for more information and kaifman-center.org/merkin-concert-hall for tickets from $40 to 55. $25 tickets are available at the box office at 129 West 67th Street.