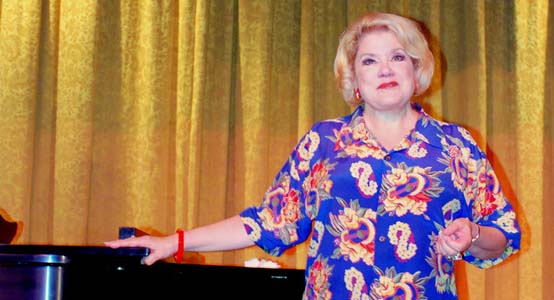 photo by Sherri Rase

Sharon McNight

.......................................................................................................................................................................................
The first moment we heard Sharon McNight at her show, for the Arts Project of Cherry Grove, on August 6, her voice came clear and strong from the back of the darkened theatre at the Cherry Grove Community House. A blonde woman, clad in an Aloha shirt, with matching pants is searching with a flashlight as powerful as her voice. Her mien is slightly Teutonic as she intones "wherever you go, that's where I'll be" and she assures the gentleman, whomever he is, that she will find him. Whoa, Nellie! You can only imagine What She Wants!
Sharon McNight has an artful turn of phrase, and the phrases come from some of the best cabaret writers in the business. Her sparkling repartee provided insight into the songs and into the personality that animates them so well. While the bill tipped Ian Herman as musical director, it was the accomplished Alex Rybeck, whose piano stylings dueted so well with McNight's vocal derring-do. Following her opening was the dazzling and clever "Small Day Tomorrow," by Fran Landesman. Landesman and her husband had been out of an evening with friends and invited them to join, but the other couple demurred as they had a "big day" coming. This song describes how the opposite might be properly mis-spent.
Amanda McBroom is a modern songwriting master, who says, if you want a song to win a MAC award for a song, give it to Sharon McNight. "It's Gonna Be One of Those Days" has such resonance that when a master chanteuse like McNight sings it, the simple truth rings out. Seguing from the genuine to the arch with her special version of "Wind Beneath My Wings," called "Contempt Beneath My Feet," her delivery was barking-laugh out loud surprising–her timing is as masterful as her technique.
One of the most moving parts of the fast-moving show was McNight's version of Roy Orbison's "Crying," which in her hands became a paean to the many friends we all still have suffering and dying from AIDS. McNight is a California girl who honed her chops in the small clubs in the Bay Area and she's most proud of the fundraising she's done around the epidemic, for more than 30 years now. While I'd never considered the song from this perspective before, I doubt I'll ever hear it again with innocence.
Turnabout is always fair play, and McNight lightened the mood and turned our thoughts to the absurd with the song by Modern Man, "You Can't Eat Dog in Taiwan." Part of her burgeoning series, now threatening a fourth volume, "Songs to Offend Everyone," be warned: this song may cause shortness of breath and you may not be able to control your face with the depth of laughter. "General Tso's Schnauzer" and "no poodle with your noodles" are the lines that remain most with me, and after the contemplation of "Crying," this romp is just what we needed to get out of our heads and back into the show.
Next came a sing-a-long on the folk favorite "City of New Orleans." The Cherry Grove audience may have surprised the Diva, and it was great to hear classic Americana and participate. McNight always makes certain the audience is with her wherever she's going, and the sing-a-long woke up a few folks who thought all they needed to do was sit and listen.
McNight's mobility of expression and voice characterization made Beckie Menzie and Cheri Coons' "One Woman's Story (Elves)" thoroughly enjoyable. Successful comedians treat the world they are in as genuine, which is what highlights the absurdity of the words in the song and McNight is as expert in comedy as she is in torch. Following this with her classic "Bacon," the pathos of the vegetarian's lament as she struggles against the ultimate meat-a-tarian demon is in vivid Technicolor. The addict's longing and glorification of the addiction is deliciously funny and left no doubts about what people would be having for breakfast in the morning.
The George and Ira Gershwin song "The Man I Love" was made famous by that Red Hot Mama, Sophie Tucker and McNight channeled her with conviction. We also got a chance to see Alex Rybeck really shine with a lush, gorgeous piano solo. They worked so seamlessly together you'd never have guessed their collaboration spanned hours rather than years. Gracious to one another and crystal clear in understanding, they made a great pair.
One of the highlights of the evening came in McNight's graceful movement and engaging rendition of "Your Sweet and Shining Eyes" that improbably utilized hula, American Sign Language and gesture to teach the audience a song that many of us had never heard before. Under McNight's expert tutelage, coupled with her signs and the hula lesson, we sang our little hearts out for the woman who was by now a Grove favorite.
Closing out her set, McNight lived the song "I've Loved These Days," singing with great intensity. You could feel the audience reminiscing on their experiences of the words she sang, as we had all lived through our own version of life fueled by various concoctions to bring us where we are today. Not wanting to leave us on a somber note, however, the coup de grace for the evening's performance was the "Steel Pier" favorite, "Everybody's Girl," done a la Mae West. McNight sent us into the sultry Cherry Grove evening, warm rain falling matched by warmth inside and with a new favorite performer. While this was her first trip to Cherry Grove, I have no doubts that she'll be returning very, very soon.