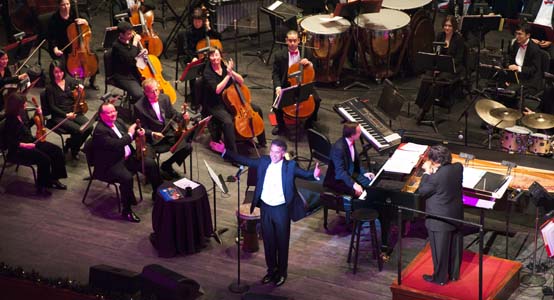 photo by Fred Stucker


Brian Stokes Mitchell with the New Jersey Symphony Orchestra

.......................................................................................................................................................................................
Brian Stokes Mitchell, Tony Award winner and a star in any venue where he performs, brought the dazzling "Home for the Holidays" to the State Theatre in New Brunswick, New Jersey, on December 9. If it were up to those of us there, as he shared the stage with the New Jersey Symphony Orchestra (NJSO), the Masterwork Chorus, and the New Jersey Youth Chorus, Peace on Earth and goodwill to all would already be a fait accompli.
The NJSO led off, under the baton of Constantine Kitsopoulos, with a Christmas overture that hit all the bases beginning with "Joy to the World," continuing through "Deck the Halls," "O Little Town of Bethlehem," "Good King Wenceslas," "Hark the Herald Angels Sing," "Silent Night," "Jingle Bells," "O Come All Ye Faithful"—arranged as a Sousa-esque march!—and returning at last to "Joy to the World." Personally, I found it was a crazy time getting to the theatre, and this brought everyone's minds into the right frame to celebrate.
Brian Stokes Mitchell's first song was a surprise … Rodgers and Hammerstein's "Some Enchanted Evening," from "South Pacific." While it was initially unexpected, it was a moving rendition, and when you consider how many romances are kindled at office parties, perhaps not so unexpected after all! Next was the "Christmas Song," then "Sleigh Ride," which got a special swinging treatment. There's nothing like the sweet chemistry of high caliber vocalists and musicians and this was truly a treat.
Next, the Masterwork Chorus, under the direction this evening of Associate Conductor Sun Min Lee, treated us to "It's Christmastime" and "Children, Sing of Peace and Joy." Quite honestly, it's not Christmas for me until I hear mixed choristers' voices lifted in song. There's a rapture to it that sings in the heart. Our Christian friends are not the only people celebrating Winter Holidays … our Jewish friends had treats in store as well.
Stokes returned to the stage for a Chanukah set that included "Light the Menorah" and other appropriate music that caused me to consider that, if Broadway ever turned its back on him, a career as a cantor would certainly be in the offing. Most of the cantors I've heard are more in the tenor range, but the richness of Stokes' baritone is dark and powerful, while retaining a sweetness that speaks of tempered wisdom. The modality of the Chanukah selections, with the orchestrations and choral texture was breathtaking, even greater than the sum of its brilliant parts!
Segueing into more secular pursuits, Stokes then sang a special arrangement, which he'd made for his family, of his mother's favorite Christmas song, "Have Yourself a Merry Little Christmas," that included musical quotes from her other favorites, including "Jingle Bells," "Angels We Have Heard on High," and "Joy to the World"–delightful! The final selection of the first act was Leigh and Darion's "The Impossible Dream," from "Man of La Mancha," which roused the audience to a standing ovation–the sheer power and beauty of Stokes' instrument inspired two women sitting in front of me to non-syllabic utterances of joy and admiration.
Act II began with the Masterwork Chorus joined by the New Jersey Youth Chorus (NJYC) in a song from Gian Carlo Menotti's opera "Amahl and the Night Visitors," wondering how were our children and how were our sheep–a charming way to contemplate our very own happy evening visitors. Stokes then inspired us from a different perspective with "Wheels of a Dream," from Flaherty and Ahrens' "Ragtime." While I've never seen the show, the inspiring words and performance give blood and energy to the sense of touching the future we have through children–whether ours or whose lives touch ours. All of the singers combined forces then for a special arrangement of "Little Drummer Boy," featuring NJSO's own brilliant Jim Musto on a drum similar to one that the fabled drummer boy may have played. The non-current standard beat was probably closer to what would have been played and Stokes riffed and quoted during the glorious performance.
NJYC treated us to John Rutter's "Angel Choir" and then NJSO performed a fantasia of sorts on "White Christmas." As we headed into the home stretch, Stokes caressed every pang of longing out of "What Are You Doing New Year's Eve," a favorite of my partner's and mine, as our anniversary is New Year's Day. It felt like it was sung just for us, and it featured a wee quote of "Some Enchanted Evening," just to bring us full circle. Then, as expressed by Maestro Kitsopoulos, it was time for "Sing Along with Stokes" where the audience sang with chorus, soloist, and orchestra to carols that were almost an exact replica of the order of the Christmas overture that began the evening. What was most wonderful is the audience observation of the dynamic change on the refrain of "O Come All Ye Faithful." when we all began mezzo piano, and built, just as we would in our own choral groups. But we weren't ready for Stokes' final bow of the evening, so his encore song was the most brilliant choice of all–John Bucchino's "Grateful." Most of the people in that theatre know Brian Stokes Mitchell's work from Broadway, television and film. Stokes introduced them to one of the greatest writers for cabaret in a song that never fails to bring tears to my eyes, even as I write about it now.
Stokes spoke during the concert about the way that the winter holidays change for us. When we're children, it's about what we'll get. When we become adults, it's about what we give—including thanks for health and the happiness of being surrounded by those we love. Thank you, "Home for the Holidays," for reminding us what it's all really about.