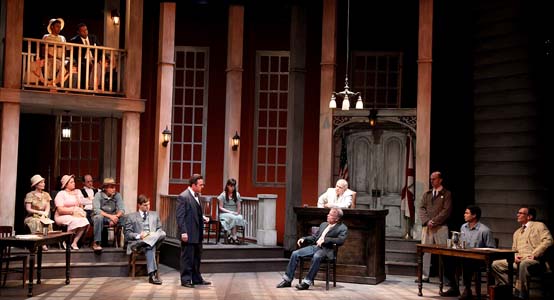 photo by ©Gerry Goodstein

The courtroom

.......................................................................................................................................................................................
Harper Lee is a national treasure and it's on the strength of a single phenomenal novel. It is more than 50 years since her game-changing book "To Kill a Mockingbird" was published. Ironically, the battle lines portrayed in the novel are still being fought today. If you doubt that, you have only to see Shakespeare Theatre of New Jersey's (STNJ) production of Christopher Sergel's play by the same name. A period piece like STNJ's recent production of "Grapes of Wrath," "Mockingbird" takes us back to a time, immediately prior to the Freedom Riders, to an Alabama that contained not only George Wallace, but also Atticus Finch. And like the proverbial canary in a coal mine, this Finch was a harbinger of things to come.
STNJ productions always feature a stellar cast, and this one is no exception. For my consideration, though, the younger cast members really stand out. Emmanuelle Nadeau as Scout, shared with Nisi Sturgis as the adult Scout, really seem to represent two eras of the same self. When "adult" Scout mentions that the grown woman inside began her journey to the surface during the trial we are about to witness, there is no doubt, with the connections of these two women, that this is absolutely true. Scout's brother Jem (Frankie Seratch) and best friend Dill (Ethan Haberfield) round out the three musketeers, learning lessons that summer, and Dill, as is so often the case, has the outsider's clear vision of the nobility of Scout and Jem's father that their close proximity has not yet let them see. This autumn, that is all about to change.
Brent Harris' Atticus is a man of highest integrity whose struggle is to live up to his Christian ideals–New Testament all the way. His neighbors wear the label "Christian," but persist in living in the Old Testament days. Decent human kindness flows from Atticus and his torment is visible as he fights to do battle with himself to make the world the place he wants his children to inherit. Calpurnia (Marjorie Johnson) is the bad cop to Atticus' good cop–the children, motherless as they've been for so long that Scout cannot remember what having a mother is like, love her and respect her. Calpurnia and Atticus are the bridge to understanding for the entire community, and that's what this show is about: Community with a capital "C", and how the least ripple in the fabric affects us all.
Considering how so recently violence has been in the news, the Arab Spring and changes in leadership, as well as the changes that we all want to see in this country, the same arguments for the status quo are being used as were being used in 1960, when this story was born. Take someone with you, to see this show, whom you know really needs to see it–it will move them toward the light of greater understanding of a host of challenging issues.
"Mockingbird" runs now November 20. For tickets or more information, call the box office at 973/408-5600 or visit www.ShakespeareNJ.org. The F.M. Kirby Shakespeare Theatre is located at 36 Madison Avenue (at Lancaster Road), in Madison or a short walk from the train station. Nearby Madison has a number of really fine restaurants, so make a date and a reservation. You'll have a lot to digest, and you'll need the time to do it.