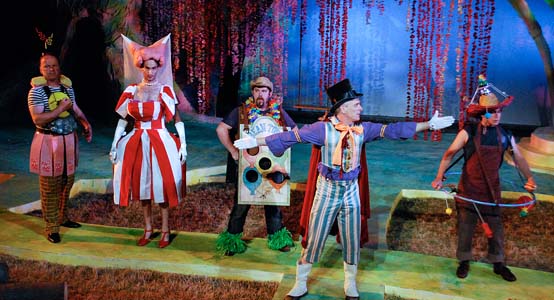 Robert Clohessy as Nick Bottom, James Russell at Francis Flute, Conner Carew as Snout, John Hickok as Peter Quince and Zach Fineblum as Starveling Photo: ©Samuel Allen

.......................................................................................................................................................................................
One of the signs that it's well and truly summer is the emergence of fireflies. Their glow is one of the first signs of magic children know. It's fitting that in the gloaming of a balmy summer evening, Shakespeare Theatre of New Jersey's Outdoor production of the Bard's "A Midsummer Night's Dream" begins with a small boy, enjoying the swing on the sylvan set of the show. In his hands, a jar of fireflies and a sprinkling of the sparkling magic that has happened each year for the past 10 in the Greek Theatre, on the campus of the College of St. Elizabeth's, in Madison. Well and truly, summer magic.

"A Midsummer Night's Dream" is uniquely suited to outdoor theatre and this set has a water feature, making reflection possible for a number of the cast members. There is also a surprising viewpoint from the top of the stage where Puck and Oberon get literally a bird's—and bat's—eye view!

A noble couple about to be married, Hippolyta (Nita Vidyasagar) and Theseus (Josh Carpenter), are ruminating on the closeness of their nuptials, when Theseus, as the local Duke, must decide on a matter of love. Egeus (John Hickok) would like the Duke to help his daughter see reason–as her father, Egeus must see Hermia (Rebecca Mozo) well situated. His will is that she marry Demetrius (Brian Cade), who has lately been wooing the love-struck Helena (Emily Kunkel). Hermia's true love is Lysander (Jack Moran), who pleads his case eloquently along with Hermia, but the Duke is clear on the point of law. His hard line hardly pleases his intended, Hippolyta, who has strength of will of her own. Trouble is brewing. Philostrate (Seamus Mulcahy) observes, taking it all in.

There are players roving these woods and they are writing a special play for Theseus and Hippolyta. Though nominally led by Peter Quince (also Hickok), it is Nick Bottom (Robert Clohessy), rather, who is the troupe's true leader. Though Peter Quince realizes fully what Nick Bottom is doing, Bottom is a very persuasive and lovable lout. His dominance is benign and his fellows are the better for it! Francis Flute (James Russell) is at first disappointed to hear that he's playing a woman, but Bottom gets down to it and Francis acquiesces. Of the other players Starveling (Zach Fineblum) will give you the moon and the stars, Snout (Conner Carew) will stand stalwart for you as a wall, and Snug (Stewart Schneck) is the proto-Cowardly Lion. All are delightful and keep the somber nature of the crossed lovers from becoming a tragedy within a comedy.
Kudos are overdue for Kara Harmon, Costume Designer Extraordinaire, for her endeavors, from the dour Philostrate's fade-dyed jacket–ranging from coral at the shoulders to a soft, soft barely-shell-pink at the bottom, to the grooms' black tuxedo jackets with floral hand-painted embellishments that match their ladies' dresses–well-suited to bucolic bliss. Echoing the glorious set by Adam Miecielica, which has so many possibilities, director Cameron Watson's vision is excellently realized.

Among the buffet of delights this version of Shakespeare's play offers is the Fairy flash mob who fulfill all of Titania's desires in the same way that the kids do their best to make breakfast for Mom on Mother's Day–their hearts are in the right place and all the more endearing for being slightly imperfect! This charming band consists of Katie Van Rensalier, Samantha Blain, Dylan Digel, Travis Johnson, Jennifer Mogbock and Maggie Schweppe. There's another gang that adds to the merriment, the Lightning Bug Kids–they don't really shine until it's fully dark, and they are Ben Bollinger, Spencer Hickok, Feven Alemu Negussie and Ryan Philips. The injection of full vigor and youth provided by these groups brings back memories of playing until dark, so we could stay within the letter, if not the spirit, of our parents' instruction. And as they flutter around adding color and light, Oberon and Puck are Peter Pan and the Lost Boys all rolled into one. Titania is the Queen Bee of her set and she and Oberon's passions war with one another in direct proportion to their love. Will they mend their love? Will Hermia and Lysander, Demetrius and Helena, wind up in one another's arms? You'll need to make your reservations to see for certain.

There is nothing finer than sitting in balmy weather under the stars! And wait till you see what happens when a plane goes overhead! In fact, while we were there, a helicopter went over twice. Perhaps Governor Christie's son was playing baseball nearby.

"A Midsummer Night's Dream" is showing through July 31. For tickets or more information, call the box office at 973/408-5600 or visit www.ShakespeareNJ.org. The Greek Theatre is on the campus of the College of St. Elizabeth's. Bring a blanket and pack a snack, there is no finer evening under the stars!