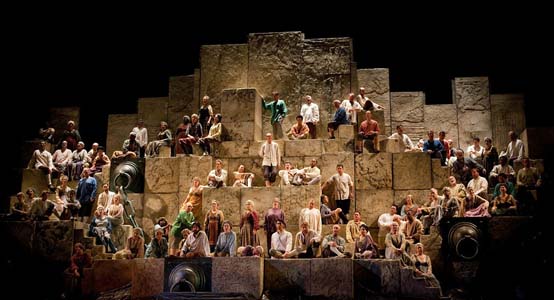 photo by Marty Sohl

Metropolitan Opera Chorus sings "Va, pensiero"

.......................................................................................................................................................................................
The Metropolitan Opera is in the midst of a stirring revival of Giuseppe Verdi's third opera, "Nabucco" (1842), with libretto by Temistocle Solera. "Nabucco," about the Biblical King Nebuchadnezzar, opened for the season on September 27 and the fifth of its 12 performances, on October 12, is considered here. Elijah Moshinsky's production, with sets by John Napier and costumes by Andrieane Neofitou, was new is 2001, and was last given during 2004-2005. The cast is new, save Maria Guleghina as Abigaille, as is the conductor, Paolo Carignani.
Starting with the potpourri overture, made up of most of the opera's 'hit tunes,' Carignani leads the orchestra and cast in an account of this blood-and-thunder early Verdi work that is crisp and rousing. Twin anchors of this revival, and making fitting foils for each other, are Guleghina's hard-edged, go-for-broke, no-holds-barred Abigaille, ferocious sister to Verdi's no-less-formidable Lady Macbeth and Odabella in "Attila," and pretender to the Babylonian throne, and Želijko Lučić's commanding and lyrically bel canto Nabucco. When they confront each other, wrangling for the crown, in the duet "Donna, chi sei?" in Act Three, Scene One, capped with Guleghina's scary high E-flat, sparks certainly fly, and they aren't from the more than a dozen onstage torches lighting up the throne room. Guleghina belts out her mostly hefty assignment; accomplishes two octave or so descents with, if not finesse, at least accuracy; and summons up some reasonably quiet legato when required to do so. She ornaments the repeat of her cabaletta, "Salgo già." Lučić brings all the bel canto baritone suaveness one could want to his 'mad scene,' when temporarily afflicted with insanity, after declaring himself not King, but God, and to his fourth act prayer, "Dio di Giuda!"
Carlo Colombara, as the high priest Zaccaria, tries to inspire the oppressed Hebrews in the driest of bass tone, but manages some imposing top notes. Tenor Yonghoon Lee makes an ardent Ismaele. Renée Tatum sings vibrantly as Fenena, Nabucco's real daughter, and her final scene prayer is a gem. Amber Wagner as Anna, David Crawford as the high priest of Baal, and Hugo Vera as Abdallo, completing the cast, make worthy contributions.
Entrusted with the opera's most famous excerpt, the Met Chorus infuses the patriotic "Va, pensiero" with breathtaking wistfulness and eloquence. The grand concertato, at the end of Act Two, after Nabucco's blasphemy, and prayer "Immenso Jeova," near the end, are resounding highlights.
The production's creators gave the opening scene, set in King Solomon's Temple, in Jerusalem, a look poised somewhere between antiquity and the later European shtetl, the men wearing tallits (prayer shawls) and arrayed around a bima (altar), with scrolls beneath, putting one in mind of the High Holidays just past. Some scrolls near the entrance make for quite a conflagration when the Babylonians invade the sanctuary, with the Hebrew women brandishing daggers to ward them off. A Torah is carried on in a later scene.
Seven performances of "Nabucco" remain: on October 15 and 20 at 8:30 p.m., November 2, 9, and 17 at 7:30 p.m., 5 at 9 p.m., and 12 at 1 p.m. For tickets, priced from $25 to $345, visit www.metopera.org, telephone 212/362-6000, or come to the Met box office in Lincoln Center on Monday through Saturday, from 10 a.m. to 8 p.m., or Sunday, from noon to 6 p.m. Lučić sings Nabucco and Carignani conducts on all dates. Marianne Cornetti and Elisabete Matos divide the role of Abigaille between them for the last four performances. Dmitry Belosselskiy makes his debut as Zaccharia on November 5 and also sings on the 9th and 12th. Adam Diegel replaces Lee on November 5, 9 and 12. Elizabeth Bishop, Erica Strauss, Eduardo Valdes, and Jeremy Gaylon take over for Tatum, Wagner, Vera, and Crawford for all November dates.