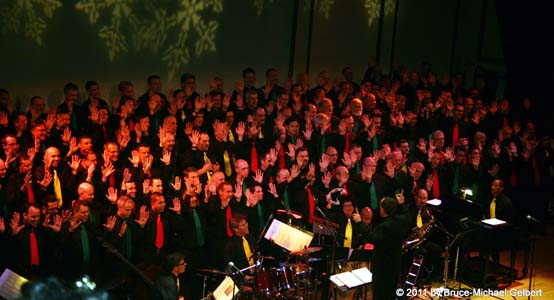 photo by Bruce-Michael Gelbert

New York City Gay Men's Chorus at Town Hall

.......................................................................................................................................................................................
To celebrate the season, the New York City Gay Men's Chorus (NYCGMC), dedicated to "advocat[ing] for equality through song," under the baton of Artistic Director Dr. Charles Beale, welcomed us, mellifluously and ecumenically, into its "Holiday House of Love," at Town Hall on December 18. Aaron Dai was the pianist; Rick Rubin signed for the hearing impaired; and a six-piece band; more than a dozen male dancers, playing elves, reindeer, nuns, and so on; and special guest artists joined in the festivities.
Both halves of the concert began peacefully, with Asim Javid chanting, a cappella, first, Hindu Vandanas, beginning with the familiar sound of the mantra "om," and ending with "shanti," meaning peace, and later, a Muslim "Allah Hoo" (God is), and then continued with, in contrast, spirited hand-clapping, toe-tapping, gospel-flavored numbers for the full chorus, first Kurt Carr's "Peace and Favor Rest on Us," and after intermission, "Go Tell It on the Mountain."
Openly gay Anglican Bishop V. Gene Robinson, from New Hampshire, offered welcoming remarks, beginning, "We intend to make the Yuletide gay;" introduced the choristers with, "You're looking at a very special family right now;" and pointed out that Jesus Christ himself had an alternative, chosen family. Robinson later served as guest conductor for Franz Gruber's "Silent Night," started in German, by soloist Andrew Lucchesi, as "Stille Nacht, Heilige Nacht;" then hummed, sung in English, and signed by the full ensemble; and finally, for a truly silent night, performed solely in sign language.
The mood turned indigo for Richard Smallwood's "O What a Night," a gently rocking recounting of the Christmas story, with soloists Skie Ocasio and Ryan Scobie. Then NYCGMC's Joshua Nelson and Jeffrey Meyer delivered, as a spoken duet, "'Twas the night before Christmas," a recitation of New York Episcopal Bishop Clement Clarke Moore's sentimental "A Visit from St. Nicholas," countered by some rude contemporary urban retorts to it. Responding to the chorus members' "Olomo Lo Laiye" (To have this Child is to have joy in my life), by Andrew Miller and Abiodun Adepujo, was Mary, cradling the Infant, and soon joining in, for a lively "Little Drummer Boy," by Davis, Onorati and Simeone, were the orchestra, especially Sue Hadjopoulos and Dan Gross on percussion, and the beasts of the forest.
Fantastic guest singer Lillias White ("The Life," "Fela!") gave us the view "Through the Eyes of a Child," by Calandrelli and the Bergmans, first with restraint and then with full-voice variations, its piano and organ accompaniment, from Dai and Brian Whitted, a Bach toccata, akin to that for Gounod's "Ave Maria." After reentering in antlers, with the elves who danced to a choral vocalise version of Henry Mancini's theme from "The Pink Panther"—hey, remember when Pathé wouldn't let a local anti-gay violence patrol borrow that name?—White asked, "Are all my sisters here? I meant my women sisters, not my men sisters," adding, "I love my men sisters, too," and more or less confessed that she liked bears, in James and Jean Cheatham's familiar—to some—red hot mama number, "(Give me a) Big Fat Daddy," in response to which NYCGMC obligingly provided her with some. In the song that gave the program its name, White and the chorus issued a heartfelt invitation to the "House of Love," by Jeremy Schonfeld.
Bass Guy Jacobs guest conducted his chorus colleagues in Dan Davison's "Vamos a Bailar," a spirited Latin song and dance. Maestro Beale invited the audience to participate in an exhilarating performance of Flory Jagoda's Chanukah song "Ocho Kandelikas" (Eight candles), in Ladino, assisted by the elves. The choral forces brought the concert to a rousing conclusion by blending the hymn "Joyful, Joyful, We Adore Thee," borrowed from "Freude, schöner Götterfunken," Schiller's Ode to Joy, as set by Beethoven in his Ninth Symphony, with "Dancing in the Streets"—or in this case, the aisles—and "Deck the Halls."
Visit www.nycgmc.org for information on the remaining concerts of the New York City Gay Men's Chorus' season.