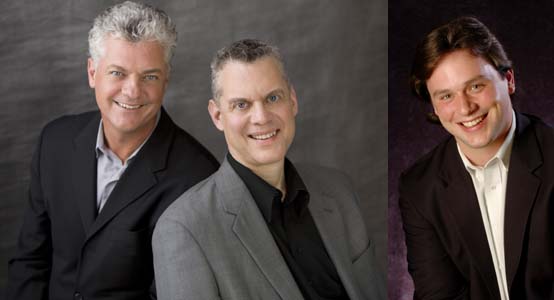 Michael Barrett & Steven Blier (photo by Dario Acosta), Paul Appleby (photo by Peter Mueller)

.......................................................................................................................................................................................
What an intriguing opening night program New York Festival of Song (NYFOS) guiding lights and pianists Steven Blier and Michael Barrett came up with, to kick off its 24th season, in "In the Memory Palace," at Merkin Hall on October 25, repeated on the 27th! It consisted, as Blier explained from the stage, of a "series of song cycles on love and courtship … in different places and different times," each sung by one of a quartet of soloists and introduced by a related song for all four singers.
The excellent young singers, Michelle Areyzaga, Rebecca Jo Loeb, Paul Appleby from the Metropolitan Opera, and Andrew Garland, assisted by Blier, began with Heitor Villa-Lobos' "Cançao da fohla morta," a lilting meditation on life, touched off by the falling of a leaf. The song, with poem by Olegario Marianno, led to selections from "Floresta do Amazonas" (the Forest of the Amazons), the composer's settings of Dora Vasconcelos' verses, lent a lovely soprano by Areyzaga. The languid "Cançao de amor" (Song of Love) ended on a sad note of yearning. In "Cair da tarde" (Dusk), daylight departed, during Blier's gorgeous chromatic piano interlude, with little movement save the flight of a heron and the fall, again, of a leaf. Villa-Lobos set "Melodia Sentimental" to a pulsating dance rhythm, the song of love and longing concluding with a couple of sighed high notes.
The quartet's dulcet a cappella madrigal, "Come Live with Me (and be my love)," by William Sterndale Bennett, to words of Christopher Marlowe, served as a prelude to songs by Frank Bridge, perhaps best known as the teacher of Benjamin Britten, sung gracefully by lyric tenor Appleby, with Barrett. The piano part in "Go not, happy day," to poetry of Alfred, Lord Tennyson, flowed along rapidly, with the more leisurely legato solo singer's line floating above it, as Appleby conveyed the sentiments of a smitten lover. Appleby made of "Goldenhair," to James Joyce's verses, a rhapsodic romanza, of "When You Are Old and Gray," to words by William Butler Yeats, a tenderly swelling remembrance of a love, which may have burned, in its day, with all the passion of a legendary love, such as that of Tristan and Isolde. Blier posited "Dweller in My Deathless Dreams," with words by Rabindranath Tagore, as the lyric love child of Maurice Ravel and Alban Berg, reflecting the rich, ripe sweetness and the stark drama of these composers' works, and it effectively stretched Appleby into spinto territory, as well as the audience, in its expectations. Appleby and Barrett's "Love Went a-Riding," to poetry by Mary Coleridge, made for an exciting, driven finale to the quintet of Bridge songs.
Turning to Catalan compositions, the vocal quartet began, a cappella, with Manuel Oltra and Federico García Lorca's plangent and mellifluous "Eco" (Echo), its bittersweet solo lines sung over the remaining trio's repetitions of "Eco, eco, eco." Continuing with songs from Enrique Granados and Fernando Periquet's "Tonadillas," inspired by Francisco José de Goya y Lucientes portraits, Loeb, with Blier assisting, made the speaker in "El tra-la-lá y el punteado" as pert as a Rossini comedy heroine, and in "La maja dolorosa," richly vocalized the doleful señora's melancholy. The maja shrugged off her frustration with "El majo timido" in a most buoyant melody, and in "Amor y odio," took love's torment very much in stride. She took the ache of unrequited love much more to heart in the weighty "El mirar de la maja," but would definitely get her way with the diffident lover that has her walking the streets in "Callejeo."
With Blier at the helm, Stephen Sondheim's contrasting and wry "Two Fairy Tales," cut from "A Little Night Music," and sung simultaneously, the women waxed optimistic, the men, pessimistic, and then it reversed—sort of. Gabriel Kahane's song cycle "The Memory Palace," which gave the program its title, was assembled by Kahane for NYFOS from his recent works and sung by expressive baritone Garland, with Blier at the piano. It depicted a journey, begun with two lost sites in downtown Brooklyn, "Underberg," a folk requiem for the Samuel Underberg Food Store Outfitters building, on Atlantic Avenue, and "7 Middagh," about the artistic household in Brooklyn Heights, where expatriates Britten and Peter Pears, and W.H. Auden, with Americans Chester Kallman, Carson McCullers and Gypsy Rose Lee, were geographically distant from the effects of the World War starting in Europe, "but they felt them," not able to help but be aware of them, the song's dénouement, "Modern's a still-birth that was born/After it died in 1939/or was it '45?/And we've been attending/the longest saddest funeral in history/Without even knowing," delivered almost off-handedly and tugging the heartstrings. "Merritt Parkway" movingly limned a short but unforgettable relationship in Connecticut, and "North Adams," Massachusetts, expressed the excitement of a child on a trip through New England with singsong folksiness. "Rochester" mournfully recounted a death on the road, as witnessed by a child.
The quartet and Blier's "You've Really Got a Hold On Me," Smokey Robinson's view of love's contradictions—"you treat me badly/I love you madly"—summed up what much of the evening, not to mention much of life, was about. The encore, on the other hand, with Blier and Barrett at the keyboards, found Garland and Loeb, as Young Ben and Phyllis, and Appleby and Areyzaga, as Young Buddy and Sally, naively anticipating a perfect future in "You're Gonna Love Tomorrow/Love Will See Us Through," from Sondheim's "Follies."
Next up for NYFOS is an encore of one of my favorite programs, "Manning the Canon: Songs of Gay Life," two centuries of songs by and about gay men, at Merkin Hall on November 17 at 8 p.m., sung by tenor Scott Murphree, baritones Jesse Blumberg and Timothy McDevitt—the latter replacing Matthew Worth, who was not available—and bass Matt Boehler, with Blier at the piano. Berg, Bernstein, Blitzstein, Bolcom, Britten, Coleman, de Blasio, de Falla, Griffes, Porter, Poulenc, Saint-Saëns, Schubert, Tchaikovsky, Thalken, and Wallowitch are the composers represented here. Tickets are priced at $40 to $55, with student tickets going for $15, so visit http://kaufman-center.org/merkin-concert-hall, telephone 212/501-3330, or come to the box office at 129 West 67th Street.
The tantalizing-sounding "A Goyishe Christmas to You!—Yuletide Classics by Jewish Songwriters" follows on November 29 and December 1, with Lauren Worsham, Mary Testa, Joshua Breitzer, John Brancy, Joshua Jeremiah, clarinetist Alan Kay, and Blier performing music by Frank Loesser, Styne and Cahn, Mel Tormé, Irving Berlin and others.
For more information on NYFOS programs, visit www.nyfos.org.