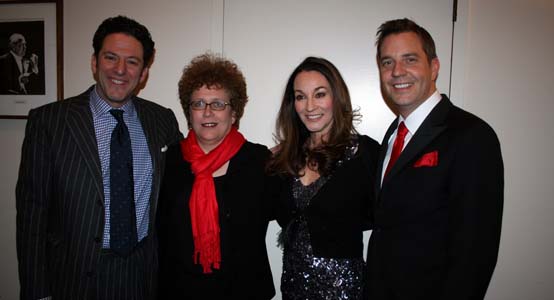 photo by Bruce-Michael Gelbert

John Pizzarelli, Judith Clurman, Jessica Molaskey & Steven Reineke

.......................................................................................................................................................................................
Something old, something new, is usually what we sing-song for weddings, but Christmas is rife with traditions from Medieval to Mid-century Modern and the New York Pops KNOW how to swing Christmas! Kicking it live, with jazz icons in guitar and vocals, the program "John Pizzarelli and Jessica Molaskey Wish You a Swingin' Christmas," on December 17 at Carnegie Hall, started out huge with "The Most Wonderful Time of the Year" featuring Essential Voices, under the direction of Judith Clurman, and the WOWs kept coming! Be certain–this is Christmas that's taking a turn from chilly—as in weather—to totally cool! Essential Voices USA includes singers ranging from high school choristers to professional singers. Their version, an arrangement by Steven Reineke, hit all the right notes. The sounds of the season continued with the Robert Wendel arrangement of Jerry Herman's "We Need A Little Christmas," from "Mame," and we were on our way. The luscious ivory and gold hall was warmly lit, with projected ornaments framing the Pops and the ensemble. Latecomers rushed to their seats between the numbers, just in time for a specially commissioned Steve Cohen masterpiece–"A Klezmer Nutcracker: Three Miniatures for Orchestra." Growing up, my favorite version of the holiday classic, "Nutcracker," was from the Philadelphia Orchestra, conducted by Eugene Ormandy. I didn't know that there was such a thing as interpretation in classical music when I was 10, but knew that felt right to me–pacing, dynamic, build—everything. When I heard Cohen's arrangement, I had the same feeling of "right!" The miniatures included Klezmerized versions of "Dance of the Sugar Plum Fairy," "Arabian Dance," and "Trepak," and held the audience rapt from the opening notes. Students of Carnegie's history recall that Pyotr Ilyich Tchaikovsky conducted the first concert held there in 1891, which happened during the time he was writing "The Nutcracker." History has come full oval, as no one could call that peregrination a circle!
Then for something really different, Maestro Reineke served a beautiful arrangement of "Go Tell It on the Mountain," kicking up the swing in this beautiful gospel favorite. Essential Voices quartet Ben Horine, Brian Mummert, Adam Strube and Adam Yankowy supported soloist Lisa Crosby Wipperling, accompanied by the excitement that only a full ensemble can provide—thrilling for soloists and ensemble alike, heads were bobbing and toes were tapping everywhere.
Maestro Reineke is a story teller and when combined with a raconteur like John Pizzarelli, the atmosphere scintillates. Musicians Pizzarelli and Jessica Molaskey make a premiere couple, who are each artists in their own right, and together they sparkle. Pizzarelli began with a very smooth rendition of "Let it Snow! Let it Snow! Let it Snow!" then sang "Winter Wonderland," with Molaskey, that included lots of interactions between the two, with a very brief flourish of a solo on guitar. The next song, "I'll Be Home for Christmas," with Molaskey on vocal, featured some nice harmonic intonation by Pizzarelli, on guitar. From there, where else would you go but "Sleigh Ride," a special arrangement by Don Sebesky that featured the John Pizzarelli Trio, including Larry Fuller on piano, Martin Pizzarelli on acoustic bass—yes, John's brother!—and Tony Tedesco on drums. Tight attention was paid to one another, as the bass and drum gave grounding to Fuller and Pizzarelli's riffs that also included the orchestra, with a satisfying brass presence–and I need that in "Sleigh Ride," don't you?! Next, Essential Voices joined forces with the Pops for another Reineke arrangement, "Silver Bells," that painted a poem of New York City's holiday splendor. The big finish for the first act was "Jingle Bells" with Essential Voices USA, NY Pops, and the trio involved, with Pizzarelli and Molaskey who quipped they were doing it a la Les Paul and Mary Ford. Pizzarelli and Molaskey have a great interaction, exchanging loving barbs and equally loving, supportive looks. They work together as one, fully complementary and fully delightful.
Act Two opened with "I've Got My Love to Keep Me Warm," with Reineke appearing to dance as he conducted, quite honestly one of my favorite aspects of a Pops concert. Reineke so clearly enjoys his work that we are conducted along with him on this massive wave of energy. Reineke brought us something really different in Robert Wendel's variation on a classic theme–"Little Bolero Boy." Combining Ravel with the Katherine K. Davis classic had me looking at something fresh in the familiar music, though I did feel a little naughty as the inevitable build happened … there's no other word but WOW! Continuing with fresh perspectives, Pizzarelli returned with the trio to swing "Drummer Boy" in a whole new direction. Solos featuring trio members segued into a quote from "Sleigh Ride" prior to a drum solo that rang in the rafters and again had heads bopping and toes tapping throughout the entire hall. Bravo, Mr. Tedesco!
Next was the lush and luscious "Snowfall" by Claude Thornhill, featuring Pizzarelli and Molaskey on vocals—texture again, with Pizzarelli's voice mellow and cross hatched, while Molaskey's clear bell-like diction had each highlighting the flavor of the other, as they sang in the simplest harmony, the octave, painting with texture and mood. While "Snowfall" already appears on Pizzarelli's "Let's Share Christmas" album, I hope he and Molaskey will record it anew. Hmmm, perhaps it's time for a new album.
While you don't know the players without a program, sometimes the program doesn't help. A delicious surprise in the form of an arrangement combining Joni Mitchell with Jobim, starting with a bossa nova "Circle Game," sung by Molaskey, had many of us swooning. Pizzarelli then artfully added graceful phrases from Jobim's "Waters of March" that brought a catch to my throat thinking how perfect a melding it was. While I don't know what they call it, hopefully "Circles of March" will be on that record I am writing to Santa for them to record. Pizzarelli did a passable Bing Crosby impersonation setting up the classic "White Christmas," and regaled us with a dead-on Jimmy Stewart quote from "It's a Wonderful Life". Molaskey gently suggested that Pizzarelli stick with the guitar.
It was getting toward "that time" in the concert and Pizzarelli and the trio delivered a brilliant Johnny Mandel arrangement of "What Are You Doing New Year's Eve" which has become a holiday classic. Written in 1947, during Frank Loesser's Tin Pan Alley days, and covered by a variety of artists, this arrangement of it was sexy and sentimental. It was also a neat pairing with the arrangement of Irving Berlin's "Count Your Blessings" and Jonathan Larsen's "Seasons of Love" that followed. There was nary a dry eye in the house when Pizzarelli began with Berlin and then Molaskey sang Larsen, and I could swear I heard a soupçon of Jane Olivor seasoning that love. The arrangement was magnificent and the strongest reminder of what the winter holidays mean–every one of us is blessed! While we sometimes lose sight of that, those blessings are there waiting for us to notice them.
A special unannounced guest arrived, heralded by Pizzarelli–the man who is ne plus ultra of children's hopes in their innocence–Santa was in the house! Santa entered with an elf-tourage to great acclaim. The audience then joined in a sing-a-long that marked the 2011 New York Pops celebration as one for the ages. Whistling our way to the train, walking briskly to the interior monologue of carols, I have new stocking stuffers in mind–other than my fantasy Pizzarelli/Molaskey collaboration, I just have to find where I can get "Let's Share Christmas" in time to put it in a special stocking. Wish me luck!
Give a subscription to the Pops for the Holidays! Next on tap for the Pops at Carnegie is "Patti Austin Sings Ella Gershwin's Gershwin Songbook," on March 16, 2012, at 8 p.m. Give the gift of an experience that lasts by visiting CarnegieHall.org for more information.