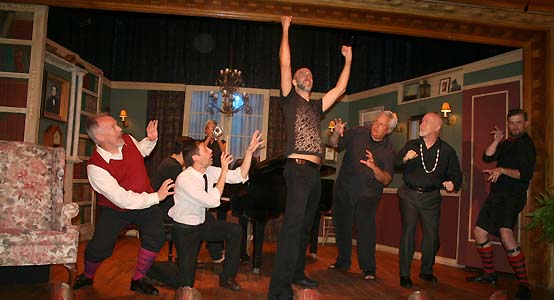 photo by Bruce-Michael Gelbert

David Auxier(center) & company in a scene from "Ruddigore"

.......................................................................................................................................................................................
Isaac Steven Vaughan's annual "Ocean Aires" classical music series always brings a refreshing breath of serious culture to Cherry Grove and—on June 25 at the Community House, under the auspices of the Arts Project of Cherry Grove—in "Ocean Aires 13," marked molto misterioso, the musicians created an eerie atmosphere, projecting sinister character and entering with faces streaked with blood, courtesy of Richard Cooley and Michael Coffindaffer, to go with their wonderful music-making. Philomena offered pithy narration, after entering in darkness, Lady Macbeth-like, candle in hand, before commanding 'lights on.' Martha Pitkin, Esquire, and Dr. Ellen Biggers served as stagehands for the performance.

The evening began with violinist Christopher Minarich, violist Seth Bedford, cellist Kurt Behnke, flautist Christine "Chris" MacDonnell, trumpeter Laura Ann Giusto, accordionist Vaughan, and pianists Clarence "Kye" Perry and Gene Rohrer playing Bedford's over-the-top variations on "God Save the Queen" to accompany the entrance of Homecoming Queen YaNeeda Dunes—bound and gagged in accordance with the theme. Vaughan was at the piano for a performance by tenor Brent Weldon Reno, sporting a dapper hat with a feather and blood on his face, of Bedford's songs "Early Chill," a torrid tango about the louche lusty life, and "Ethyl," a tale of murder and mayhem in the Weimar-esque Roaring '20s, with Minarich, Bedford, and Behnke, on strings, assisting.

Pianist Perry took on the challenge of holding down the innards of the piano, to achieve a mysterious Eastern sound, in Turkish composer Fazil Say's "Black Earth: Hommage to Asik Veysel." With Vaughan at the piano, baritone David Auxier captured, in Franz Schubert's Lied "Der Doppelgänger," from the song cycle "Schwanengesang," all the ominousness of meeting one's alter ego or double. Assisted by Vaughan, MacDonnell, on oboe, played the molto allegro third movement of Camille Saint-Saëns' Oboe Sonata in D Major, Opus 166, an unusually merry assignment for an instrument that often conveys melancholy.
For the finale of the first half of the concert, soprano Sherri Rase made a haunting Marguerite, pious if erring, and menaced in church by handsome devil Eric Coyne, as Méphistophélès, assisted by demons Ruth and Susan Freedner and Tim Webster, in "Seigneur, daignez permettre à votre humble servante"—the 'church scene'—from Charles Gounod's "Faust." We remained in demonic territory for the opening of the second half, Arthur Seymour Sullivan and William Schwenck Gilbert's "When the Night Wind Howls" ("the ghosts' high noon"), the horrific cry, in comic operetta style, of the spectres of the "bad Baronets" of "Ruddigore," sung by Auxier, with a chorus made up of Bedford, Behnke, Minarich, Reno, Rohrer, and Curtis J. Strohl, with instrumentalists Giusto and Vaughan.

In a break from the frightful, Minarich and Behnke played a pair of contrasting selections from Reinhold Glière's "Huit Morceaux"—the serious and subdued prelude and the brisk final étude—and, with Vaughan, baritone William George McGarvey sweetly sang Giuseppe Torelli's aria antica "Tu lo sai." McGarvey also designed the set, an elegant salon, for the concert, and built it with Charlie Balmer. Anthony Chiocchi, making an "Ocean Aire" debut, nimbly negotiated demanding passages of Ludwig van Beethoven's Piano Sonata Number Eight in C minor, Opus 13 ("Pathétique").

We returned to fire and vengeance for the evening's finale, with Molly Watson delivering a fully dramatic coloratura account of Wolfgang Amadeus Mozart's Queen of Night's "Der Hölle Rache" (the wrath of hell), from "Die Zauberflöte," with Rohrer at the keyboard.