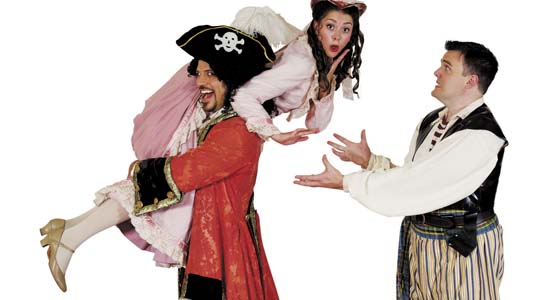 photo by William Reynolds
David Wannen as the Pirate King, Sarah Caldwell Smith as Mabel, & Dan Greenwood as Frederic


.......................................................................................................................................................................................
New York Gilbert and Sullivan Players' (NYGASP) current production is the dazzling "Pirates of Penzance," playing through January 1, 2012 at the Peter Norton Symphony Space at 2535 Broadway, at 95th Street, and it is a destination event. This review is of the December 28, 3pm performance.
NYGASP had billed December 28 as "Bring Your Grandparents Day" and, judging by the multi-generational audience, it was taken quite to heart. Honestly, what better way to introduce any generation to Gilbert and Sullivan than "Pirates of Penzance?!" This spirited production had everything a family wearied with Winter Holidays could want–great music, slapstick, and sight gags and inside jokes that worked on one level for children and another for children-at-heart.
The clever lyrics of William S. Gilbert have no equal today. When speaking of getting "Matrimonified," for "married," he demonstrates that there has never been such a portmanteau of portmanteau words. If you're not familiar with such clever lyrics, you think such archness began with Cole and Noel—Porter and Coward—but clearly our great great grands were every bit as funny as we feel we are today.
David Wannen's Pirate King, looking a bit like Captain Morgan, and David Macaluso's Samuel, the Pirate King's First Mate, were clearly having fun throughout and were mugging from the moment the lights first came up. Symphony Space is surprisingly intimate, on the audience side, for having 1000 seats or so, and an open feeling, despite the skyscraper lurking above.
Daniel Greenwood was Frederic in this performance, with Sarah Caldwell Smith as Mabel. The blend of these two singers was sure and true, almost like two songbirds weaving their web of romance. At times the voices seemed richer and louder than at others. Mabel's E-flat above high C in Act II was clear and bright and thrilling and the conventions of old-time melodrama were observed to a "T." It was difficult to determine, however, whether there was any amplification and certainly the space would be difficult for singers—NYGASP is returning to City Center in 2013!
Ruth, sung by Angela Christine Smith, was more comfortable in the soprano range but gave us very deep chest voice when called for–so deep in fact, it seemed to emanate from somewhere between the navel and the knee! Horn-like and rich, her lower register voice was a surprise and a delight, as was her attempted seduction of Frederic that was foiled only by the advent of the bevy of beauties, who are the second through tenth women he's ever seen.
James Mills was our modern Major-General and is the right combination of a strutting Nutcracker-esque martinet and a canny adopted father and survivor. A wicked sense of humor, and a vision composed of sight gags, which all build upon one another—both as character-driven pieces and ensemble work—pervade the production and cast. Mills shone both in his tongue-twisting derring-do, in his first aria, and in his dream sequence.
David Auxier was first seen as a statuesque pirate, then as the Sergeant of the Police. A quick perusal of the program revealed that he is also the Dance Captain, as well as the Co-Director. While Auxier's sense of humor is readily apparent in his choreography, nowhere is it more so than in the visual quote for the reprise of "With Catlike Tread"–in his tweaking of Bill Fabris' choreography, his core dancers take on the formation and mien of "One" from "A Chorus Line," complete with wee silver top hats, doing those finale steps while keeping to the meter and lyric of the reprise. This was the most delicious part of the afternoon for me, though truthfully one of several that elicited the barking laughter of surprise.
Arthur S. Sullivan's orchestrations are masterful and so much music comes from the on-stage chamber orchestra. Perhaps it's done with aural mirrors, perhaps it's Conductor and Co-Director Albert Bergeret's spell over the audience. Either way, the variety and volume from the orchestra is all the more impressive, transcending its modest size. Gail Wofford's costumes are a delightful mélange of found fabrics for the pirates, the later matching nightgowns of Stanley's daughters, the candy-striped Scrooge-esque ensemble of the Major-General himself—including a robe complete with shoulder devices—and the Keystone Kops outfits for the police. The details are delightful and fraught with anachronistic delight.
This production is thoroughly enjoyable, start to finish. Getting into the theatre was a bit like the running of the bulls in Pamplona, with there being so many generations trying to stream in at once. But everyone was polite and we all had a romping good time!
Speaking of time, you don't have much time to get your tickets for this run, ending on New Year's Day, January 1, 2012. Pull up your Big Girl Pantaloons and use your SmartPhone–visit www.NYGASP.org to get yours!