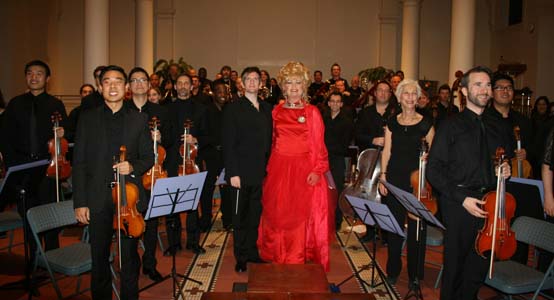 photo by Bruce-Michael Gelbert

conductor Nolan Dresden, guest Jacqueline Jonée & the Queer Urban Orchestra

.......................................................................................................................................................................................
The Queer Urban Orchestra (QUO), formed in 2009 and led by Nolan Dresden, began its 2011-2012 season, at Church of the Holy Apostle, in Chelsea, with a varied concert billed as "Hero/AntiHero."
The overture to Wolfgang Amadeus Mozart's opera seria "Idomeneo," played with all due pomp and circumstance; classical precision; and imposing or lyrical sound, as needed, opened the program, introducing the tragedy of the eponymous King of Crete, who vows to sacrifice to Neptune the first person he sees in his homeland, should he survive the terrible tempest, as he did the Trojan War. That initial individual turns out to be none other than his beloved son and heir, Idamante. Ludwig van Beethoven's dramatic "Egmont" overture, meant to raise the curtain on Johann Wolfgang von Goethe's play, served to open the second half of the evening here and, with it, the orchestra repeated the same impressive feats that it had performed with the "Idomeneo" excerpt.
Premiere travesti pianist Jacqueline Jonée, elegantly garbed as Little Red Riding Hood, all grown up, amusingly narrated Sergei Prokofiev's "Peter and the Wolf." She recalled playing with Peter as a child, when she went to visit her grandmother, neighbor of Peter's grandfather, in that clearing in the forest. She also noted the prominence of the Big Bad Wolf in both their stories. Jacqueline vividly acted out the various parts—the birds, the animals, and the people, including the hunters with their guns—as Dresden's players skillfully limned them musically. Kudos go, in particular, to instrumental soloists Craig Devereaux, flautist; Ian Shafer, oboist; Travis Fraser, clarinetist; and David Lohman, bassoonist.
The suite from the ballet "Billy the Kid," a piece of Americana by gay composer Aaron Copland, is at once folksy and classical, and QUO did more than full justice to both these aspects, in passages evoking wide open spaces; lively dances; and the resoundingly violent gunfight.
QUO's rousing encore was John Williams' martial and ceremonial "Superman" theme.
Next on QUO's agenda is "QUOtets," a chamber music concert and holiday party, which will take place at Holy Apostle, 296 Ninth Avenue at 28th Street, on December 10 at 7:30 p.m. Expect an oboe, viola and cello trio, a brass octet, a horn choir, and a guest appearance by composer and pianist James Adler, playing Schubert with QUO clarinetist Fran Novak. Buy tickets, at $15, at www.queerurbanorchestra.org. "Musical Postcards" is the title of QUO's third concert of the season, slated for February 2012.