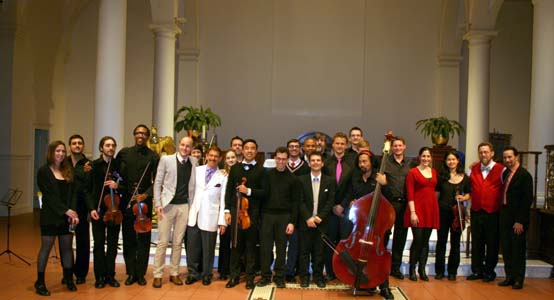 photo by Bruce-Michael Gelbert

Queer Urban Orchestra's "QUOtets" company

.......................................................................................................................................................................................
For its third annual holiday concert and party, billed as "QUOtets," at Church of the Holy Apostles, in Chelsea, on December 10, Queer Urban Orchestra (QUO) presented an evening of chamber music, with cabaret seating and refreshments available, that, though informal, did not in the least preclude a high level of music making.
A refined and refreshing allegro first movement from Wolfgang Amadeus Mozart's Oboe Quartet in F Major, played by oboist Ian Shafer, violinist Phong Ta, violist Michael Vannoni, and cellist Bjorn Berkhout, aptly began the concert, feeling almost akin to starting out with a Mozart opera overture, with the oboe's effervescent assignment here the virtual antithesis of its frequent role in conveying pathos. Clarinetist Fran Novak and guest pianist—and composer and teacher—James Adler gave us two of Robert Schumann's Phantasiestücke, one marked 'Zart und mit Ausdruk' (tender and with expression), highly romantic, in several senses of the word, and almost a reverie, and the other, propulsive, in contrast, marked 'Rasch und mit Feuer' (quick and with fire).
After an interlude for four French horns, Eugène Bozza's Suite pour quatre cors en Fa, played by guest Maria Campigotto, with Eric Hayslett, Adam Norris, and Steven Petrucelli, clarinetist Keith de Cantrelle and guest harpist Talia Mailman offered a peaceful, lyrical suite from "The Victorian Kitchen Garden," by Paul Reade. Oboist Shafer returned to play, with facility, the formal and florid Allemande, from Johann Sebastian Bach's Partita in G minor. Violist Vannoni took center stage for virtuoso renditions of the largo and allegro movements of Georg Philip Telemann's Fantasia Number One, and followed them with a jagged, turbulent section of Paul Hindemith's Sonata for Solo Viola, with the provocative instructions 'Rasendes Zeitmass—Wild—Tonschönheit ist Nebensache' (raging tempo—wild—beauty of tone is of secondary importance) indicated.
With guest pianist Jacek Mysinski, clarinetists Travis Fraser and de Cantrelle played, with polish, Felix Mendelssohn's early Romantic, Classically shaped Concert Piece for Clarinet, Basset Horn and Piano Number Two in D minor. Trombone players James Babcock and Amy Soffer collaborated on contrasting 'trifles,' by unknown composers, a stirring "Trumpet March" and jazzy "Invention Number Two." On a most mellifluous note, a vibrant allegro from Bach's Concerto for Three Violins, Strings, and Continuo, featured violinists Nicolas Destino, Kyle Payton, and Phong Ta, with Suzanne Davies, Liann Wadewitz, and Susan Wu, violist Ron Baker, cellist Jay Varga, and bassist Rodney Azagra, and on a different note, this complement brought the concert to a close with Varga's arrangement of the band Coldplay's "Viva la Vida."
QUO's season continues, after the New Year, with "Musical Postcards," featuring Mendelssohn's Symphony Number Four "Italian," Rimsky-Korsakov's "Capriccio Espagnol," a Symphonic Scenario from Rodgers and Hammerstein's "South Pacific," and Sheng's "Postcards," conducted by Nolan Dresden, at Holy Apostles, 296 Ninth Avenue at 28th Street, on February 25; "The Tangled Web," with music by Rossini, Kodály, and Prokofiev, led by Matthew Oberstein, on April 12; and for Pride, "New Worlds, New Sounds," with music of Gottschalk, Satie, and Villa-Lobos, as well as the world premiere of a work by cellist Berkhout, guided by Oberstein, on June 21. All concerts start at 8 p.m. To buy tickets, visit www.queerurbanorchestra.org.