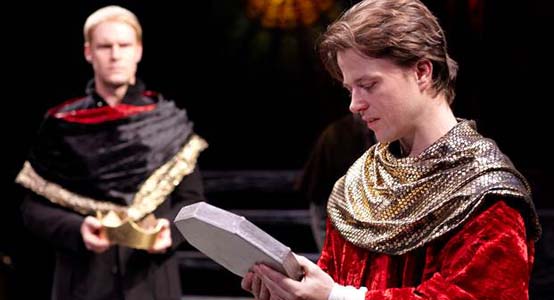 photo by Gregory Costanzo


Grant Goodman (Henry Bolingbroke) and Sean McNall (Richard II)


.......................................................................................................................................................................................
The Pearl Theatre Company's winter production is Shakespeare's uncommonly tragic "Richard II." Historically, Richard II began his reign at age 10 due to political issues surrounding his grandfather's reign and his father's ill health. While showing uncommon grace and valor under pressure at the tender age of 14, when he was involved in negotiations to quell an uprising of commoners, by the time we meet him in Shakespeare's drama, it is the end of the 14th century and Richard, unbeknownst to himself, is about to shuffle off this mortal coil to somewhere south of Buffalo.
Sean McNall plays Richard II with his customary flair. McNall's Richard is a flawed individual, perhaps relying too heavily on the counsel of fawning flatterers and his personal sense of royalty. Additionally, through the magic of casting, McNall's slight stature reflects the actual Richard, who, though a bit taller, was more of a poet and a scholar, despite his accomplishments in the field. Neither the historical nor the dramatic Richard is a warrior. His cousin, Henry Bolingbroke (Grant Goodman), the Duke of Hereford, however, seems tailor-made in a kingly form. Tall, well-favored and a warrior like his and Richard's forebears, Bolingbroke's destiny is already woven. He and Richard are on a collision course and we're the only ones who see it coming.
Playing dual roles, as in Shakespeare's time, Chris Mixon is both the embattled Duke of Norfolk, Thomas Mowbray, whose altercation with Bolingbroke provides the principle plot point, and, later, Bolingbroke's ally, Northumberland. In addition to playing the Queen, Jolly Abraham also plays the stalwart Harry Percy and other members of the regular company including, Robin Leslie Brown—also a Founding Resident Company Member), Domninic Cuskern, and Carol Schultz are a whirling panoply of characters with the women taking pants roles, as well as their usual. Bill Christ is the Duke of York with a booming, orotund presence, whose remarks about his "age" are belied by his vigor. Wayne T. Carr, Simon Kendall and Charlie Francis Murphy are alternately royalty, advisors, nobles and brigands and Dan Kremer's John of Gaunt displays a range of emotions that travel his visage like clouds across a wind-swept prairie. Gaunt is conflicted, and the wear and tear eventually show on his demeanor.
Each of the actors in multiple roles makes such a creative delineation, even though Shakespeare doesn't give them a great deal. It is, of course, McNall who shines. His light is not like Bolingbroke's Sun, however. Richard glows and glowers with a dusky moonlight. Sometimes it's the full moon and sometimes a horned moon, but Richard's vitality is becoming as lost as the thread of his thoughts. Through the first act, Richard is so very assured that he is pursuing the correct path in banishing kith and kin, based on imperfect advice from youthful advisors. Richard is only 33 or so, at this point in his life, and it is only after you actually achieve 35 and 40 years old that you truly know why, in the United States, you cannot run for President. Youthful judgment is just that–and Richard has not had sage counsel surrounding him. This is about to snowball and you know it won't be pretty.
Both Bolingbroke and Richard spin out their contest of wills to the known result. Times change, it is said, but people do not change. Machiavelli's "The Prince" would certainly have arrived in Britain by the time this play was written, during the waning time of the Tudor reign. And the Tudors and their historians were no fans of Richard. By Machiavelli's measure, it would have been possible for Richard to extricate himself, but McNall well shows us the many steps of good intention that lead Richard down the path from which there is no return. McNall plays Richard as having his internal monologues in his outside voice … and the meanderings of his thoughts become more and more convoluted, to the point where Richard is nearly manic at the end. And the end, as always, comes when it must rather than when we choose.
Tickets are available now for performances through December 24. Get there early and often, there are several choice matinee and evening performances remaining, but act now for your best selection. Give the gift of live theatre, don't your friends have enough sweaters?
For subscription tickets and information, contact Audience Services at 212/598-9802 or visit www.pearltheatre.org. Single tickets can be purchased through New York City Center now through February 20 by calling CityTix® at 212/581-1212 or online at www.nycitycenter.org. Tickets will be available at the City Center Box Office at 131 West 55th Street between Sixth and Seventh Avenues. Shows are as follows: Tuesday, Thursday, Friday, and Saturday at 7:30 p.m and Wednesday, Saturday, and Sunday at 2:30 p.m. Tickets are $55 for performances on Friday, Saturday, and Sunday; $45 for performances on Tuesday, Wednesday, and Thursday; and $35 for all preview performances.