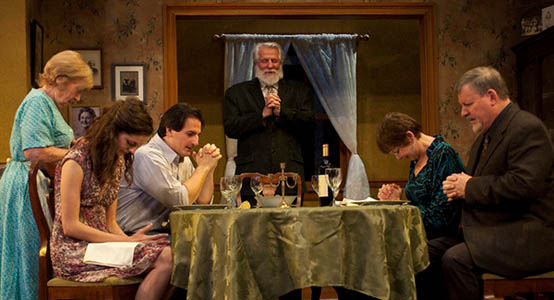 Cast of "Over the River and Through the Woods," photo by Warren Westura

.......................................................................................................................................................................................
Nick Cristano (Michael Bernardi) is experiencing the best of times and the worst of times. This is a tale of two cities, those cities being Hoboken and Seattle, and Michael has gotten a promotion. But this best of times leads to the worst of times, since he has to tell his parents' parents that he is moving, from New Jersey, across the North American continent. If that sounds like a long way, it is, and here's where Joe DiPietro's "Over the River and Through the Woods" begins.
The latest offering of the Bickford season, at the Morris Museum in Morris County, New Jersey, is perfectly situated in the period between Thanksgiving and Christmas, as these are the two biggest family Holidays in the calendar of the United States. Nick has dinner every Sunday with his mother's parents, Frank and Aida Gianelli (Ed Schiff and Nancy Lee Ryan) and his father's folks, Nunzio and Emma Cristano (Jerry Marino and Teri Sturtevant). He takes the bus into Hoboken from New York and the rendezvous is always at the Gianelli home, where both Nanas make supper and both Grampas make merry. The sheer mayhem that occurs when Nick finally gathers them together to hear his news—think "herding cats"—sets the tone for the entire first act. If you have a family, or have ever been near one, this show is for you!
Frank looks like Santa Claus and Aida will feed you till you burst–sound like anyone you know? Food is love and love is love and both sets of grandparents are devastated by the news, even though they recognize young people must make their own way. Their children have moved to Fort Lauderdale, and Emma's theory is that it was because they were afraid of growing old, so they ran away. Nick's sister moved to San Diego for the same reason. Nick feels he's betraying them by moving, but knows that, when a promotion comes into your radar, the chance won't come again. He feels his destiny is to the west, and though it's difficult, his resolve is firm–until Emma hatches a plan, and guess who's coming to dinner? Enter Caitlin O'Hare (Noreen Hughes) as both Sunday guest and perhaps the subject of a new menu. The guiding tenet of "Tengo Familia," for these people, means more than "I have family." It's the family version of "I am Spartacus."
There are times when it takes an outsider to show us the treasures we take for granted. Emma and Nick are not the only ones with surprises, and our families sacrifice more for us than we'll ever know. The Holidays are coming and quite honestly, who needs more "stuff?" What you need is an outing you and your family will remember, and this Bickford production is the stuff of which memories are made. This small and powerful cast turns in a performance that will live in your memory for a long time to come. Why stop at tickets? Subscriptions and Morris Museum memberships are still available, and your gift can keep giving all year round.
Tickets for "Over the River and Through the Woods" are available through December 4 via www.MorrisMuseum.org and "On the Road," the exhibit of 100 Years of Motorcycles in New Jersey will still be at the museum. Get there early and spend some time in one of Morris County's crown jewels of culture.