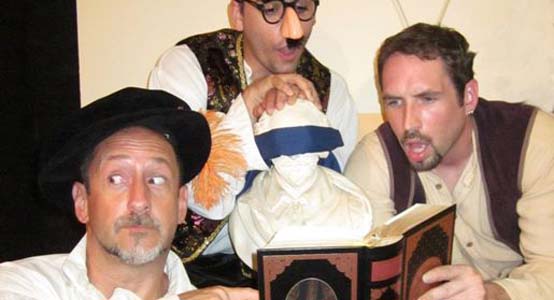 photo by Noreen Walsh

As Silly as Willy ought to be – CWofWS(abrg) Cast (L to R) – Glen D. Post, Nicholas Pasquali, Sam Salter

.......................................................................................................................................................................................
"Zany" is not often applied to the works of William Shakespeare, but when three gifted and twisted actors, Adam Long, Daniel Singer and Jess Winfield, first conceived the oddly educational farce, "The Complete Works of Wllm Shkspr [abridged]," Willy is now silly and the cast runs Willy Nilly. In much the same way that music aids the memory, the plays of Shakespeare—comic, tragic, historical–all become hysterical. This is a great way to introduce people to Shakespeare's works, especially if Twitter taxes their attention span. There are antics and magic galore and this amazing tour is only about two hours–half an hour less than the average performance of a full length Shakespeare work. Of course, that leaves out the "Henry"s, but I digress.
Directed by Dover Little Theatre veteran John Trumbull, the merry mayhem of Glen D. Post, Nicholas Pasquali and Sam Salter, actors every bit as twisted and gifted, bring the Bard vividly to life. And just as in Shakespeare's time, these three worthies play all the characters–men and women alike. The play has a structure and bullet points that it hits, but there is a great deal of creativity involved in the performance that is left up to the actors. When you see the coverage of the comedies, you'll see what I mean.
Glen is our Interlocutor and MC, Nick is the Pre-Eminent Shakespearean Scholar, and Sam is a force on his own. This cocktail combines in dozens of different ways and you'll blink at the lightning speed with which these men change characters–ironically, Glen and Sam who both have appropriate beards, are the ones who play the female roles. The Bud Light Girls doing Shakespeare? Could be!
John Trumbull's direction takes brilliant actors and keeps the pace at breakneck speed! You only have a limited time opportunity for deep down belly laughs, and if anyone works harder for your laughter than Glen, Sam and Nick, I haven't met them. And I mean WORK! Rolling around the stage, mock battles, slaps, kicks, punches and more, the action starts with Romeo and Juliet and ends with Hamlet with worlds of fun in between.
Established in 1933, the DLT is now opening its 79th season in a huge way, starting with "CWofWS(Abrg)," and next is "Five Women Wearing the Same Dress" in November, with 2012 bringing "Moon Over Buffalo" in March and "Company" in May. Hmmm, perhaps a subscription is in order.
Get your tickets now–the Dover Little Theatre is aptly named at only 108 seats. This show opened September 10 and only runs through September 24. with matinees on weekends. Now that everyone is back to school, students and parents alike, isn't it time you gave someone the gift of Shakespeare? Gifted cast, intimate space–the time is now! Visit www.DoverLittleTheater.org for tickets and more information.