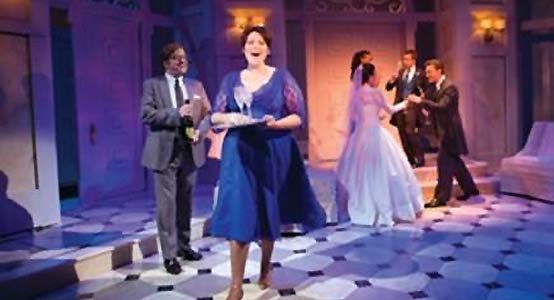 photo by T. Charles Erickson

Edward Hibbert, Lisa Howard, Jessica Hershberg, Carla Duren, Curtis Holbrook and Matthew Hydzik

.......................................................................................................................................................................................
The George Street Playhouse opened a brilliant World Premiere musical with an equally brilliant pedigree–book and lyrics by Brian Hargrove, and music by Barbara Anselmi. This show could be ice dancing at the Olympics, in the twists, turns, half gainers and somersaults that the plot takes before the first act is over. Mining the marriage canards–Jewish family uniting with Christian family, clueless goyishe boychik can't get his Yiddish right, the younger sister is the bride and a beauty, while the older sister, who makes everything run like clockwork, and is a beauty in her own right, is underappreciated, mostly by the person who should appreciate her most–her mother. Then, the departure from real life kicks in, in high gear.
"It Shoulda Been You" is directed by David Hyde Pierce, whose delightful touches as a director are exceeded only by his sense of comic timing. The cast is ironic, self-aware and clever and we see them all in some of their most unguarded moments. There is so much talent in this show front of house, back of house, familiar and hopefully soon to be familiar, that makes this show must see. The plot thickens at the end of the first act in a way that everyone I spoke to never saw coming. But let's meet the cast.
The classic curtain comes up to reveal Jenny, our heroine, limned by the luminous Lisa Howard. Jenny is be-robed and singing of how she "never wanted this" white lace, and more. Someone's getting married, but the first twist comes when we discover it's not Jenny, but her "perfect" sister Rebecca (Jessica Hershberg). Jenny is the person whose greatest gift to her sister is her event engineering, which is both augmented and thwarted by their mother Judy (Tyne Daly). The chemistry among these three actors is amazing and Daly pegs that Jewish mother to a tee. Long suffering father Murray (Richard Kline) shows the patina of love burnished by long experience in the skirmishes of everyday life with a passionate woman. The Steinberg family has blood, guts and a determination most people lack, all expressed in different jewel tones by each member. But what of the Howards?
Harriet Harris is Georgette Howard, whose day begins and ends with a cocktail as fluid as her drink, as she glides from one tragedy to the next–currently her son is leaving the nest, when she has always been the woman in his life. Harris paints a full picture in a few strokes and there is a delicious contrast between her relationship with her husband George (Howard McGillin)–and that of the Steinbergs. The Howards are steel hands in velvet gloves and Georgette is the mistress of the backhanded compliment. The clue is in the similarities of their names, this couple is two halves of a coin minted long ago. Harris and McGillin are icy cool and unctuous and their passion is a cold, cold fire. Their son, Brian (Matthew Hydzik) loves Becky and after all, isn't that what matters? These loves are crossed by more than stars and while everyone is going crazy, the wedding team kicks into high gear.
Albert is the wedding planner extraordinaire. Edward Hibbert is nonpareil as the man who thinks your thoughts before they're thunk–forget the Shadow, Albert knows! His foils are his right hand, Mildred, and his benighted nephew Walt—who do double duty as Aunt Sheila and Uncle Morty respectively. Mildred's seen it all, and she's looking forward to the chain of events she and Albert see coming, while for Walt, it's all still SO new, nu? Sporting a blonde, wavy look, Albert is turned out nattily, English style and looks like he's going for a young Michael Caine look. Factotum and impresario, Albert is the Man. While Judy thinks she's running things, Jenny and Albert make it all happen. Stirring the pot are the Maid of Honor Annie (Carla Duren) and the Best Man Greg (Curtis Holbrook). These two devoted, loyal and loving—!—friends do their best to keep two good people on the proper track.
Meanwhile, Becky is suffering through the slings and arrows of her own anxieties, Brian is mangling Yiddish with good intentions and reckless, feckless abandon and when Becky's former live-in, Marty Kaufman (David Josefsberg) gets an accidental butt-dial cell call, it looks like we're headed toward "The Graduate." But are we?
Did I mention, in addition to being a comedy it is also one of my favorite things–a brand NEW musical! We know how rare those are these days, and this is the work to come to New Brunswick to see. The music is delightful, varied and full of surprises. Early on, "It Shoulda Been You," an adorable chiming in song featuring Murray, Judy, Aunt Sheila and Uncle Morty and Marty really sets the tone for the show. Judy's song "Nice," features embellishments by Georgette and Tyne Daly's deft touches with the lyric are delightful. Daly and Harris may have coined a "Bosom Buddies" for a new generation! "Jenny's Blues" is Jenny's epiphany and when she grabs the bull by the horns, you'll know the bull is in for the ride of his life! The second act features a really lovely quartet with the Steinbergs and the Howards, "That's Family," that is one of the delights of the evening and you'd better act quickly–this show is nearly sold out!
George Street Playhouse under the artistic direction of David Saint, who has dedicated this entire season to the memory of a dear friend to all, and a mentor to Saint–Arthur Laurents. How proud Mr. Laurents must be, smiling down on this brilliant NEW musical with a cast of such magnitude that you'll remember seeing these stars and new stars in a musical that has its finger on the pulse of history in the making. I loved it and I'm going back! When Jenny "never wanted this", for the record, she's lying!
"It Shoulda Been You" plays through November 6 at George Street Playhouse. This is a world-premiere musical, brand new and ground breaking, history making and good fun for adults. Tickets are available online at www.georgestreetplayhouse.org or call the box office at 732/246.7717. I will see you there!