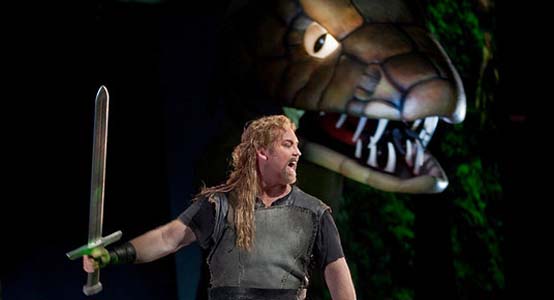 photo by Ken Howard/Metropolitan Opera

Siegfried (Jay Hunter Morris) confronts Fafner

.......................................................................................................................................................................................
"Siegfried," the third installment in the Metropolitan Opera's new look for Richard Wagner's "Der Ring des Nibelungen," with production by Robert Lepage, in association with Neilson Vignola; designs by Carl Fillion (sets), François St-Aubin (costumes), and Etienne Boucher (lighting); and video by Pedro Pires, opened on October 27, with a second performance on November 1, prior to the live high definition transmission on November 5. The new "Ring" is built around a system of planks that noisily and annoyingly rearrange themselves into different stage pictures, a few of them of interest, but more of them gratuitous. Other than in the first two act preludes, where the scene changed to show Sieglinde's death, Siegfried's upbringing by Mime, and various forest scenes, playing with the contraption, the clanking system of planks, is relatively restrained here and, on opening night, the production team was, unusually, not booed. Luckily for them, they did not have to bow on the second night, when their creation malfunctioned yet again, as it has several times, in "Das Rheingold" and "Die Walküre," shortly before the opera was over—more on that later.
For more than three-quarters of the evening, on the first two nights, these proved some of the best-sung performances of "Siegfried" that this writer has ever heard, through nearly four decades and three different productions of "Siegfried." The transparent orchestral weave, called for by Fabio Luisi on opening night and Derrick Inouye on the second, allowed the singers to deliver their intense and formidable assignments with almost unprecedented lyricism and vocal beauty. The final scene was, as above, the problem.
The first voice heard is that of Mime—Gerhard Siegel, displaying a welcome legitimate tenor in lieu of a chalk-on-the-blackboard 'character' voice—the dwarf and smith, who kvetches in a crabbed sing-song—Wagner's characterization of Jewish music—as he cringes and quakes, all but davening. The two Aryan 'heroes' we meet next provide considerable contrast to poor Mime. Siegfried—Jay Hunter Morris, an erstwhile lyric tenor who seems to have transitioned smoothly to tackling this killer heldentenor role—sings exuberantly in his first exit solo, his declaration of independence, replete with Nature imagery, and his forging song, which are but bel canto writ large. Wotan-as-Wanderer—exemplary bass-baritone Bryn Terfel—sings his lofty phrases with calm and dignity. Cutting into pure musical enjoyment of their singing is awareness that the admiration Wagner would have us have for them is meant to be much to the detriment of Mime and his kind. The second act finds Mime and his brother, Alberich—solid bass Eric Owens—quarreling about gold, yet another stereotype. Siegfried describes Mime as repulsively "knicken und nicken/mit den Augen zwicken" (shambling, bent kneed, head nodding, twitching and with blinking eyes) and "G'rade so garstig,/griesig und grau,/klein und krumm,/höckrig und hinkend,/mit hängenden Ohren,/triefigen Augen" (filthy, senile and gray, little and crooked, hump-backed and lame, with drooping ears and watery eyes)—enough said.
One positive thing about the production team is that they give good critter and they did so again here, with the fine bear at the beginning, and impressive dragon Fafner—"der wilde Wurm"—legless here, like a large snake, in Act Two. Fafner—Hans-Peter König, another solid bass—turns back into a giant, when fatally wounded by Siegfried's sword, a legitimate staging choice. The first female voice we hear is the sweet soprano of Mojca Erdmann, as the forest bird, represented by a busy projection. In Act Three, Terfel's Wotan grandly summons Erda—a glamorous-looking, rich-voiced Patricia Bardon—from a precipice downstage and on high. When they have their confrontation, it, for once, seems like that not only of deities, but also of former lovers.
Brünnhilde, heroine of the "Ring" cycle, does not appear until the last half-hour of this lengthy evening, to sing the final duet with Siegfried. The soprano is usually fresh-voiced at this, her first appearance, opposite a tenor often exhausted from his exertions. Morris was still going strong when Deborah Voigt put in her appearance as Brünnhilde, responsible for numerous high As and A-flats, which she took in her stride, and for two exposed high Cs, with three high Bs coming sometime in between them. On the first night, the Cs and Bs sounded strident—she probably didn't deserve the booing she got, but her singing, below par for what we expect of her, certainly put a damper on proceedings that were going exceedingly well. On the second night, the first high C was in place, but the subsequent Bs and final C, her climactic note in the opera, were much as they had been the previous week. There were, however, more pressing problems, that would rattle anyone, at this point, on November 1.
As the scene was to change from the mountain pass where Wotan has his encounters with Erda and Siegfried, his grandson, though the lad doesn't know it, to Brünnhilde's rock, where she's been sleeping while Siegfried's been growing up, there was a loud crash; the contraption ground to a halt; and Voigt had to walk on stage, in full view of the audience, to take a place as the sleeping Valkyrie. Amplified and audible communication took place between technical staff members, as Voigt and Morris improvised staging far downstage, with the rest of the stage having become off limits. Loge's magic fire, which should disappear when Siegfried penetrates it to reach Brünnhilde, continued to flicker until the opera's end.
Remaining performances are, at this writing, on November 5 at noon, April 21, 2012 at 11 a.m., and April 30 and May 9 at 6 p.m., the last three as part of complete "Ring" cycles. Luisi is to be on the podium for the HD transmission, but James Levine is still announced for the spring performances. Stephen Gould, Robert Brubaker and Richard Paul Fink replace Morris, Siegel and Owens on May 9. Katarina Dalayman sings Brünnhilde on April 30, and Erin Morley sings the forest bird on all spring dates. Morris will also sing Siegfried on the opening night of the new "Götterdämmerung" on January 27, 2012. For information about tickets, visit www.metopera.org, telephone 212/362-6000, or come to the box office at Lincoln Center.