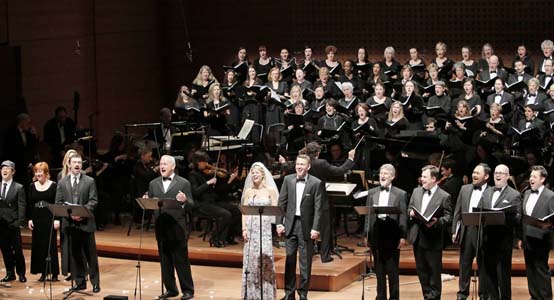 photo by Erin Baiano

Collegiate Chorale & cast of "Knickerbocker Holiday"

.......................................................................................................................................................................................
The Collegiate Chorale has just released its recording of Kurt Weill and Maxwell Anderson's "Knickerbocker Holiday," a delightful show, as politically mordant now as it was when it was written to lampoon Franklin Delano Roosevelt with the thinly-disguised role of Peter Stuyvesant, in the very early days of the mostly Dutch colony of New York. Recorded live during the concerts given by the Collegiate Chorale January 25 and 26, the all-star cast features Victor Garber as Stuyvesant, the luminous Kelli O'Hara as Tina Tienhoven, Ben Davis as the ne'er-do-well-done-good Brom Broeck, and Bryce Pinkham as Washington Irving, our erstwhile historian and sometime interlocutor. The cast is rounded out by veteran David Garrison as Tienhoven, Tina's father, Brad Oscar as Roosevelt, Brooks Ashmanskas as Van Cortlandt, Steve Rosen as De Peyster, Orville Mendoza as De Vries, Jeff Blumenkrantz as Van Rennselaer, Michael McCormick as Schermerhorn, the winsome and fresh Christopher Fitzgerald as Tenpin and his three Girls are Marie Mascari, Heather Hill and Teresa Buchholz.
The point of debarkation for Weill and Anderson was Washington Irving's "Father Knickerbocker Stories" and, as we all know, politics breeds strange bedfellows. The brash frontier-feel to the new colony is balanced by the sense of Dutch righteousness, and the combination of Weill and Anderson is intoxicating. Unlike many musicals in the modern era, "Knickerbocker Holiday" boasts a host of musical styles and a very arch, droll self awareness that sends itself up even as it's lampooning blow-hard politicians and those who look forward 100 years or more whenever they look in the mirror–looking toward posterity when guarding the posterior might be time well spent. Love songs like "It Never Was You," O'Hara and Davis' duet, contrasted with Tenpin's "Bachelor Song," represent two faces of love, just as "Hush Hush," in Act One, and "Sitting in Jail," in Act Two, represent a somewhat more measured sense of the machinations of a new system of governance. Originally written to show how FDR's New Deal might seem an awful lot like fascism, the lessons are upholstered in music so beautiful that the understanding and truth come as a lingering overtone. The consequence of the aftereffect is the where the punch lies. Famous for the oft-covered "September Song," Garber's rendition in Stuyvesant's wooing of Tina has all the wistfulness of a man recognizing that the seasons change, even while the song before it, "Young People Think About Love." displays the perspective differences that make us all so valuable to one another.
You will enjoy this recording for the stellar cast, the lushness of the music and the truth of everything it has to say. Even now, nearly 100 years after the New Deal, 200 years or so after the publication of Washington Irving's book, and 400 years after the founding of the colonial outpost whose face changes dramatically while we speak, politics are politics and people are people. This music will add some kick to your summer and take your mind off that darned debt ceiling-default debacle, at least for a few minutes.
Get your copy now wherever Ghostlight/SH-K-BOOM Records are sold. For more information, visit www.ghostlightrecords.com/www.collegiatechorale.org.