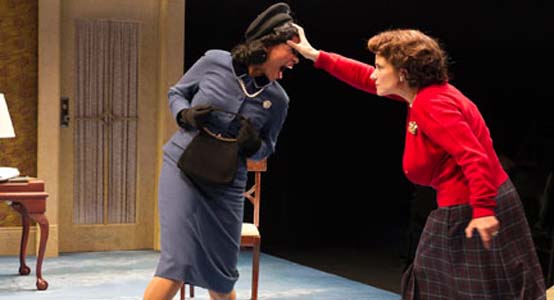 photo by Jacob Goldberg


Mrs. Martin (Jolly Abraham) and Mrs. Smith (Rachel Botchan)

.......................................................................................................................................................................................
Eugene Ionesco's brilliant "Bald Soprano" is the season opener for the Pearl Theatre's 2011-2012 season and what an opener it is. The play for which the phrase "now for something REALLY different" was coined, it sings with such vivid cleverness that it's hard to believe that it first debuted in 1950. Quite honestly, the play was probably as much of a hit then as it is now within a certain group of thinking people, and it elicits barking laughter at many points, and at different times from different areas of the room. This makes the audience part of the absurdity, for the sound effects we render, and whether or not that was Ionescu's point, it's hard to say. Under any circumstance, it's tremendously enjoyable.
The Smiths, (Rachel Botchan and Bradford Cover) live, as we learn, in the suburbs of London. When is it that we notice the clock is chiming over long? Or that the china dishes on the shelves, and the mantle clock itself are upside down? Or that there are strings of cumulus clouds on the light blue floor. Escher and Magritte could have done the set, though the nod goes to Harry Feiner. The costumes are mid-century modern and Barbara Bell's vision is fully realized. The costumes evoke the British version of June and Ward Cleaver, though slanted a bit through a funhouse mirror, as the actors move through what seems like a standard evening conversation, Mrs. Smith prattling on, until we realize Mr. Smith's contributions consist of "BOOOOOP," much like the sound track that signaled advancing a filmstrip, or a language dialogue, forward. It helps to know that Ionescu was fascinated by the conversations on the recordings from which he was learning English, and this was the natural absurdist outgrowth of those lessons. Botchan and Cover show great skill in making these people more than the potential cardboard cutout people they could be. This is difficult theatre and they revel in the challenge.
Mary, the Smiths maid, has just returned home from a lovely afternoon out–or has she? Who could say. Robin Leslie Brown plays Mary to a tee and her expressions are richly evocative of the confidence, then confusion that pass across her face like clouds on a breezy summer day. Clearly though, like those clouds, the breeze, at ground level, is going in one direction and, at cloud level, it's going in another.
Enter, the Martins. Mr. and Mrs. Martin have popped in both expectedly and unexpectedly. The couple (Jolly Abraham and Brad Heberlee) seem to keep their relationship fresh by having the attention span of goldfish–they can remember how they got where they are, but not that they are married to one another. The series of vignettes Ionescu provides in this play, which lasts just a bit over an hour, leaves one breathless and feeling slightly behind the characters, even though we're right on time. Relationships of men and women are highlighted in a delightful interchange that culminates with the introduction of the Fire Chief (Dan Daily), who is a raconteur with a higher opinion of his skills than his hosts share, but whose bravura piece is one of the highlights of rapid fire derring-do in the show. Each character has shining moments and, at one point in the storytelling arc, there is something very like a tuned speech quartet with the Smiths and the Martins reminiscent of an operatic quartet that is absolutely delightful. Each of these characters takes the world of the play so seriously that the comedy peeks around every corner, even as it continues to pique interest.
Ultimately, as all good things do, the play comes to end that, like a never ending circle, shows that the end of one situation is the beginning of another. Surprises abound, and clever, experienced actors make an evening spent with Pearl well spent indeed. You don't have much time to get your tickets, though–the show is only running through October 23, so visit PearlTheatre.org to order tickets. The City Center II space is easy to get to, and great restaurants are all around. Autumn Pearls are rare indeed.