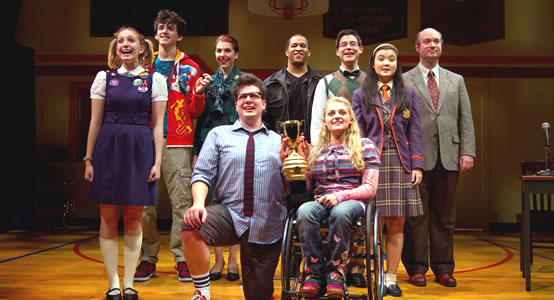 photo by by Mark Garvin, courtesy of Paper Mill Playhouse

Cast of Spelling Bee

.......................................................................................................................................................................................
Paper Mill Playhouse has just opened its brand new production of the "25th Annual Putnam County Spelling Bee" with a director's dream–a clever and talented cast. Marc Bruni directs this production, which is in partnership with the Philadelphia Theatre Company, and everyone who has ever been a product of some sort of schooling will resonate with the memorable characters that populate the rare three-walled gymnasium.

The premise of the show is an annual regional spelling contest that draws the best of the best to the Home of the Bears, including such recognizable characters as Rona Lisa Peretti, played by the talented Marla Mindelle, who won the contest some 15 years earlier and is very particular about how the contest is run, even while she rhapsodizes about her favorite moments–especially the anticipation of the contest. You can almost hear "Fanfare for the Common Man" as she considers the Olympian aspects of these young charges in her care. She ushers in contestants who range from a somewhat unkempt know-it-all kid in red Converse sneakers, whose name is consistently mispronounced as "BARFee," when it's in fact "Bar-FAY" (Will Blum), through a home-schooled tall savant-type youngster Leaf (Lyle Colby Mackston), whose family includes names like "Marigold;" a very earnest child named Logainne, with a mild speech impediment (Ephie Aardema), whose two dads have brought her up to take the world by the horns; the multi-faceted scholarly Asian over-achiever Marcy Park (Olivia Oguma); Chip Tolentino (Brandon Yanez), who is a know-it-all and young Lothario; and Olive (Ali Stroker), a youngster who is not only independently mobile in her wheelchair, she's also gotten herself to the contest without her parents' help, as her mother's in an ashram in India for the next several months and her father is working. This is one determined group of champions, who are each dealing with a panoply of different abilities, as their raging hormones have them experiencing the roller-coaster ride that adolescence coupled with competition leads to, on that bumpy road to the adults we will become. And let's talk a bit more about the adults.

Joining Rona at the Judges' Table is Vice Principal Douglas Panch (David Volin). Panch is the in-charge person, who doles out the words to our contestants and has the power of the bell that rings when someone makes an error that eliminates them from the competition. As Vice Principal Panch, Volin's quips are so deadpan quick, it's hard to tell where the script ends and he begins. You see, audience members may register to be called up on stage as contestants before the show and Rona and Doug develop colorful commentary almost literally on the spot! Volin, in particular, has a gift for delivery, a la Vice Principal.

Jerold E. Solomon plays Mitch Mahoney, the large and fearsome presence that escorts the child from the competition off-stage, hands them a juice-box and puts their folding chair away. Dressed in black from head to toe and looking pretty fierce, Mahoney is actually a gospel-marshmallow inside, who want to give the kids an idea that, while all this seems important now, this experience is nothing compared with the struggles to come.

Each of the children has something obvious that he or she battling–whether it's Logainne's earnest desire to make her dads proud–doing a really funny riff on the proximity of Pride and Father's Day, to Chip's struggle with his–um–"gallant response" to thoughts of Leaf's sister Marigold, to Olive powering through her parents non-attendance, as she pulls up her bootstraps and stays in the game. William's Magic Foot is both blessing and curse, Leaf struggles with the knowledge that his home-schooled siblings consider him less intelligent, and Marcy bristles at being called "all business" by Rona for her intensity. Each child and each adult rises to, then above, their better natures, and William Finn and Rachel Sheinkin's treatment of Rebecca Feldman's very original concept play "C-R-E-P-U-S-C-U-L-E," on which "Putnam County" is based, leaves everyone happy and whistling as they leave the theatre.

It is difficult for even young adults to play children convincingly, yet each one of these brilliant actors embodies his or her type ably and well. Aardema's interactions with her dads, double duty for Solomon and Mackston, show where her desire for success is born. Blum's Barfée bravely pretends to revel in his difference from others, but that's his façade and when Olive reaches through, they are both champions. Ali Stroker is an amazing performer, singing and dancing as one with her wheels and her timing is impeccable. Her Olive's optimism reaches through to William's heart and she is invincible. This role is written for a consummate actor, and she shines in this role. The singing and dancing is toe-tapping delight and when Olive sings a trio with her "mother" and "father"—Mindelle and Solomon, respectively—their sense of pride and love and her nascent understanding of the relationship of men and women come to the fore. It's one of many memorable moments in the show.

Chip's mind drifts in contemplation of Leaf's sister Marigold, and his body betrays him breaking his concentration. This leads to his leaving the contest, but he'll come to grips with that, so to speak. Marcy's driven to the point where her childhood is nearly sacrificed, but she learns that the lightness of being that comes from making choices. The greatest pressure on these contestants comes from within.

Make your reservations now–the wit is sharp and quick and you'll feel warm as can be, inspired and ready to take on the rest of winter. "Putnam County" is playing through February 13 and this will make a super early Valentine's gift! Three, four and five show subscription packages are also available and make GREAT gifts. Tickets may be purchased by calling 973/376-4343, visiting the Paper Mill Playhouse Box Office at 22 Brookside Drive in Millburn, New Jersey, or going online to www.papermill.org. Remember there are Lavender Nights as well, when you can dress to impress and be seen–that's a special party evening for the LGBT community. Visa, MasterCard, Discover, and American Express are accepted. Groups of ten or more can receive a discount on tickets and should call 973/379-3636, ext. 2438.