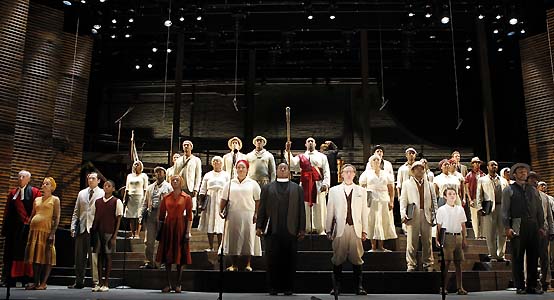 photo by Joan Marcus

Cast of "Lost in the Stars."

.......................................................................................................................................................................................
February is Black History Month and City Center Encores! series' apt offering was composer Kurt Weill and playwright Maxwell Anderson's second and last collaboration, the rarely heard music theatre work "Lost in the Stars" (1949), after Alan Paton's novel, "Cry, the Beloved Country," set in apartheid-era South Africa. "Knickerbocker Holiday," recently revived by the Collegiate Chorale, was Weill and Anderson's other joint effort. With a first-rate company, guided by Music Director Rob Berman and Stage Director Gary Griffin, the Encores! "Lost in the Stars" proved tremendously affecting, as befitted a work billed as "a musical tragedy" when new. Introduced on October 30, 1949, "Lost in the Stars" ran for nearly 300 performances on Broadway. The Encores! staged concert account opened on February 3 and the fourth of five performances, on February 5, is reviewed here.

'Apart-hate,' some used to call South Africa's venomous version of segregation, which did not end until 1994, and which found the white European minority ruthlessly wielding absolute power over the black African majority. In "Lost in the Stars," a black and a white father, through the catalytic tragedy of the loss of their sons, come to find they share more in common than the latter had thought.

Stephen Kumalo (Chuck Cooper), a man of the cloth, leaves his wife, Grace (Sharon Washington), and their village, Ndotsheni, in the country, to search for their son, Absalom (Daniel Breaker), in Johannesburg, where the young man has a common-law wife, Irina (Sherry Boone), who is pregnant with Absalom's child. Absalom was also the name of the Biblical King David's rebellious son, who was slain by David's own general, Joab. "Would God I had died for thee, O Absalom, my son, my son!" David wept, and Stephen Kumalo echoes that sentiment.

In a robbery gone awry, Absalom kills Arthur Jarvis (Kieran Campion), who had reached across the racial divide to befriend Stephen, in defiance of his seemingly irredeemably closed-minded father, James Jarvis (Daniel Gerroll). James tries to pass his intolerant attitude along to Arthur's young son, Edward (Ted Sutherland), when he sees Edward extend his hand to Stephen's nephew, Alex (Jeremy Gumbs), just as Arthur had earlier clasped Stephen's hand in his own. At the very hour of Absalom's hanging—and few were left dry-eyed after Cooper's Kumalo's heartrending cry of grief—James experiences an epiphany and, in the spirit of his lost son, is moved to say to Stephen, "Let us forgive each other … Let us be neighbors. Let us be friends." "You are welcome in this house. I have a friend," Stephen responds in kind.

Cooper lent Kumalo's songs—written for Todd Duncan, who was also Gershwin's first Porgy—anthem-like, but reflecting Weill's unmistakable blend of classical strains and jazz, a rich baritone and great feeling, starting with "Thousands of Miles," as he embarked on his journey to the city; then folksily limned "The Little Grey House," which he left behind, for Alex, his notorious sister, Gertrude's son, whom he will bring back with him; simply, but sonorously sang title song "Lost in the Stars," which comes at a moment of extreme turmoil; and finally the soliloquy "O Tixo, Tixo, Help Me!" a prayer and virtual aria, in which he wrestled with the conflict between his faith in truth, and awareness that if his son would lie in court, it could save his life.

Boone, as Irina—the role of Shirley Verrett's New York City Opera debut, in 1958 on the same stage, in a production that also featured Lawrence Winters and Louis Gossett, Jr.—brought rich, plangent vocalism to impassioned solos "Trouble Man" and "Stay Well," addressed to the absent Absalom.

Tenor Quentin Earl Darrington made a commanding Leader of a strong ensemble in the songs that opened the two acts, the lyrical, then dramatic "The Hills of Ixopo," contrasting the idyllic and "desolate" aspects of the African terrain, and the earnest "The Wild Justice," about the fickle force which Absalom will face; in the propulsive "Train to Johannesburg," about the differences between the black and white situations in society, and fiery "Fear," expressing blacks' and whites' wariness of each other; and the wrenching lament "Cry, the Beloved Country," and hushed "Four O'Clock," as the evening drew to a close. Resonant, dark-voiced Jorell Williams led the ensemble in solemn hymn "A Bird of Passage."

In lighter numbers, Patina Miller, as Linda, an entertainer, vamped in the suggestive "Who'll Buy?" making names of vegetables and fruits sound like lewd euphemisms, and young Gumbs cheered us with "Big Mole," the tale of a miner who dug all the way down to hell. Miller will soon play Deloris in "Sister Act" on Broadway.

John Douglas Thompson portrayed Stephen's cynical brother, John, and Clifton Duncan, as John's son, Matthew, and Chiké Johnson, as Johannes Pafuri, played Absalom's partners in crime, who lie—which Absalom, who pulled the trigger, cannot—and go free.

Adam Alexander, Sumayya Ali, Alvin Crawford, André Garner, Rosena M. Hill, Mary Illes, Emily Jenda, Amy Justman, Joy Lynn Matthews, André McRae, Patricia Phillips, Devin Richards—a familiar figure at "Broadway at the Beach" in Cherry Grove—Lindsay Roberts, Nathaniel Stampley, Eric van Hoven, Kevin Vortmann, J.D. Webster, and Christian Dante White, many of whom also had short solo assignments, made up the chorus.

Next on the Encores! agenda is Frank Loesser and George Abbott's "Where's Charley?" which, like its source, Brandon Thomas' farce "Charley's Aunt," has a drag protagonist. "Where's Charley?" will play from March 17 to 20 and tickets, at $25, 50 and 100, are available by calling CityTix at 212/581-1212, going to www.NYCityCenter.org on line, or visiting the City Center box office on West 55th Street, between Sixth and Seventh Avenues. Berman will again be the conductor and John Doyle will be the director.