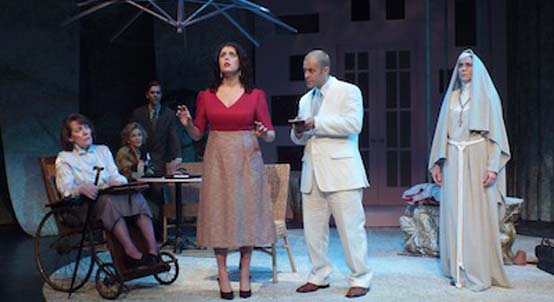 photo courtesy White Horse Theater Company website

Elizabeth Bove, Lue McWilliams, Haas Regen, Lacy J. Dunn, Douglas Taurel and Carol Ann Foley

.......................................................................................................................................................................................
White Horse Theater Company celebrates the centenary of Tennessee Williams' birth with its production of "Suddenly Last Summer," at the Hudson Guild Theatre on West 26th Street, between 9th and 10th Avenues. This intimate theatre is the perfect setting for the Southern gothic gem that, in contemplation at least, is a gory, delicious internecine mess of what we love most about the fetid, hothouse South.
Part of the play cycle "Garden District," "Suddenly Last Summer" has a grand mythic scale, as the story of a man's demise begins to spin out, much as a spider–in this case the deceased man's mother–spins her web. Deceit and denial lead to delight for those who just can't bring themselves to drive by a car crash without looking, and this 1958 tale was written when Tenn himself was just beginning therapy. Again, delish!
The subject of our story, Sebastian Venable, is the scion of a wealthy family and, as you might have guessed, a not-so-latent homosexual, who used his mother to attract prey, I mean young men. When she suffered a stroke, however, he could no longer use her as a lure. He defaulted then to his cousin Catherine and the mayhem began.
Elizabeth Bove plays Mrs. Venable with the verve of a Southern belle, gone bad from the inside out. Still managing to deceive herself, or perhaps not really, that she hasn't suffered a stroke at all. Miss Foxhill, played here by Heather Lee Rogers, is a combination of solicitous and fractious, as she protects her employer with the tenacity of a diminutive Pomeranian who believes she is a pit bull. And perhaps she is, after all.
Douglas Taurel, as young Dr. Cukrowicz, has agreed to meet and interview Catherine to see whether she's a good candidate for his dramatic treatment of what her family terms her madness. He takes it all in, observes the situation, and formulates theories. After all, Sebastian's death could never have occurred in the manner she has stated. And poor benighted Catherine, Lacy J. Dunn, is beset not only by her disbelieving family but also her caretaking nun, Sister Felicity, played with a peek-a-boo Irish accent by Carol Ann Foley. Tight, taut and disconcerting in their own right, the family is rounded out by Catherine's mother Mrs. Holly, Lué McWilliams, and brother George, Haas Regen, who each have their version of the "poor me" mantra. Mrs. Holly is concerned about her daughter and family, George is forgets sometimes that his cousin Sebastian is dead in his quest for money and what the world will bring him as a result.
This Southern style gothic tale brings to mind another sad Sebastian–Sebastian Flyte of "Brideshead Revisited." Both Sebastians are scions of wealthy families, both are homosexuals who seek validation far from home, both come to a bad end, and both sow tragedy for their families. How much of Tenn speaks through each of the Holly and Venable families, you'll need to decide for yourself. But no one does Williams' plays like White Horse. Make your reservations now, "Suddenly Last Summer" is only playing through October 2, and this Actor's Equity showcase rewards your journey. Go to WhiteHorseTheater.com for more information and a link for tickets. Remember, you've got a short time to celebrate the Tenn-tennial.