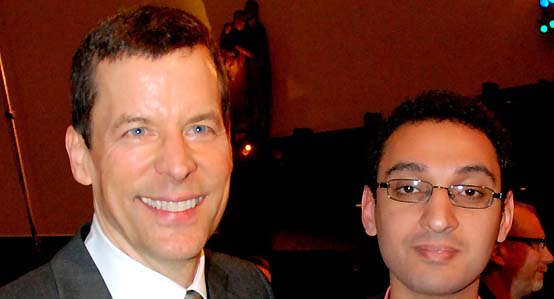 photo by Sherri Rase

Conductor Scott Dunn and Composer Mohammed Fairouz

.......................................................................................................................................................................................
Mohammed Fairouz' newest opera, "Sumeida's Song," had its concert version World Premiere on April 13, at the New York Society for Ethical Culture auditorium, before a very appreciative audience. The Mimesis Orchestra under the baton of Scott Dunn took us on a journey to an early 20th century Egyptian village, in a time astride old and new, where a very vivid clash of ideas takes place.

Tawfiq El-Hakim's 1947 play "Song of Death," spoke so eloquently to Fairouz that, when he read it, he immediately began to translate it to set it as his libretto. The story is both old and new and has the vigor of a tale handed down from much less civilized times than these.

It is the story of a woman whose husband is killed in a blood feud—in these times, we could read this as organized crime incident or gang way—and she sends her toddler son away while leading everyone in her village to believe he's dead. She becomes her own éminence grise, while she plans the undoing of the man who killed her husband and sent him home in pieces in a saddlebag on his own donkey. Her son was spirited away to Cairo where he could become educated and learn how to avenge the father he never had a chance to know.

Seventeen years later, Asakir sends for her son Alwan. Her cousin Mabrouka is with her while she awaits not so much the return of her son, as the vengeance for her husband's death Alwan will wreak upon her enemies. Mabrouka's son, Sumeida, has gone to the train station to retrieve his cousin. Sumeida will sing upon his return, if he's successful in bringing Alwan with him.

Families seem destined to disappoint one another, even in their deepest love, and so it is with Asakir and Alwan. Asakir tells her son what he must do, and as an educated man, he asks if she is certain who killed his father and whether there's not a way to end this blood feud. They have a monumental argument, ending with Alwan heading back toward the evening train, where perhaps he and his mother could have a better conversation from a distance. Asakir is indomitable in her rage and unyielding. Alwan is a broken tool, so she dispatches Sumeida to end his life with the knife that killed his father and should have been used, in her mind, by Alwan to avenge him. Sumeida is successful in his bloody task, feeling he has satisfied his duty and sings upon his return and that is Asakir's final descent into madness.

Biblical in sweep, the opera tells a story of a clash of old thought and new thought and, while written in 2009, comes, for Western listeners, on the heels of the unrest in Egypt that has led to the forming of a new type of government for that region. Fairouz is dedicated to bringing Eastern and Western thought together, and breaking down the barriers that prevent people from being everything they are, and moving forward together.

The cast was superb–Jo Ellen Miller, soprano, was Mabrouka, while Rachel Calloway took the mezzo-soprano role of Asakir. The rich dark tones of Calloway's voice and the clear sweet bell tones of Miller's swirled around one another in the tuneful, modal music evocative of the region. Tenor Robert Anthony Mack sang Sumeida with a verve and sweetness that brought to mind a very young man at the height of his vigor. Randall Scarlatta's baritone gave weight and brilliance to Alwan's big ideas and the echo in the music was broad with the return of exotic and beautiful Eastern modality.

The orchestra has some thrilling moments as well, though at times they were a bit strong, considering that there were vocalists. When this has its stage premiere, the orchestra will be in the pit, and here, the placement of vocalist and orchestra at the same level in the auditorium space was, at times, a challenge for the singers.

The flute had a gorgeous, "bendy" melodic line that I felt was Alwan's father's ghost peering in and twining in and among his family, a bit like Hamlet's father's ghost. Making its first appearance in Act II, during Asakir's aria "The Saddlebag," as she describes how her husband's remains were sent home, the theme returns when Alwan questions his mother about how she's certain, and when she sings "God knows best," it's almost as if Alwan's father is working to set the story right. Alwan's summoning of a vision, in which the village can transcend its present state, and his exhortation to move past blood feuds is where the broadening of the music occurs–big music for big ideas. Undercurrents of minor chords and dis-chords undercut the beauty of Alwan's dream. There is a cello line that seems to highlight the angst for the present and the fear that his dream for the future may not be—prescient, no? This, followed by Alwan's declaration "I won't kill!" seems like a herald's trumpet. This leaves his mother muttering to herself. as Alwan's paean to change fades into resignation, when he decides to go back to Cairo.

Vengeance for the father transmuted to vengeance about the son's refusal to exact it brings to mind recent conflicts in the Middle East brought about by the Bush league. Swift action, swift retribution brings to mind when you do things in haste, you repent them in leisure. This opera has winds of change swirling around and through it, and it's one you must see. For more information about Mohammed Fairouz and his body of work, visit www.mohammedfairouz.com. This young composer is someone to watch.