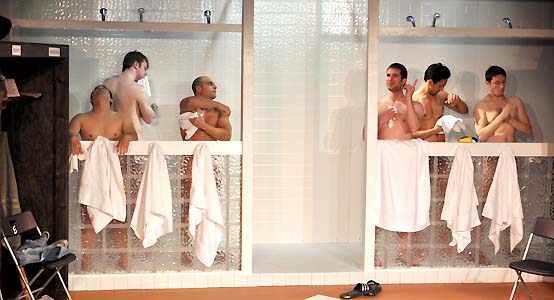 photo by Clinton L. Scott

scene from ''Take Me Out''

.......................................................................................................................................................................................
Every single day, we see the faces of dozens of professional athletes, men whom we know on a first name basis–even if they don't have a clue who we are. These men seem golden, larger than life, and living through charmed event after charmed event. But what if one man took his fate into his own hands? This is the premise of "Take Me Out."

This Tony Award-winning play was penned by Richard Greenberg not quite 10 years ago, when he found a new love later in life–and that love was baseball. The athletic feats of the players, the number patterns in the statistics and the excitement of a team pulling victory from the jaws of defeat give the impression that it's never too late to be a winner. Nutley Little Theatre's ace director, Ron Mulligan, has devised a dazzling diamond in the middle of an intimate space, and what happens in this space will remain with you for some time to come.

Darren Lemming (Matthew Curtis) is the star of the Empires–the team that everyone wants to beat. This year, Darren will take them to the World Series for the third time, and what they do there will be the stuff of legend. Kippy Sunderstrom (Matt Algozzini) is Darren's bud, his voice of reason, his conscience of sorts, and when Kippy begins his narration of how "It" all began, you'll hear the initial capital, too.

This is the story of a man who has it all and feels bullet proof. When Darren, who's young, at the peak of his game, the hero of fans everywhere, decides to come out at a routine press conference, he is unprepared for the whirlwind he's unleashed. Early on, at least, his team mates are speechless. Skipper (Stuart Aion) is the team manager and he tells Darren that everything is fine, and it will all be fine. Kippy tries to wrap his brain around the whole thing, thinking that Darren has come out "for" someone–a partner, or someone that Darren could bring to socialize with Kippy and his wife and kids. There's no one special, yet. Darren has come out for the philosophical aspect–that there needs to be a gay role model for gay kids. Kippy lets us know from the beginning that Darren has never really had a struggle–his black mom and white dad had a pretty great life, and gave him what he needed to excel. He's charming, handsome, and talented in every aspect of baseball, and this really throws a monkey wrench into the well-ordered masculine and macho lives of his team mates.

Most of his team treats him like a regular guy–Martinez (Jorge L. Gonzalez, Jr.) and Rodriguez (Marcelino Feliciano) are like brothers and they're cool with whatever Darren does–they are all dedicated to the team. Jason Chenier (Alex Thompson) has just come up from the AAA league and is a bit in awe of Darren and his awe-shucks-ness is very endearing. Imagine if you got to work with someone you've idolized! Toddy Koovitz (Eddie Capuano) is the well-meaning bigot that's always in every team or work group. He is loud and opinionated, convinced that he is always right. He's so thick-skinned that, even when you change his mind, it doesn't hurt his feelings, and he'll probably change it back again when he's left the room. Capuano's treatment of Koovitz's Act One rant, as he's clad for the most part in a towel, shows the rough-hewn dignity of the character even as he's challenging Darren's patience in trying to give his side of the story. Takeshi Kawabata (Gary Sugai) is the ace Japanese pitcher, whose first act when he came to the United States was to dismiss his translator. What seems like a bad idea to us, appears to give him some solace and a bit of space from the madness around him even if he's crushingly lonely.

Davey Battle (Jeff Foote) is actually on a rival team but he's Darren's best friend–until Darren commits the unspeakable and challenges Davey's world view that Darren was just like him and wanted the same things. A devoutly religious man, Davey brings the battle to Goliath–um–Darren and the results will take you by surprise.

Teams have slumps–even world class teams. And when this happens, you've got to bring someone up with the talent and the guts and the drive to get the job done. When Kawabata pitches six great innings and folds like a paper doll on the seventh, you need a closer–and that closer is Shane Mungitt (Tommy Biggiani). Shane is like a simmering cast iron pot on a stove–you can hear the phump-phumpfing as the heat inside pushes at the lid, but you think that you'll be able to get the heat down in time. There are times when ignorance is the catalyst, however, that causes the eruption that comes next.

Mason Marzac (Ray Yucis) is the Everyman in this tale. He's the mensch, the man-on-the-street, who only learns to love baseball when he is assigned to manage Darren's portfolio, when the previous business manager retires. Mason has always been the bookish kind of guy, with no point of intersection other than blood with his heterosexual brothers, but he does his homework. He begins to watch baseball, becoming even keener when Darren comes out. Now there is an additional point of commonality for them. Mason is the man who finds a new and exciting interest at a time when he thought he was already a fully formed human being. Baseball brings out the childlike wonder and the excitement at learning something new. And once again we see that. for some things, it is never too late.

This cast has standout moments and great interactions: the showdown between Davey and Darren, Kippy reaching out to befriend the seething Shane, and Kawabata's outpouring of anxiety that Kippy translates for Jason; Martinez and Rodriguez teasing Kawabata, who doesn't know quite what they're angling for; and Toddy and Darren's locker room duel, in which each tries to make his point. Scenes will come back to you in surprising detail and you will continue to digest this show long after you've left NLT.

Tickets are only $15 and the run is nearly sold out so call 877/238-5596 now or visit www.nutleylittletheatre.com. Every seat is a box seat in this house, and you're even better than over the dugout: you're in the locker room itself! The show opened on April 8 and runs through the 23rd, playing on Fridays and Saturdays at 8 p.m., and Sundays at 2 p.m. and 8 p.m. It arrives just in time for the season and, deep as long ball hitter, will have fans of baseball and great plays buzzing.