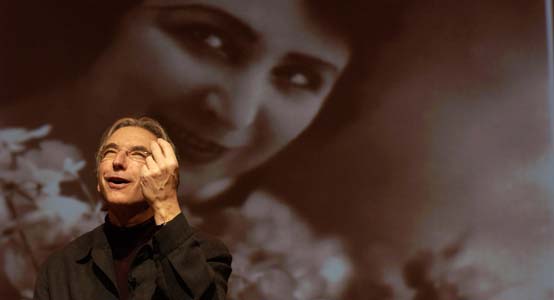 photo by Stefan Cohen

Michael Tilson Thomas with photo of Bessie Thomashefsky

.......................................................................................................................................................................................
On April 5 and 6, the latter date considered here, conductor Michael Tilson Thomas (MTT) lovingly saluted his grandparents, Boris and Bessie Thomashefsky, late 19th to early 20th century actors, producers and icons, in the heart-warming "The Thomashefskys: Music and Memories of a Life in the Yiddish Theater" (2005), with music theater alto Judy Blazer, as Bessie, and bass Shuler Hensley, as Boris, and operatic soprano Ronit Widmann-Levy, as other Yiddish Theater divas, and lyric baritone Eugene Brancoveanu, as the young Boris and in other roles, with the New York Philharmonic, at Avery Fisher Hall. We laughed, we cried, we kvelled and swelled with identification and pride, and clapped along and, with the final encore, sang along, during a wonderful evening of singing, in Yiddish, English, and a combination thereof, and orchestral music, with mournful clarinet and patriotic piccolo solos, from Yiddish operas, operettas, and musicals, as well as an array of archival photos, recordings, and film.

Tilson Thomas' remembrance of grandfather Boris, who died before he was born, and grandmother Bessie, very much a vivid presence in his early life, took them from their lives in neighboring shtetls in the Ukraine, through early, often highly improvisational stage appearances in melodramas in 'shund' (crap, was MTT's translation) theater—his first as a boy soprano, fresh from training as a cantor, even deputizing in drag for a temperamental leading lady, before his voice began to change when he was 16, and she, barely 16 herself, seven years later, marrying him and developing a successful repertory of trouser roles—in New York, her hometown Baltimore—where she saw her first play, "Romeo and Juliet," and where her father at last gave his blessing to the marriage—and elsewhere on tour; through their establishment of an empire consisting of a succession of theaters—the Peoples, the National, the Thomashefsky; his own newspaper, Die Yiddische Bihne (the Yiddish stage), while she, now Americanized, sophisticated, and glamorous, wrote an advice on beauty for another, Die Warheit (the truth); and even an army of Argentinean gauchos, whom he sent to protect what was then called Palestine; to his affairs and, finally, their separation and theatrical rivalry, as she took over what had been his roles; and his breakdown just as he arrived on Broadway, his refuge in Thomashefsky's Roumanian Villa restaurant, and his 1939 funeral, for which family, friends and fans filled the streets of the Lower East Side, and her becoming quite the toast of Southern California, though she failed a screen test for the role of a landlady, because she didn't sound stereotypically Jewish enough.

Music from composer Joseph Rumshinsky and lyricist Isidore Lillian's "Khantshe in Amerike" (1912) began the program—the rollicking overture, with an interlude of tugging at the heartstrings—and returned later—Blazer, en travesti, singing the stirring title song of Khantshe, the immigrant woman, who dresses as an man to learn to drive and get a job as a chauffeur, and campaigns for women's suffrage. With Tilson Thomas at the Steinway, Blazer sang us the upbeat, making-do-in-hard-times "A mantl fun alt-tsaytikn shtof" (a coat from old-time stuff), about cheerfully and resourcefully turning a threadbare ancient coat into a dress, then a pocket and, finally, when nothing's left, a song.

From the legendary Abraham Goldfaden's opera "Koldunye" (the sorceress, 1879), Widmann-Levy, as Mme Krantzfeld, gave us the dramatic 'mad scene' of Mireleh—"who carries on like a Yiddish Lucia di Lammermoor," Tilson Thomas said—but later, due to a headache, a toothache, or a fit of pique, refused to go on, whereupon a prepubescent Boris—Hensley—donned her costume and went on in her stead, while retaining his own role of 'the pancake vendor' in the third act—Brancoveanu singing the melismas of "Babkelekh." For a "Vi gefloygn kum ikh vider" (as if on wings I come), from "Aleksander, der kroyn prints fun yerusholaim" (Alexander, crown prince of Jerusalem, 1892), Brancoveanu, as a bird catcher, put on a Papageno-like costume, and was joined by a beribboned Widmann-Levy, whereupon the lilting solo became an impassioned duet.

Competing with Jacob Adler, who played in "King Lear" and other classics in Yiddish, while the Thomashefskys specialized in highly improvisational shund, Boris announced an adaptation of "Hamlet," as "Der yeshive bokher" (the yeshiva student, 1899), by Louis Friedsell, from which Hensley offered Boris' version of Hamlet's scene with his father's ghost, here a Kaddish, or prayer for the dead, "Oy, Vater!" In other forays into the classics, Bessie played Salome, dancing "the dance of the seven schmattehs," and Boris even presented a Yiddish "Parsifal!"

From one of the Thomashefskys' biggest hits, composers Arnold Perlmutter and Herman Wohl and lyricists Louis Gilrod and Boris' "Dos pintele yid" (the little Jew or, as translated here, a little spark of Jewishness, 1909), we heard the, to some of us, familiar, bouncy title tune; Blazer singing the travesti central figure's racy "Shtoyst zikh on," in English, as "Give a Guess;" and the rousing "Bar Mitzvah March," the original a spectacular production number, begun here as Hensley and Brancoveanu's duet and, joined by the women, turning into a clap-along finale for the first half of the show.

The Thomashefskys hit pay-dirt with Bessie's performance as the protagonist in "The Green [for greenhorn] Boy," and Boris presented her, in succession, in "The Green Maid," "The Green Tailor," "The Green Schlemil," and "The Green Musician," by Friedsell and Lillian and others, between 1905 and 1908, and here Blazer proffered bits of all of these. Boris' reputation was so widespread, that his expansiveness—picking up the check for all when he was almost penniless—and his seductions made it into a comic song by "Shine on, Harvest Moon" creators Nora Bayes and Jack Norworth, "Who Do you Suppose Married My Sister? Thomashefsky" (1910), which Tilson Thomas himself sang to us. The title song from Rumshinsky's "Uptown, Downtown" (1916) followed.

In their Yiddish theater works, the Thomashefskys tackled such serious issues as labor and class struggle, assimilation and, besides women's suffrage, birth control for unmarried girls, which they could never have broached on the English-language stage. After Hensley, as Boris, as Solomon the ice man, in Perlmutter, Wohl, and Boris' "Der griner milyoner" (the green millionaire, 1916), joined by Brancoveanu, offered a toast or maybe laid blame, in "Lebn zol Columbus" (long live Columbus), we heard Bessie's recording of the humorous monologue "Minke on the Telephone," from "Minke di dinstmoyd" (Minke the maid, 1917), about the wisecracking maid who marries a doctor, then were treated to Blazer's interpretation of the role, and next saw a clip from the film "Bar Mitzvah," which Boris made late in his life, and sang in, in a still-rich baritone.

If Bessie didn't have Boris' undivided attention in real life, particularly after his new young leading lady came into the picture, she could still play an independent woman, able to bring a sympathetic man around to seeing her point of view, on stage, which led to Brancoveanu's leading man professing unconditional love for Blazer's Bessie, in the romantic title song from Rumshinsky's "Vi mener libn" (the way men love, 1919). A couple of encores, one of which found us singing "Vatch your shtep" along with cast, brought "The Thomashefskys" to a close.