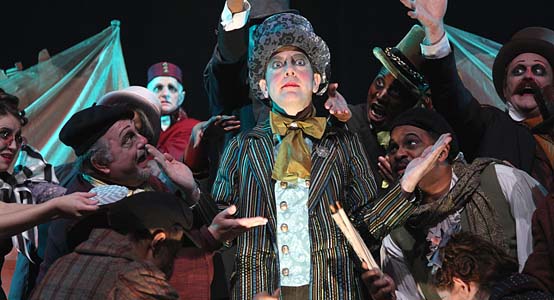 Photo: ©Gerry Goodstein

Greg Jackson (center) as Timon surrounded by the people of Athens who seek his generosity.

.......................................................................................................................................................................................
What do "Steampunk," "Moulin Rouge" and "Clockwork Orange" have in common? It's their influence on Brian B. Crowe's brilliant production, for Shakespeare Theatre of New Jersey (STNJ), of William Shakespeare's rarely-seen "Timon of Athens". Timon as a character is tied to his society, in the beginning when he willingly embraces it, and bound even closer when he attempts to reject it. yet still cannot find it within him to leave "civilization" behind. And how are we all tied to situations we feel we cannot change? From the moment you step into the performance space, which is populated with actors exploring their inner conflict of "man vs. machine," you know you are in for something very, very different.

This adaptation runs 90 minutes without intermission and in it, ladies and gentlemen, you will see the present loft heights descend into the wilderness as one man's inner goodness is trampled so thoroughly that his transition of anthropic–from phil- to misan-–is a lesson in acting itself. Timon (Greg Jackson) is our hero, who's everyone's best friend when he's giving gifts. Wealthy as they are, the denizens of this imaginary Athens accept the gifts and angle for greater ones. There are many echoes that parallel the current situation in New Jersey, where politicians wrangle over dollars and cents for the arts and public health. while not cutting their own budgets or staffing, top down. Clearly the Senators of Athens are not a great deal different from their current counterparts, despite the passing of several centuries.

These parallels are part of what led Director Crowe to select this play, which came to life for him in 2008, when the play really resonated with the most current of events. This staging brings the play to life for people who might not otherwise choose to see what is characterized as one of Shakespeare's "problem plays." Why is this play so different from his others? Why do characters not have names, just designations like "Senator 1?" Why does it have such a high beginning and such a bitter, bitter end? When you see this show, you will see how a creative staging makes a message even more piquant and brings out the wealth that is within this treasure.

Crowe and Brian Ruggaber are responsible for the set that is as dazzling as it is recyclable–a collection, seemingly, of found objects. STNJ is doing amazing things with sets, and this one integrates cardboard, large clock gears, the spare bare-bulb look of a carnival midway, and miles of pearls and jewels. Vocal emanations also add color–automatons who chant "ching" each time coin changes hands is a reminder that few things in life are truly free. People's calloused inhumanity to one another only makes the kindness of characters like the stalwart steward Flavius (John Seidman) even greater in contrast.
The cast includes Jessica Ires Morris as the Ringleader and other characters, Ames Adamson as Lucullus, the brilliant Bruce Cromer as philosopher Apemantus, and Brent Harris as the honourable, yes dishonored by his fellows, Alcibiades. The cast also includes A. Benard Cummings, Eric Hoffman, Geoffrey Owens and Scott Whitehurst, as well as hard-working non-Equity players Jasmine Batchelor, Dan Lawrence, Allison Layman and Quentin McCuiston. Every member of the cast, including several who are not listed in the program, works hard and continually in true Shakespearean fashion rolling through roles and taking on personas with great aplomb. Each shows his or her versatility in the banquet scenes, which include a swirling maelstrom of energy, and as soldiers, loyal servants or sycophants, each displays a skill that is so refreshing on a sultry summer evening.

Let me mention the staging again–the players are on the stage and sprinkled through the theatre and they stop traffic as patrons enter and realize that these were not Madame Tussaud figures, but actors plying their trade. Periodically, there is a Victorian sounding alarm and ticking and the poses change. Initially each on their own, the characters after a point interact, or nearly interact, and to me this speaks volumes about what we consider to be protocol in society and business. Bravo, Brian Crowe! Bravo Shakespeare Theatre of New Jersey!

"Timon of Athens" is playing through July 24. For tickets or more information, call the box office at 973/408-5600 or visit www.ShakespeareNJ.org. The F.M. Kirby Shakespeare Theatre is located at 36 Madison Avenue, at Lancaster Road, in Madison or just a short walk from the train station.