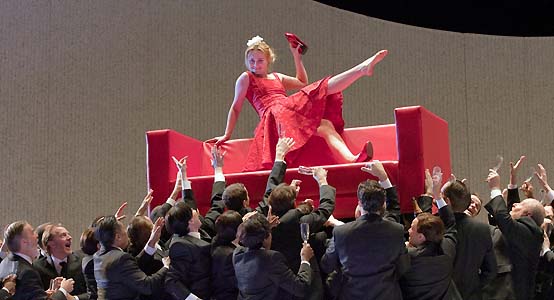 photo by Ken Howard, Metropolitan Opera

Marina Poplavskaya as Violetta

.......................................................................................................................................................................................
Call it a backlash against two consecutive lavish Franco Zeffirelli productions of Giuseppe Verdi's "La Traviata." Call it a response to the recession. Whatever the reason, the Metropolitan Opera now has an austere new and riveting "Traviata," also presented at the Salzburger Festpiele and De Nederlandse Opera, directed by Willy Decker and designed by Wolfgang Gussmann (sets and costumes), Susana Mendoza (associate), and Hans Toelstede (lighting), all new to the Met, depicting Violetta's world as one of death, alienation, and cruelty, mostly in stark black and white, with a no-less-riveting new Violetta in Marina Poplavskaya, whose dark and penetrating lyric soprano sounded up to the role's diverse demands. Expect no dazzling ballrooms, no grand staircase. You won't emerge from this "Traviata," delicately dabbing tears from your eyes after the consumptive courtesan's pretty death. You may, instead, want to throw yourself off the nearest balcony. This isn't the only way to do "Traviata," to be sure, but Decker and company show us that it's a valid way. Only time—a significant element here—will tell whether or not this interpretation will endure. The new production opened on New Year's Eve. I heard the second of the season's nine performances, on January 4.

Recurrent images here are of a large clock, inexorably ticking away the moments of the doomed Violetta's life; the figure of Death, portrayed by the bass who sings Grenvil (Luigi Roni), Violetta's doctor; and an iconic little red dress, one of the production's few touches of color, worn by Violetta and evidently symbolizing her profession as a 'scarlet woman.' Poplavskaya's Violetta is obsessed with the clock and is as apt to confide in and seek refuge with Dr. Death as to defy him. When Alfredo, sung in a bright tenor by Matthew Polenzani, offers her love and hope—the unknown—she pushes him away and mocks him, seeming to prefer what Dr. Death—the known—has in store for her, until she relents and throws him her camellia. When he learns from her dour maid, Annina (Maria Zifchak), that Violetta is bankrupting herself, essentially to 'keep' him, the cheerful mood of his exuberant "De' miei bollenti spiriti" abruptly evaporates, and he addresses his expression of remorse and shame, "O mio rimorso," directly to Violetta. When Alfredo's father, Giorgio Germont, an imposing Andrzej Dobber, his baritone equal to his high-lying role, intervenes to end Violetta and his son's floral-patterned idyll, when even the clock is draped in bright colors, the red dress, temporarily retired, hanging next to it, he backs off when the heroine, now in a slip, asks him to embrace her like a daughter. Alfredo, similarly, backs away, when he tries to tender a fatherly embrace, and the son receives in response a severe slap, knocking him to the floor, but instantly regretted, in between the guilt-trip of Germont's "Di Provenza" and the placating cabaletta, "No, non udrai rimproveri." In the following scene, Germont observes the altercation between Violetta and his son, the result of his interference, from above, where Dr. Death had roosted earlier.

Decker's use of the ensemble, with all of the men and women in identical tuxedos, including Violetta's sister courtesan, Flora (Jennifer Holloway); Baron Douphol, Violetta's 'protector' (Jason Stearns), the Marquis d'Obigny (Kyle Pfortmiller); and Gastone (Scott Scully), is particularly striking. Violetta's demimondaine friends make for a cruel and menacing mob, making immediate demands on her for champagne and for entertainment, in Act One; many donning grotesque Violetta masks and one, the choreographer Athol Farmer, even the red dress to taunt Alfredo and then Violetta by reenacting their story in Act Two, in which they use her by-now-iconic clock as their roulette wheel; and, as Mardi Gras revelers, invading even her bedroom when she's dying, and bringing her face-to-face with a new doppelgänger, sporting the red dress and identical long blonde tresses, literally bound to the clock. As Violetta lies prostrate on the clock, at the end of Act Two, it is not the chorus' admonitions that stop Alfredo from pelting her with money, however, but the words of his father, shaming him. When Violetta passes out on the floor at the end of the act, they withdraw only when Death confronts them, during the Act Three prelude.

Poplavskaya's Violetta, now in black, like Annina and Grenvil, reads Germont's letter, meant to restore hope, to Doctor Death, before her moving "Addio, del passato," both verses. When Alfredo returns and Violetta demands that Annina help her to dress to go out, we half expect to see the red dress once more, but, no, that part of her life is gone forever, as is the clock she watched so poignantly. When she appears to have a miraculous recovery, the flowers of the backdrop, which faded to gray, when Germont took her hopes away, eerily glow bright red in these, her dying moments.

Gianandrea Noseda leads the singers and Met orchestra in a crisp account of the score, played now with just one intermission, following the first act. The cast remains intact throughout the run, with additional performances of "Traviata" on January 7, 12 19, 22, 26 and 29 at 8 p.m., and 15 at 1 p.m., the matinee transmitted as part of the Met: Live in HD series and broadcast on the Toll Brothers-Metropolitan Opera International Radio Network. For tickets, from $17 to 420 apiece, visit www.metopera.org, call 212/362-6000; or visit the Met box office at Lincoln Center. A fee of $2.50 per ticket is added for ongoing maintenance of the opera house. Rush tickets are available on the day of performance for $20 during the week and $25 on weekends.