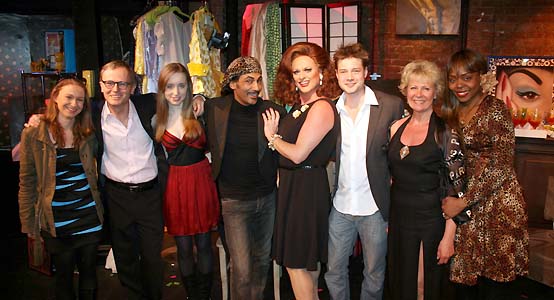 photo by Bruce-Michael Gelbert

Cast of "Two Steps Forward" (left to right) Julie Yarwood, John Philip, Linda Elizabeth Freund, Andrew Loren Resto, Philomena (Philip Stoehr), Brandon Ruckdashel, Barbara Mundy & Courtney Jean Allen

.......................................................................................................................................................................................
Early in 2010, in "All That Might Happen," playwright and actor John Philip introduced the tale of Seth (Andrew Loren Resto) and Corey (Philip), a New York City gay couple, who plan to have a child, with Helen (Mariah Bonner, later Barbara Mundy) as the surrogate mother. While matters don't quite take the path they had in mind, Seth and Corey do end up after all with a son, Josh (Brandon Ruckdashel), to whom Helen, mostly absent from their lives thereafter, has given birth. Michael Portantiere directed.

This spring, in "Two Steps Forward," guided once more by Portantiere, as director and, now, dramaturg, Philip, assisted by Resto, continues the story of Seth (Resto), Corey (Philip), Josh (Ruckdashel), and Helen (Mundy), and adds to their extended family Seth's sister Lorraine (Courtney Jean Allen), who's married—shudder—to a Republican (!); Nathalie (Linda Elizabeth Freund, alternating with Julie Yarwood), Josh's girlfriend, a surprise to his gay dads; and, perhaps best of all, Phil/Philomena (the charismatic Philip Stoehr), Josh's exotic godparent and Seth and Corey's neighbor. Sophie (Yarwood, alternating with Freund), who works for Phil and is more with it than she lets on, completes the cast.

The story begins on the eve of artist Seth's first gallery show in the city—and adorning the set, now by Resto, and lit by Drew Vanderburg, are Resto's own paintings—and it is to be held in Phil's shop downstairs, an amazing showplace for art, couture, antiques, and notions. It is also Election Day 2008, when the nation, progressively, elected Barack Obama, its first President of color, and California, dismayingly, passed Proposition Eight, declaring that "only marriage between a man and a woman is valid or recognized" in the state and effectively outlawing same-sex marriage there. On this day of heightened emotion, issues are raised, tempers flare, family feelings fray, and new 'alliances' within the family are formed. As for how all complications are worked out on the following day, "well, that's the play and [you] wouldn't want us to give it away," so see for yourself at Manhattan Theatre Source, 177 MacDougal Street, between Eighth Street and Waverly Place, where "Two Steps Forward," which opened on May 13, after a week of previews, is presented by 3A Productions on May 14 and May 18 to 21 at 8 p.m. Tickets at $18 are available on line at www.theatresource.org or by telephoning 212/352-3101.