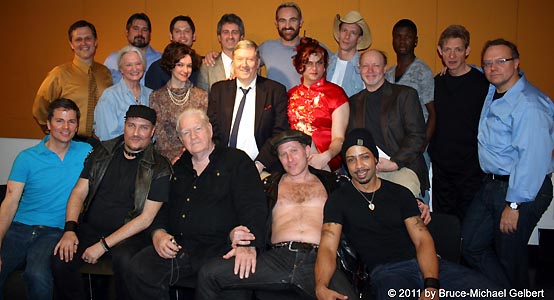 photo by Bruce-Michael Gelbert

cast of "West Street Gang," with playwright Doric Wilson (front, center) & director Mark Finley (standing, furthest right)

.......................................................................................................................................................................................
When Doric Wilson's witty play "The West Street Gang" was new in 1977, before the AIDS crisis, gay bashing was perhaps the biggest problem we faced, not only by a right-wing zealot such as Anita Bryant, crusading to repeal rights laws that had already been passed, in places like Dade County, Florida, and prevent passage of additional ones, but also by homophobic punks on the street, and collaborationists within our own community. TOSOS (the Other Side of Silence) theater company, which Wilson founded and heads along with Mark Finley and Barry Childs, brought some of us back to those times, and gave a new audience a chance to experience Wilson's take on them, by offering a semi-staged reading of "West Street Gang" at ART/NY on January 29, directed by Finley, and kicking off TOSOS' 10th season since it was revived in 2002.

If Mart Crowley's "The Boys in the Band" was the one-of-every-kind-of-gay-man play for the pre-Stonewall late '60s, Wilson's "West Street Gang" was the one, more or less, of every kind, seen from a gay liberated perspective, for the late '70s, a time when some of us were starting to realize that not each and every other gay person had our best interests at heart.

The men we meet in the at once rugged and tired downtown Manhattan waterfront bar, where the action is set, are Mark (Robert Locke), an opportunist, young and cute; Flex, the hunky bartender (Aaron Tone), who spends half the play shirtless, displaying his impeccable physique—"I don't know what I'd do if I didn't have me to come home to," he admits—Mark wants his job; Bill Bender (Jim Nugent), what we used to call, snottily, a ''50s queen'—"I predate dress codes"—who could indeed have strayed from the cast of Crowley's play; Brent Wood (Nick Mathews), a striving, self-centered "maleactormodeldancersinger;" Jack (Desmond Dutcher) and Marley (Christopher Borg), a picturesque S&M couple; sassy Shanghai Lil (Chris Weikel), who enters in full leather, to adhere to the bar's dress code, and "slip[s] into something comfortable," full showgirl regalia, once she's passed through its portals; Virgo (Andrew Manning), a flower child and voyeur; and Colorado (J. Stephen Brantley), a hustler, who has just been bashed. Representing, even in this motley group, the furthest from mainstream, Nugent's Bender and Weikel's Lil had some of the most pointed observations, gave them the most deadpan, trenchant readings, and got some of the most appreciative audience response.

The adversaries our 'Gang' faces are: Danny Sienna (Ron Bopst), the dopy mobster-type who owns the bar, whatever its name is—The Chain Gang one day, the Jock Strap the next—and wants no trouble, nothing irregular going on in his establishment, but is bound to be disappointed on this most eventful of nights; Bonnie (Alex Bond) and Clyde (Eric C. Bailey), a pair of police officers bent on doing anything but their job; Arthur Klang (Marc Castle), a ruthless gay journalist, looking for a sensational story, even if he has to create it; young Butch (Johnathan Cedano), the leader of the other 'West Street Gang' of gay-bashing punks, who meets his match in Lil and the others in the bar, who call court into session and put him on trial; Foeller McLeary (Rick Hinkson), self-important head of a major gay organization—he "can have you expelled from homosexuality;" and a clueless Anita Bryant (Elizabeth Whitney), who wanders into this gay bar, preaching her louche doctrine, about gays recruiting children, and mistakes its willfully roughhewn denizens for longshoremen. Since the first audiences might well have recognized some of their acquaintances among those that figure into the dramatis personae, the players, at one point, break the fourth wall and, tongues in cheeks, "remind [us] that any resemblance between the characters, the situations, and the institutions depicted in this play are fictitious, and in no way represent actual persons or places." Which of these "unnatural bedfellows" prove to be "in cahoots" with each other comes out in the final scenes of the play.

The reading was dedicated to the original Mark, of the June 7 to October 30, 1977, 91-performance run at the Spike bar, Blake Walton, who was present. Manning was commended for replacing an indisposed Oliver Houser on short notice. And Paul Batchelor kept us abreast of the proceedings by reading us the stage directions.

Coming up are readings of Hector Lugo's "La Tosca," on February 12 at 7 p.m., 'Mormon Boy' Steven Fales' "Who's Your Daddy?" on February 26 at 7 p.m., and a cabaret evening, on March 25 at 7 p.m., celebrating Doric Wilson's 50th anniversary as a playwright. Check www.tosos2.org for further information.