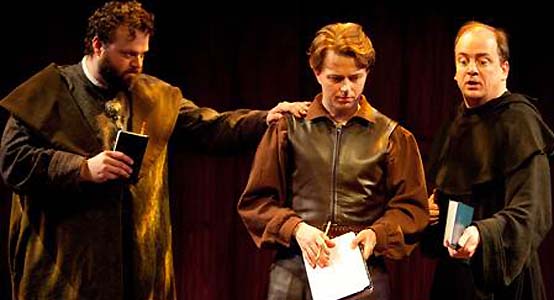 photo by Sam Hough

scene from "Wittenberg"

.......................................................................................................................................................................................
Who or Whom? That is the question and whether 'tis nobler in the mind to suffer the slings and arrows of New York City traffic, it is far nobler in fact to battle through to "Wittenberg," the latest offering by the Pearl Theatre at City Center. The Pearl is best known for presenting classic drama, and this play combines several dramatic works as it comically imagines Dr. Faustus, a man of–ROOWWWWRRR–appetites with–HMMMMMMMM – a man of reason, Martin Luther. These fine fellows battle over the mutual student, the doughty Prince of Denmark himself, Hamlet!

David Davalos is not showy in his knowledge. As a playwright, he has crafted something Socratic–we find the gems in the reflexive, reflective, semi-hidden gems that we recognize from history, art and literature. Scott Greer plays Doctor Faustus, and as a much younger man than we are accustomed to seeing him as. Hamlet is played by the versatile Sean McNall, whose athleticism and physicality, in this highly imaginative role, is a very neat pairing with his recent turn in the title role of Pearl's "The Misanthrope." Also returning from that show in the role of The Eternal Feminine is Joey Parsons, whom we see in her first manifestation as classic Helen—of Troy, that is—in a flowing gown.

Entrances and exits are made from every quarter in this play and the show itself has 16th century conceits as well as modern ones. When Faustus hands Hamlet a flyer for a "little, light lute thing," and reminds him of a two-stein minimum, we are indeed in a college town.

Chris Mixon is Martin Luther, the theology professor and father confessor, here at the very Catholic Wittenberg University. He is working hard to sway Hamlet his way in reasoning events, as Dr. Faustus is wrestling with several of his own demons.

Parsons must be a dervish, appearing in several milieux. First, we see her as Helen of Troy, later, when she's referred to as a fallen nun, I get a whiff of Abelard and Heloise. Later still, she's a St. Pauli Girl look alike, Gretchen, then an uber-glam Helen with big movie star sunglasses and, even later–full-on Mother of God, complete with dry-ice Holy Smoke and a field of stars on her gown and her cerulean cloak. Each time, she is something that some one of the men cannot have or understand–thus, The Eternal Feminine.

Greer has some great moments as the outside-voice conscience of his friend Luther and his student Hamlet. Mixon has equally great moments, some of them snatching torment from moments of great defiance, and one of McNall's most bravura parts of his role is in an exquisitely timed tennis match, where we see some handy shots that have perfect timing.

All in all, this witty, gritty look at all four characters, directed by J.R. Sullivan, is woven into a beautiful series of events. It's in laughing at ourselves and our understanding of each character's foibles that we see the truths emerging, Socratically, from questions asked and questions answered–though the person to whom the questions are posed does not always supply those answers.

For subscription tickets and information, contact Audience Services at 212/598-9802 or visit www.pearltheatre.org. Single tickets may be purchased through New York City Center by calling CityTix® at 212/581-1212 or online at www.nycitycenter.org. Tickets are also available at the City Center Box Office at 131 West 55th Street, between Sixth and Seventh Avenues. Art is long, but life and time are short. This show is only running through April 17, so "to be" in the audience you must act, or you will find your evening is "not to be," no question!