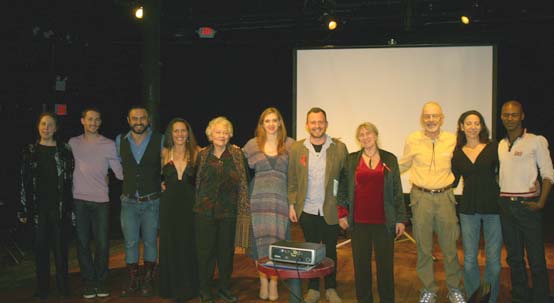 photo by Bruce-Michael Gelber

Downtown Music Productions World AIDS Day concert company

.......................................................................................................................................................................................
Downtown Music Productions (DMP) and its Artistic Director, pianist Mimi Stern-Wolfe, observed World AIDS Day, and the 30th anniversary of the start of the AIDS crisis, with their 21st annual Benson AIDS series concerts, on December 1 and 4, profoundly moving, invaluable evenings of music, dance, and film, recalling creative artists lost to AIDS.
I attended the latter, in the Clemente Soto Vélez Cultural and Education Center's Flamboyán Theater, where proceedings began with a memorial ceremony, consisting of the lighting of a candle, the mentioning of names of those we have lost, and participation in a moment of silence.
The first work performed was choreographer Sasha Spielvogel and the Labyrinth Dance Theater's "AIDS" Dance Suite, which began with the late Kevin Oldham's opus15, "His Red Jacket," played by Stern-Wolfe. The dancer was Aviad Arik Herman, who conveyed, in succession, in this memory piece, melancholy, wistfulness, agitation, and anger. The suite continued, employing music from the "AIDS Quilt Songbook" (1992), the collaborative song cycle, by composers still living and those now departed. In Ricky Ian Gordon's "I Never Knew," baritone José Arturo Chacon, learning that you never really appreciate what you've had until you've lost it, sadly and resonantly remembered a late loved one. Chacon lent his rich voice to composer Donald Wheelock and poet Susan Snively's turbulent "Fury," as Fernando Carillo, Ramon Flowers, and Michael Leon Thomas illustrated, in dance, the desperation, despair and, finally, death that the song concerns. In Oldham's achingly lovely "Not Even If I Try," to Doug Sayers' text, Chacon sang of a deceased, unforgettable love, portrayed by dancer Herman; imagined a beyond-the-grave reunion with him; and tugged the heartstrings with its ending, sung in beautiful high head tone.
Using choreography devised by Martha Graham, Elizabeth Auclair deeply touched us with her dance of mourning, to Zoltán Kodály's jagged and penetrating "Lamentation," played by Stern-Wolfe. In "Cuban Dance," by composer Isabelle Ganz and poet Ilsa Gilbert, soprano Maeve Höglund sang expressively, with Stern-Wolfe, of thinking she sees, in the features of the dancers, at the lively gathering, the faces of friends she lost to AIDS. Wives with frustrating artist husbands were wittily limned by mezzo-soprano Darcy Dunn, and Stern-Wolfe at the piano, in two wry songs, with music by the late Chris DeBlasio, to Gilbert's poetry. In "Butcher," from the song cycle "Villagers," the spouse writes incomprehensible music and ignores her, inspiring homicidal thoughts in her; her students could care less about English literature and grammar; and the butcher and his policeman son, she sighs, have much simpler, better lives. In "Whatever You Say He Sings," song, waltz, and worldly goods do little to ensure happiness when one has to contend with a self-centered opera singer for a mate.
Excerpts from young Australian filmmaker Rohan Spong's new documentary "All the Way Through Evening," about the work of DMP and Stern-Wolfe, framed the music and dance performances. In the first one that Spong showed, Stern-Wolfe recalled late East Village tenor Eric Benson, for whom the Benson AIDS series of concerts was named. The second featured a clip from the first concert, in 1990, of late baritone Michael Dash, with DeBlasio at the piano, performing "The Disappearance of Light," the opening song of his and Perry Brass' song cycle, "All the Way Through Evening," which gave Spong's film its name, with Stern-Wolfe's comments about that concert, and DeBlasio and Dash's work; Spong's interview with poet Brass about his and our many losses to AIDS early in the crisis; and Spong's film, shot during last December's Benson AIDS concert, of heldentenor Gilles Denizot singing the final song from "All the Way Though Evening," the incredibly heartrending "Walt Whitman in 1989," with Stern-Wolfe at the piano.
For information about DMP's Martin Luther King Commemorative Concert, on January 15, 2012, and other upcoming DMP performances, visit www.downtownmusicproductions.org, and for information about Spong and his film, visit www.allthewaythroughevening.com and www.rohanspong.net.