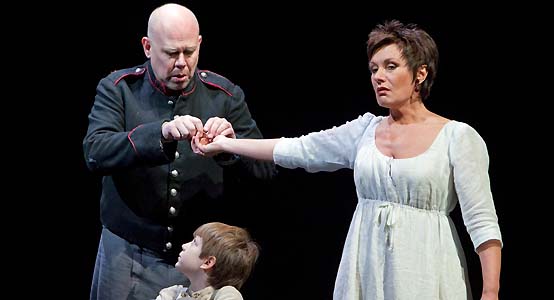 photo by Cory Weaver

Alan Held and Waltraud Meier

.......................................................................................................................................................................................
Alban Berg's bleak "Wozzeck" (1925), adapted from Georg Büchner's play from a century earlier, about life in which squalor, sordidness, and violence are the norm, returned to the Metropolitan Opera repertory for four performances this month, in director Mark Lamos' and designer Robert Israel's 1997 production, staged this year by Gregory Keller. The season premiere was on April 6 and the second night, on April 9, is considered here.

Forced by illness to miss so many performances lately, James Levine returned triumphantly to the podium, leading his players in an intense realization of the opera's gritty, jagged beauty, and making the dozen interludes 'sing,' most strikingly the penultimate one, essentially two sharp, shockingly eloquent crescendos, following Marie's murder, and the last, crushing in its sadness, preceding the scene where children stop playing to tell Marie's uncomprehending son that his mother is dead, and then run off to see her corpse.

Baritone Alan Held, returning to the role of the eponymous downtrodden soldier, haunted by hallucinations and subjecting himself to humiliation to earn a few extra pennies for common-law spouse Marie and their child, cringed, agonized, and unraveled graphically, his impotent anguish an outcry for the poverty stricken and humbled. Mezzo-soprano Waltraud Meier, new as Marie, sang a gentle lullaby to her little boy (John Albert), but scared him with her gypsy and sandman songs. At times she sounded like a dramatic soprano, as when she resisted, at first, the advances of the Drum Major, and she touched us as she shuddered with guilt after reading, in her Bible, about Mary Magdalene.

As Wozzeck's two lunatic adversaries and authority figures, tenor Gerhard Siegel, new as the Captain, alternately sang extreme top notes in full voice or in head tone and, either way, was appropriately irritating, and bass Walter Fink, resuming his 2005 debut role as the Doctor, bullied Wozzeck for pissing in the street, to the detriment of his louche experiment, and relished his 'patient's' breakdown and hallucination before his very eyes. The scene which found Captain and Doctor turning on each other, until Wozzeck showed up, and then joining forces to taunt him, rubbing his nose in Marie's unfaithfulness, was aptly bizarre.

Formidable heldentenor newcomer Stuart Skelton preened and strutted like a peacock as the Drum Major and, rutting like an animal, had his way with Marie up against a wall. Crowing about his conquest, he bullied and beat not only Wozzeck, but also others of his barracks mates. Tenor Russell Thomas, new as Andres, the first to witness one of Wozzeck's hallucinatory episodes, as they cut up sticks for firewood for their commanding officer, kept his cool and his vocal polish, and his high notes rang out in his hunting song with the men of the ensemble, after Wozzeck sees Marie and her Drum Major dancing together. Also new to the cast, Philippe Castagner lent his sweet tenor to the Fool's ravings, to Wozzeck, about blood and stench.

The Margret of the production's February 10, 1997 premiere, Wendy White, once again lent her strong mezzo to the off-kilter song in the later tavern scene, when she noticed blood stains—Marie's—on Wozzeck, leading the whole crowd to turn against him. Adding to the odd merriment with their song, in the earlier tavern scene, were bass Richard Bernstein, making forays into falsetto, and tenor Mark Schowalter, both new as the apprentices.

Remaining repetitions of "Wozzeck" are on April 13 at 8:30 p.m. and 16 at 1 p.m., the latter being broadcast live over the Toll Brothers-Metropolitan Opera International Radio Network. For tickets, from $17 to 420 apiece, visit www.metopera.org, call 212/362-6000; or visit the Met box office at Lincoln Center. A fee of $2.50 per ticket is added for ongoing maintenance of the opera house. Rush tickets are available on the day of performance for $20 during the week and $25 on weekends.