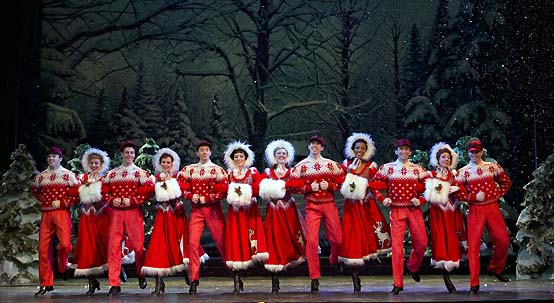 photo by T. Charles Erickson

Irving Berlin's White Christmas at Paper Mill Playhouse

.......................................................................................................................................................................................
Where would we be without Irving Berlin? A songwriter who really had his finger on the pulse of every American, Berlin wrote the songs of our lives. Nowhere is this icon's hand more apparent than in the brilliant and zany "White Christmas." Right now, when the rest of the world is "Occupying" this and "Debating" that, there's no better way to come in from the cold. Grab a mug of hot chocolate and I'll tell you what I mean.
Paper Mill Playhouse' production of Irving Berlin's "White Christmas" is a masterful piece of family theatre. There are several winter holidays and whichever one you celebrate, there really is something for everyone in this dazzling revival based on the movie of the same name. Captain Bob Wallace (James Clow) and Private Phil Davis (Tony Yazbeck) are the pride of the 151st division, for song and dance that is. Their buddy Ralph Sheldrake (Peter Reardon) is the Emcee and introduces the boys for the Christmas Show in 1944. These young men are far from home and, when their General, Henry Waverly (Edward James Hyland), comes to tell them all goodbye, he reminds them that 10 years hence, the war will be over and to think about where they might be at that time.
Sure enough, an eye-blink later it's 1954. Decades actually do feel like they move that way at times, and Bob and Phil are famous hoofers who can now wear any color they choose, not just olive drab. Fresh from a hit appearance on the "Ed Sullivan Show," brokered by their buddy and now TV producer, Ralph, they are preparing to leave for Christmas in the sunny South–South Florida, that is. Phil has set up a club date on the way so they can audition Betty and Judy Haynes (Jill Paice and Meredith Patterson), sisters of another army buddy whose nickname was "Dogface." Their higher hopes for his sisters are more than met when the boys see the girls are not only lovely, but extremely talented. Phil hatches a plan and the fun begins.
Phil and Judy are the schemers of their respective pairs. They decide the boys will follow the Haynes Sisters up to their gig in Vermont at the Columbia Inn, where Phil assures Judy that Bob won't know what hit him till he's already there. And so, it comes to pass–except while Bob is complaining about missing the warmth of Florida, Vermont is laboring under a rare December heat wave–79 degrees in the shade!
When they arrive at the Columbia Inn, they are greeted by Martha Watson (Lorna Luft), a drill sergeant and busybody extraordinaire, who is the nosy glue that holds the Columbia Inn together. And who owns the Columbia Inn? Why none other than Hank Waverly–yup, GENERAL Waverly. But the place has fallen on hard times. But since there's a barn out back … well, you can surmise the bones of the rest of the story.
What's not so evident from the outside are the thrills and chills that are to come from the dazzlingly talented ensemble and the high energy crackling and bristling from the principals, who are having such a great time that, personally, I am looking where to sign up for tap lessons! Whether it's the dance sequence that's sort of a dream sequence when Phil and Judy first meet, to the show-stopping opening of Act II, with "I Love a Piano"—and a cast of thousands of taps—the ballerinas and danseurs on your list will have inspiration for years to come. The wealth of Irving Berlin songs that abound will have you saying, "Wow, I didn't know THAT song was in here!" several times throughout. Here are some highlights, for me, starting from the beginning.
There was the first of many brilliant dance sequences with "Happy Holidays/Let Yourself Go". The women and men of the ensemble have such joie de vivre, throughout the entire evening, that the joy continues to grow. It helps that live carolers are singing as you walk into the courtyard, magically lit with millions of colored lights that dance with the music. When you get to the "Ed Sullivan Show" sequence, you are well and truly in full-on Christmas Mode! Lorna Luft's number, "Let Me Sing and I'm Happy," was deep-down in the heart enjoyable. The truth of the words from this woman, who has been performing since she was the age of the general's granddaughter, Susan (Andie Mechanic), is felt deeply. And when young Susan reprises the same number in the second act, there is no more sincere form of flattery than this young Mini Me. When Betty and Bob have their Moment on the back porch with "Count Your Blessings," I doubt there was a dry eye in the house, and when they have another Moment at the Regency Room, "Love, You Didn't Do Right By Me/How Deep is the Ocean," big Hollywood romance is on the boards. The girls' and then the boys' versions of "Sisters" is fresh and fun, and I'm telling you this as someone who has seen and done a thousand themes and variations. The choreography is adorable and the women's version is winsome, while the men's version is arch without being over-the-line parody. They are being sweet while performing the number for continuity of the run for rehearsal in the barn, and the men being on the same wavelength about whether to do it, is a neat piece of character development from the man who brought you "Venus in Fur," David Ives. Ives and Paul Blake's book is not so treacly-sweet that the iPod generation will post cynical Facebook fodder. This is a superb Holiday treat that everyone should see. Tonight we take Millburn AND we take Berlin!
"White Christmas" is playing through December 24. Get your tickets now, for this show and the rest of the season. You may purchase them by calling 973/376-4343, or visiting the Paper Mill Playhouse Box Office at 22 Brookside Drive in Millburn, New Jersey, as well as going online to www.papermill.org. There are also tickets to a Lavender Night show–that's a special evening for the LGBT community. Visa, MasterCard, Discover, and American Express accepted. Groups of ten or more can receive a discount on tickets and should call 973/379-3636, ext. 2438.