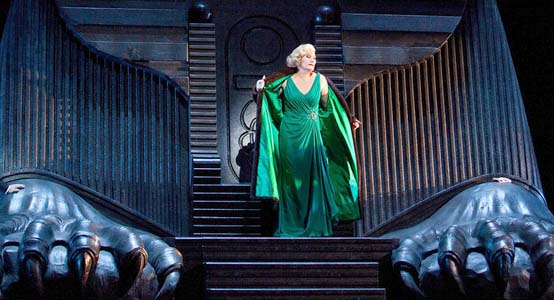 photo by Cory Weaver/Metropolitan Opera

Karita Mattila as Emilia Marty

.......................................................................................................................................................................................
Mattila Humanizes Rude Tricentenarian in Met "Makropulos"
By Bruce-Michael Gelbert
In the Metropolitan Opera revival, this spring, after more than a decade, of Leoš Janáček's opera "Vĕc Makropulos" (The Makropulos Case), after Karel Čapek's play, Karita Mattila met the work's primary challenge—making the heroine, who's been imperious and inconsiderate, to say the least, if endlessly fascinating, for the musically jagged first two hours of the evening, into a sympathetic figure in the lyrical last six or seven minutes—and was rewarded with a standing ovation for it.
As the 337-year-old diva Emilia Marty, born Elina Makropulos, and variously known as Elsa Müller, Ekaterina Myskin, Ellian MacGregor, and Eugenia Montez, but always E.M., Mattila was grandeur and beauty incarnate, while periodically suggesting, with a halting gait, the stiffness of someone of advanced years. Mattila threw major, vivid tantrums, when it seemed as if recovering the document with the formula for immortality—created by Elina's physician father, Hieronymus Makropulos, for, but not taken by the Emperor Rudolf II, and which she desperately needs again—might elude her, locked, as it has been, in a cabinet in a house, whose legal ownership is caught in a bitter dispute between warring, litigious cousins, the Gregors and the Pruses, or when someone casts aspersions on, albeit unknowingly, one of her earlier incarnations. She conveyed that her character was taken aback when anyone suggested, not illogically, that one of these women was long dead. And, as the opera demands, she treated almost everyone around her, lover and colleague alike, like shit.
Makropulos/Marty has spent more than 300 years evading or cheating death, until the end of the opera, when, world weary to the nth degree, she comes to accept that she has lived too long, rejects renewal of the formula, welcomes death, and brings tears to our eyes, as Mattila indeed did. This acceptance finally humanizes her and, after an evening filled mostly with motifs and melodic fragments, the score finally blossoms into a lyrical aria, all excitingly realized by conductor Jiři Bĕlohlávek and the Met Orchestra, and Mattila, in a new-ish role that suits her perfectly, bloomed as well.
At the performance considered here, the second of the season's five, on May 1, Christopher Feigum, baritone from Denver, Colorado, made his debut, on short notice, replacing Johan Reuter, who had made his own first Met appearance at the season premiere on April 27, as Jaroslav Prus, and Feigum, ultimately, made his chilly character—a harsh father and legal opponent, and prig, unhesitant to let a 300-year-old-lady know that he thinks she's an, as it were, lousy lay—a sympathetic figure as well. It was good to have Richard Leech, once a leading bel canto tenor, back at the Met, newly portraying Albert Gregor, whose causes, pursuit of the lawsuit and of Emilia Marty, are equally hopeless, and the high notes in the first act did not faze him. Met newcomer Emalie Savoy, Juilliard's commanding Armide, was, here, the ingénue, Kristina, and brought the same sure vocal and knowing stage presence that she brought to Gluck's sorceress to Janáček's very different young opera singer, daughter of the law clerk Vitek (Alan Oke) and girlfriend of Prus' son, Janek (Matthew Plenk), who kills himself when his father short-circuits a possible fling with Marty. Tom Fox was an effective Dr. Kolenatý, the lawyer, who puts little faith in what he thinks are Marty's tall tales.
Vivid cameos came from Bernard Fitch, as mad Hauk-Šendorf, who had an affair with our protagonist back when she was Eugenia Montez—"Vaya, Gitana!"—that he just might be able to rekindle; Jane Shaulis and James Courtney as knowing workers backstage at the opera; and Edyta Kulczak as Marty's high-strung maid.
Performances of "Makropulos Case" continue at the Met through May 11.