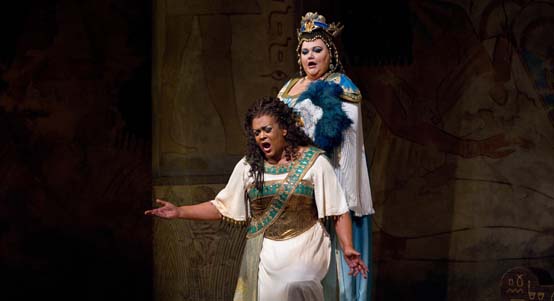 photo by Marty Sohl/Metropolitan Opera

Violeta Urmana (kneeling) as Aida & Stephanie Blythe (standing) as Amneris in Act 2 of "Aida"

.......................................................................................................................................................................................
There are several singers new to their roles in the current revival of Giuseppe Verdi perennial "Aida" at the Metropolitan Opera, but the draw is the first Amneris of Stephanie Blythe. The season premiere of "Aida" took place on February 9 and the second of this winter's seven performances, on February 13, is the one considered here.
Blythe has expertly stretched into such a diversity of roles in the repertory written for low voice—from Handel coloratura contralto roles in "Giulio Cesare" and "Rodelinda" to Wagner's Fricka in "Das Rheingold" and "Die Walküre" to high coloratura mezzo-soprano assignments in "Lucrezia Borgia" and "Mignon," with Opera Orchestra of New York, to Verdi contralto parts in "Un Ballo in Maschera" and "Falstaff," and much, much more—that I entered the theatre with the question, "Is Amneris really a good fit for Blythe?" Her sterling effort left, nonetheless, so much unanswered that I departed, still wondering, "Is Amneris really a good fit for Blythe?"
Make no mistake—it's a luxury to hear Blythe in this demanding role, which is perhaps best filled by a soprano-y mezzo who can come down on the highest parts from above, rather than someone with a contralto background, who must reach up to them. Blythe's low, chest voice, so important here, was undeniably rock solid. She also illuminated some unusual parts of the role, in particular, the high, quiet, often throwaway phrases that Amneris sings at the start of Act Three, not generally considered the mezzo's act, and her horrified reaction to the entrance of the priests, who will condemn her beloved Radamès to death, in the 'Judgment Scene,' Act Four, Scene One. When Blythe had time to set up sustained high notes in Act Two, in the duet with Aida and in the 'Triumphal Scene,' and in the first scene of Act Four, they were perfectly placed, well grounded and supported. In quicker high phrases, in the 'Boudoir' and 'Judgment Scenes,' she had little time to color the tone fully and, by the end of the latter scene, sounded stressed from all the high, dramatic singing. In short, I'm not sorry to have heard Blythe, a favorite singer, as Amneris—I just hope that, based on this hearing, the part won't figure prominently into her future plans.
Lirico-spinto tenor Marcelo Álvarez tackled Radamès, yet another of Verdi's most dramatic tenor roles. In a generally graceful "Celeste Aida," two high notes—including the final one, meant to be restrained—were punched out, belted explosively, startlingly so. Unsurprisingly, his best pages were the lyric ones in the duets with Aida, in Act Three and Act Four, Scene Two, in which he was paired with Violeta Urmana, proving once again that this once-vibrant former dramatic soprano has become a pallid and effortful soprano. At the end of "O patria mia," she had to break the phrases leading up to the piano high C, which should all be taken in one breath, into several shorter bits and, nevertheless, emitted nothing more than a short, strained, under-pitch climactic note.
Baritone Lado Ataneli seemed at greater ease in the shorter, lower role of Amonasro than he had been in the higher, bel canto title role of Verdi's "Macbeth." A veteran of four decades of Met performances, James Morris, as Ramfis, showed himself still a bass to be reckoned with. Jordan Bisch, newcomer Lori Guilbeau, and Adam Laurence Herskovitz completed the cast, under the baton of Marco Armiliato. The chorus and corps de ballet made worthy celebratory contributions to the 'Triumphal Scene.'
Remaining performances of "Aida" are on February 16, 20, 23 and 28 at 7:30 p.m. and March 3 at 1 p.m. The last of these will be broadcast live over the Toll Brothers-Metropolitan Opera International Radio Network. Riccardo Massi makes his Met debut, replacing Álvarez, on the 23rd, and Marcello Giordani is the Met's new Radamès on the 28th and March 3rd. For tickets, priced from $25 to $345, visit www.metopera.org, telephone 212/362-6000, or visit the Met box office in Lincoln Center on Monday through Saturday, from 10 a.m. to 8 p.m., or Sunday, from noon to 6 p.m. Discounted rush tickets are available, on the day of performance, as well.