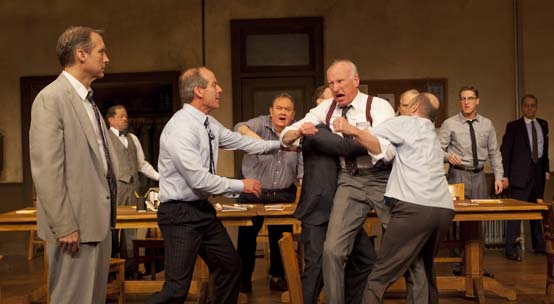 photo by T. Charles Ericson

Cast of "Twelve Angry Men"


.......................................................................................................................................................................................
Reginald Rose's "Twelve Angry Men" opened at the George Street Playhouse on March 16 and, as I was on the way there, the news broke that the Dharun Ravi case had reached a conclusion. You'll recall that Dharun Ravi was accused of spying on his roommate, Tyler Clementi, during his intimate encounter with another man, then Ravi posted the results of his webcam capture on YouTube and Tweeted that everyone should watch, and then Clementi committed suicide. It is no surprise that the show's director David Saint should mention this in his curtain speech. "It was ironic," he said, "that our jurors were lunching in the same deli [in New Brunswick NJ] as those jurors involved in deciding the fate of another young man." The deliberative process that each empaneled jury practices can mean the difference between the life that is known and life moving in an unimagined direction. Which road does a juror take and how does one's own internal bias play a role? This is the crux of this play and it couldn't be more timely.
Saint chose this play as part of a season that is in tribute to his mentor, Arthur Laurents, because Laurents always fought for justice. Whether the foe was the House UnAmerican Activities Committee, anti-Semitism, or homophobia, Laurents fought the good fight. In a quest for the innocence of someone against whom there is primarily circumstantial evidence, who would stand for you or for me? While this play tackles that question, it is moving, visceral, and it strikes at the heart of one's sense of identity –"what would I do?" is the question that comes up time and again throughout. It's more difficult to fight for what's right, especially when there are so many factors stacked against you, and against someone who may be convicted for a crime they did not commit.
This all-star cast is led by Gregg Edelman as Juror Number Eight. He is the architect who builds the case that may save a young man's life. He is supported by a brilliant cast of characters that excite your intellect while roiling your gut. If you've never gotten chills from live theatre before, here's your chance.
Andrew Nogasky is the Guard–he's seen it all and he's world-weary as he fulfills the obligations of his charge. Jim Bracchitta is Juror Number One, the foreman, and he's committed to keeping order in the process. While as a high school coach, he's got some experience wrangling personalities, is it enough? Juror Number Two is Scott Drummond, a young man who's a bit older than the defendant and who has a lot on his mind–he seems mild-mannered on the surface, but still waters run deep. James Rebhorn is a familiar face from stage and screen. He plays Juror Number Three, who has a surprising character arc that is developed is such a way that, by the end you are not sure whether you are crying for him or with him. David Adkins is Juror Number Four, who is very measured in his approach to everything he does. It is logic that rules his world, but will the logic be applied in proper measure? Michael Sirow is Juror Number Five, who has some nagging doubts–but feels a bit alone until others begin to question. He contemplates and chooses to help build a bridge of understanding about where this boy comes from and why some of the testimony might be flawed. Juror Number six is Lee Sellars, whom the sharp-eyed will recall as familiar from GSP's "The Subject Was Roses." Brilliant there and equally so here, he keeps his own counsel, but acts as a buffer in many ways–his skill at defusing some situations and arguing for justice among his colleagues is critical to the forward motion. Jonathan C. Kaplan is Juror Number Seven whose brusque approach to everything is to shoot from the hip. He's a man with places to go, but eventually even his conscience, despite two tickets to a ballgame, won't keep him from putting his heart in the right place. Juror Nine is veteran actor Terry Layman, who starred in the Broadway incarnation of the show as well as GSP's. He strikes the right notes as someone who really understands one of the key witnesses in the case and provides insight. His performance is even more amazing since, as David Saint put it, the jury selection process was difficult. Two other actors had to step out and Layman stepped in literally to save the day only a week out from opening night–now that's a trouper! He was seamless in his performance with his colleagues and the experience is intense!
Juror Ten is David Schram and he is the most angry of the twelve, in many ways. He is consistently erupting like Mount Etna and it is easy to believe that, on that stage, he is sweating out venom along with perspiration. When he begins to spout about "those people," there are, sadly, echoes today among the political candidates seeking for a straw enemy. What he's really afraid of is the decline of white male dominance, with him as the particular white male. In this case, "those people" are Mexicans, but we could fill in any ethnicity, orientation, or gender and the arguments are the same–and every bit as specious. Juror Eleven frequently locks horns and Jonathan Hadary's Eleven is perfectly accented, very literally, and elegant, witty and thoughtful. John Bolger, as Juror Twelve, is the ad man, who combines Darren Stevens' earnestness with a complete Mad Men vibe. A powerful cast, they interact, as such separate personalities, that they are very believable as jurors. Such personalities make this an "Everyman" for even our media-driven generation.
Tired of re-runs and so-called reality TV? This show is as thought provoking as it is intense and echoes of it will remain around every corner, every newscast, every radio story you hear and, even though this play is more than 60 years old, even after six decades it is only times that change–not people. Application of logic, pathos and intellect are all we have to see us through from prejudice to justice.
Tickets for "Twelve Angry Men" are available online at www.georgestreetplayhouse.org or call the box office at 732/246.7717 and the play runs only until April 8 … so act now. Pride Night is March 29 and includes a reception immediately following the show.