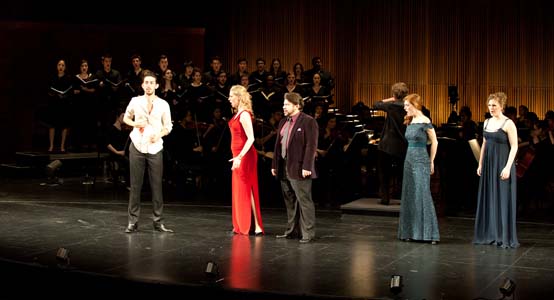 photo by Nan Melville for the Juilliard School

(left to right) Evan Hughes, Emalie Savoy, Alexander Hajek, Wallis Giunta & Devon Guthrie, with the chorus, in the stirring First Act finale

.......................................................................................................................................................................................
Perhaps now that a century has gone by since the 1910 to 1912 Metropolitan Opera performances of Christoph Willibald Gluck's "Armide" (1777), with Olive Fremstad, Enrico Caruso, Louise Homer alternating with Marguerite Matzenauer, and Arturo Toscanini, the Met audience, with seasons of Gluck's "Orfeo ed Euridice" and "Iphigénie en Tauride," not to mention Gioachino Rossini's "Armida," under its belt, may again be ready for Gluck's "Armide," if the powerful collaboration between the Met's Lindemann Young Artist Development Program and the Juilliard School's Ellen and James S. Marcus Institute for Vocal Arts, on "Armide," at Juilliard, on February 8—and 11—is any indication. Here, conductor Jane Glover, director Fabrizio Melano, and a strong young cast consistently found the passionate heart behind Gluck and librettist Philippe Quinault's stately declamation and brought the opera, which Gluck considered his best, to life once more.
Quinault's libretto, originally written for Jean-Baptiste Lully's "Armide et Renaud" (1686), after Torquato Tasso's "Gerusalemme Liberata," tells the tale of the sorceress Armide, niece of King Hidraot of Damascus, during the First Crusade, who is bent on revenge on her enemy, the knight Renaud, who freed all the Damascenes' prisoners, but falls in love with him instead. Through sorcery, Armide temporarily seduces Renaud, but his fellow Crusaders come after him, remind him of his 'sacred duty,' and take him away with them, giving Armide the opportunity for a final dramatic solo.
The intimacy of Juilliard's Peter Sharp Theater helped give "Armide" immediacy as, in this semi-staged concert rendition, Melano brought his singers far downstage to make their vows and declarations directly to us, and share confidences and meditations with us, while Glover and the Juilliard Orchestra gave them firm support and kept the music of this formidable score moving along apace.
Singing in a dark lyric soprano, Emalie Savoy, commanding as Armide, and confiding to Idraot, baritone Alexander Hajek, declared uneasily, in "La chaine de l'hymen m'étonne," that none but the conqueror of Renaud deserved her in marriage. She attempted to take Renaud's life herself, but love stayed her hand, which she regretted in "Ah! Quelle cruauté de lui ravir le jour!" and contemplated in "Ah! si la liberté me doit être ravie." Savoy stirred us with her invocation to La Haine (hate), "Venez, venez, haine implacable," whom she then banished, ruefully reflecting, in lines Gluck penned himself, "O ciel! quelle horrible menace!/Je frémis, tout mon sang se glace!/Amour! Puissant Amour! viens calmer mon effroi,/Et prends pitié d'un Coeur qui s'abandonne à toi!," that potent love has won out. "Le perfide Renaud me fuit," Savoy movingly lamented, when the knight abandoned her and, her fury mounting, forcefully ordered her spirits to destroy her palace at the end of the opera.
"Plus j'observe ces lieux," David Portillo, as Renaud, sang gracefully, in a lustrous lyric tenor, as he marveled at the idyllic locale Armide conjured up. Portillo's Renaud joined Savoy's Armide in lyrical love duets, when under the sorceress' spell. He abandoned his "trop malheureuse Armide," however, when his comrade Ubalde, baritone Luthando Qave, in the company of the Danish Knight, tenor Noah Baetge, ordered, in no uncertain terms, "Notre général vous rappelle"—our commander summons you.
La Haine is a one-scene part, which can steal the performance, as the late Bianca Berini memorably proved at a Friends of French Opera "Armide," at Carnegie Hall on March 12, 1980. Here, mezzo-soprano Renée Tatum expansively offered assistance to Savoy's Armide, who became her acolyte and her intimate, as she relentlessly plotted against love and Renaud, but unleashed her full scorn when Armide rejected her counsel. The contemplative lines Gluck added for Armide were certainly needed, as we wound down from Savoy's intense scene with Tatum.
Wallis Giunta, as Phénice, and Devon Guthrie, as Sidonie, were confidantes who aided and abetted Armide, and Deanna Breiwick, Soo Yeon Kim, Raquel González, Pureum Jo and the chorus helped create the lush atmosphere in which Armide could work her wiles on Renaud. Lilla Heinrich Szász and González tempted Baetge and Qave as demons disguised as their lady loves. Evan Hughes and Alexander Lewis completed the cast as allies of Armide and Renaud respectively.
Juilliard Opera's season continues with Wolfgang Amadeus Mozart's "Don Giovanni," conducted by Gary Thor Wedow and directed by Stephen Wadsworth, on April 25, 27 and 29. Visit www.juilliard.edu for tickets and further information or call CenterCharge at 212/721-6500. The Juilliard School is located at 155 West 65th Street/60 Lincoln Center Plaza, between Broadway and Amsterdam Avenue.