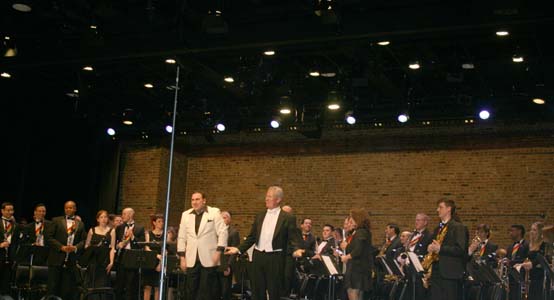 photo by Bruce-Michael Gelbert

Artistic Director Brian P. Worsdale & Guest Conductor John Lynch & the LGBAC Symphonic Band

.......................................................................................................................................................................................
By Bruce-Michael Gelbert
"On the Town! A Musical Tour of New York City" was the title of the Lesbian & Gay Big Apple Corps (LGBAC) Symphonic Band's exhilarating spring concert, on April 28, at Symphony Space. Comic Poppi Kramer was the MC, offering memories of her high school band and of New Jersey, and dancing a bit to "Tea for Two."
The Corps, under Artistic Director Brian P. Worsdale's baton, brassily conjured up dives and honkytonks and bustling streets in Jerry Lieber and Mike Stoller's "On Broadway," as arranged by New York Pops Music Director Steven Reineke and transcribed by David Snyder.
Kramer imitated Marlon Brando—"I coulda been a contender"—to introduce the New York premiere of Jay Bocock's transcription of a suite of Leonard Bernstein's music for the film "On the Waterfront." The New York it suggested, at first, was now bleak, now threatening, and ever restless. Then came a wistful section, with the mood of "Somewhere," from "West Side Story," and hints of the melodies of "Maria" and "Something's Coming," before it waxed as radiantly uplifting as "One Hand, One Heart." The music turned violent, then scurrying, but ended with something of a 'redemption motif.'
The first of three dances from Bernstein's "On the Town," arranged by Marice Stith and guest conducted by University of Georgia Director of Bands and Professor of Music John Lynch, conjured up a more carefree New York than the one depicted in the "On the Waterfront" suite, but showed that it could also be, as sailor Gabey found, a sad and "Lonely Town." Finally "New York, New York" became a freewheeling town, raucous in good ways, and rattling or galumphing along to the beat of many different drummers. Lynch also led LGBAC in John Mackey's dance piece "Strange Humors," its exotic atmosphere conveyed through the insistent rhythm of the djembe, played by drummer Leslie Regina Becker; low-lying outbursts; and unusual harmonies from ensembles within the band. After "Strange Humors," Worsdale presented Lynch with the Corps' 2012 Profile in Leadership award; there was also a Proclamation from New York City Council Speaker Christine Quinn.
Robert Sheldon's "Danzas Cubanas," paced by Worsdale, opened with a catchy, toe-tapping, head-bopping conga; continued with a gently romantic son-salsa; and concluded with a lively mambo, highlighted by Clyde Daley's trumpet solo, which won mid-dance applause. The Corps accompanied a showing of short, silent Marriage Equality film from Arizona, "A Belch Can Ruin a Wedding," with direction, screenplay, and score by Scott Helms, and performers from the Phoenix Metropolitan Philharmonic Ensemble and Phoenix Metropolitan Men's Chorus, telling the light-hearted love story of Little Mel and Studly Do-Right, until a Rev. Fred Phelps-type preacher and his 'church ladies' kidnap Mel and tie him to the railroad tracks. It's a nail-biter, until Studly shows up and turns all foes gay by spraying them with 'Fabulous!'
For the finale, LGBAC took us back to the disco era, with a moody, then rocking "Last Dance" and a zesty "It's Raining Men," both by the late Paul Jabara, in the world premiere of a tribute devised by Snyder. The Corps played an encore of "It's Raining Men" to send us off.
Hear the Lesbian & Gay Big Apple Corps Symphonic Band next on December 14.