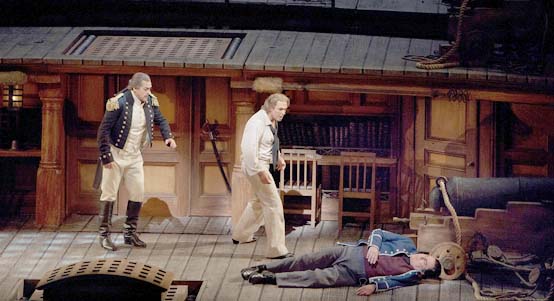 photo by Ken Howard/Metropolitan Opera

John Daszak, Nathan Gunn &, on floor, James Morris

.......................................................................................................................................................................................
Benjamin Britten masterpiece "Billy Budd" (1950, revised 1964), with libretto by novelist E.M. Forster, with Eric Crozier, after Herman Melville's posthumously published novella of the same name, received a revival by the Metropolitan Opera, after 15 years' absence, in the waning weeks of the season. The first of three performances, on May 4, is the one discussed.
An earlier presentation prompted one article, protesting—too much—that "Billy Budd," with its all-male, ship's crew cast, is a drama of the courtroom—because of foretopman Budd's trial for murder—and not of the bedroom, which it is indeed not. One could make a valid case, however, that it is a drama of the closet, of men not being able, in 18th century England, to express freely their feeling for one another and repressing it, by putting dutiful obedience to the letter of the law above personal love or channeling it into hatred, dark and destructive, instead. This writer proudly titled a New York Native review of the 1989 Met revival, "'Billy Budd,' Gay Opera, Gay Novel."
The opera begins and ends with the aged Captain Edward Fairfax Vere, the part written by Britten for his longtime life partner Peter Pears, who also sang the role at the September 19, 1978 Met premiere, looking back at the summer of 1797, when he commanded the British warship H.M.S. Indomitable, and still haunted by the hanging, which he allowed to happen, of Billy Budd, beloved of his crewmates, falsely accused of fomenting mutiny, and blessing Vere as he went to his death. English tenor John Daszak, making his Met debut, aptly lent great lyricism to the contemplative prologue and epilogue. His instrument not quite so pretty under pressure, Daszak nevertheless brought urgency to Vere's agitated reactions to Claggart's accusation of Budd and to his own acceptance of the guilty verdict his officers pronounced after Budd killed Claggart in response to his charges.
James Morris, Master-at-arms John Claggart in the Met premiere and 35 subsequent performances, out of the 44 given through 1997, returned to the role, his every entrance accompanied by the sort of bass wind and horn sounds that signified the supernatural in 18th century opera—cf. the Commendatore-as-stone-statue's appearances in Act Two of "Don Giovanni"—and made him as fierce a villain as ever. Relentless as he quizzed the unwillingly impressed seaman, from the vessel Rights o' Man, and received word that the novice, after a flogging, couldn't walk, with, "Let him crawl," Morris' Claggart's very compliment to Billy, "Handsomely done, my lad./And handsome is as handsome did it, too," was also cloaked in ominous bass hues that menacingly belied the commending words. His Iago-like credo of evil, declaring war on the alluring Billy, "O beauty, o handsomeness, goodness! Would that I ne'er encountered you!," ending with "I will destroy you," retained its towering potency.
Just as a shadow came over the proceedings whenever Claggart entered, so did they brighten when baritone Nathan Gunn, the new Billy Budd, appeared and, soon, sang the opera proper's first aria, marked 'exultant' and jubilant indeed, "Billy Budd, king of the birds!/Billy Budd, king of the world!"—and you thought that came from "Titanic"—and finishing with the dangerous-sounding "Farewell, Rights o' Man," almost immediately identified as a French, and no doubt American, revolutionary sentiment—does no-one remember that that's the name of the boat Billy came from? This entrance aria and the "fathoms down fathoms" reverie, when Billy is awakened from sleep in his hammock, both foreshadowed Gunn's touching and lyrical "Look! Through the port comes the moon-shine astray! … And farewell to ye, old Rights o' Man!" when he was imprisoned, deep in the bowels of the boat, before he was hanged.
Gunn's two confrontations with Daszak, when Billy thought that he was getting a promotion and Vere knew that he was, rather, going to be accused, and when the doomed Billy begged the Captain, only witness to his unpremeditated murder of Claggart, "Captain Vere, save me!," proved as unbearably wrenching as they should be.
Dwayne Croft, a former Met Billy, as First Lieutenant Mr. Redburn; Ryan McKinny, in a company debut, as Second Lieutenant Mr. Ratcliffe; and Kyle Ketelsen, the new Sailing Master Mr. Flint, made a forbidding trio of ship's officers, under Vere, as they judged Billy to be guilty. Ketelsen and Croft shared a lighter moment earlier, with their quasi-music hall turn, "Don't like the French," but even this buffo duet helped establish the tense wartime atmosphere in which Billy could be framed.
Another protagonist is the crew itself of the Indomitable and the Met chorus and supporting singers' contributions, coordinated by conductor David Robertson, made highlights of the scene-setting "O heave! O heave away, heave!" as the sailors worked; the spirited sea shanty "We're off to Samoa/By way of Genoa," the opera's answer to "Peter Grimes'" "Old Joe has gone fishing," kicked off by John Moore as Donald; the exhilarating "This is our moment,/The moment we've been waiting for," when the Indomitable seemed about to go into battle with a French ship; and the devastating wordless moan, with which his comrades mourned Billy, after the hanging.
John Cheek, the Ratcliffe of the Met premiere, returned as a rather low-key Dansker, loyal friend of Billy, most trusted of crew members, but more often depicted as more eccentric. Scott Scully was the louche Squeak, Claggart's cringing toady. Expressing affection more plainly than the principals do were Keith Jameson, as the novice, and Elliot Madore, as his supportive friend, in their warm "Come along, kid!" after the former was flogged. Jameson also had striking scenes with Morris' Claggart, who tried to take advantage of the novice's vulnerability and enlist him in his schemes, after Squeak had failed, having gotten caught—Jameson's novice lamented his task, to try to entice Budd to lead a mutiny, with "Why had it to be Billy, the one we all love?"—and with Gunn, attempting to tempt him to treason with shiny gold coins. Squeak and the novice both brought Billy to the point of stammering and, rebelling against his inarticulateness, lashing out as he would, fatally, later, against Claggart.
Also taking key assignments were Jeffrey Wells, resuming the role of the First Mate; Jeremy Galyon as the Second Mate; Keith Miller as the Bosun; Tony Stevenson as the Maintop; and Allan Glassman and Mark Schowalter as Red Whiskers and Arthur Jones, impressed from Rights o' Man at the same time as Billy.
Kudos to director David Kneuss, responsible for staging John Dexter's production this season.