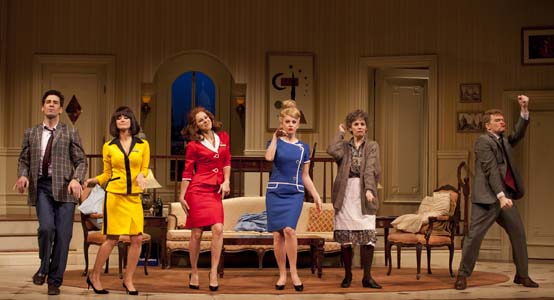 photo by T. Charles Erickson.
(left to right:) Matt Walton, Brynn O'Malley, Heather Parcells, Anne Horak, Beth Leavel & John Scherer

.......................................................................................................................................................................................
"Boeing-Boeing," now playing at Paper Mill Playhouse, was originally written more than 50 years ago by French farceur Marc Camoletti, yet it has a freshness that belies its memories of youth. One of Camoletti's first successes, it holds the Guinness World Record for most-performed French play. There are always people who feel that the laws of time and physics don't apply to them, until they realize it is truly just a matter of time. In this case, that person is Bernard.
Bernard (Matt Walton) has the world on a string. He's got not one, not two, but THREE fiancées! Talk about Big Love, except that none of these women knows about her "sisters." The only person who's constantly running to keep up is Bernard's French maid and housekeeper, Berthe (Beth Leavel). Bernard adores each one, and for him there's no issue–each of his women is an airline hostess—um, stewardess, um flight attendant—for a different airline. Gloria (Heather Parcells) works for TWA, Gabriella (Brynn O'Malley) works for Alitalia and Gretchen (Anne Horak) works for Lufthansa. Bernard has mastered the vagaries of the Official Airline Guide (OAG) to keep his life orderly and in sync. The OAG was the bible for travelers prior to the Internet and so it is for Bernard as well. Until Boeing introduces a super-jet and Mother Nature tosses some fine weather into a recipe for disaster.
Robert (John Scherer) is an old school buddy of Bernard's who takes him up on the offer to "look me up when you're in Paris," although it's twenty years or so since they last met. Bernard is feeling very hale-fellow-well-met, but the benighted Berthe, who has just gotten Gloria off the ground, is feeling like she cannot take on another project in Robert, since she's preparing for lunch for Gabriella, who will leave little time between her departure and the advent of Gretchen in the evening. If you're feeling stressed, imaging Berthe who must juggle photographs in Bernard's bedchamber and menus in her kitchen. And thus, the fun begins.
Walton's performance as the louche Lothario, whose lounge logic backfires so brilliantly, is physical, funny and, hey, he gets to kiss three beauties! There are slapstick moments and a few antics reminiscent of a '60s classics like "The Dick Van Dyke Show." Parcells' Gloria is a classic New Yorker, so even though times change, people-types don't really, and she's got some pretzel logic of her own. O'Malley's Gabriella is fiery and fraught with Italian-style derring-do. Her uniform is curvy and yellow, like a human Lamborghini, and she's every bit as fast. Her moods are mercurial and she'll keep any man on his toes! Anne Horak's Gretchen is pure Teutonic bliss, masterfully played and literally kicks butt and takes names. Like Bernard, Gretchen also kisses three people, but you'll need to see the show to discover the lucky recipients. Her characterization is spot on and hilarious.
The character actors, as always, are the ones who steal the show. Scherer's Hysterium, in Paper Mill's recent production of "A Funny Thing Happened on the Way to the Forum," was, well, hysterical–both physically and performance-wise. As Robert, he becomes a different kind of chameleon though both characters permit him to show the–um–softer side of both men. Vivid and creative, Robert is as adaptive as can be, which makes for a different kind of physical comedy. Also, Robert adapts to Paris very quickly, going "native" if you will by moving in on one of Bernard's many sweethearts.
The real treasure in this cast is Berthe. Beth Leavel's performance is arch, and the way she drawls and emphasizes certain words are sheer delight. Sometimes, Berthe is knock-kneed and looking like a giraffe getting a drink of water, while at another point, she resembles one of the watches in Dali's "Persistence of Memory," as she melts down into a bean bag chair looking like the love child of Carol Burnett's charwoman character and Tim Conway's Mr. Tudball. And the bloomers she wears under the dress are like Mary—as in "had a little lamb"—gone Gallic. She is the "French Chorus," rather than the usual Greek one, that comments on the proceedings and sometimes gets caught in the spinning wheel of the web her boss is weaving. She's been the linchpin and, when at last she goes, so goes the household.
"Boeing-Boeing" is at Paper Mill through February 12 and bring your coterie—French for "buddies"—and your loved ones. As with all airlines, seats are booking up. Tickets make great gifts so give an experience for your friends with Winter birthdays! Get them now by calling 973/376-4343, or at the Paper Mill Playhouse Box Office at 22 Brookside Drive in Millburn, or online at www.papermill.org. Visa, MasterCard, Discover, and American Express accepted. Groups of ten or more can receive a discount on tickets and should call 973/379-3636, extension 2438.