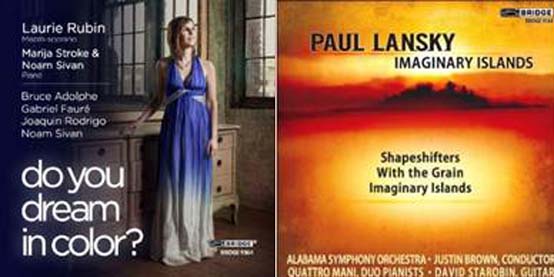 photos provided by Sherri Rase

CD Covers

.......................................................................................................................................................................................
Mezzo-soprano Laurie Rubin's latest Bridge Records release, "do you dream in color?," is initially an exploration of a question she is frequently asked. While that might come up in your conversations at home, as it honestly does in mine, the question is somewhat less surprising when you learn that Ms. Rubin has been blind from birth. This question springs forward in people's minds despite the fact that they have just heard her luscious rich voice and sharp clear diction in her concerts. The first piece in her latest release is her poem that ruminates on the question, set brilliantly by composer Bruce Adolphe. Accompanying Ms. Rubin through the eponymous keystone work, as well as the Joaquin Rodrigo and Gabriel Fauré selections that follow, is the deft piano partnering of Marija Stroke. There is nothing better for a singer than a close partnership with a pianist: both create more together, with the same score, than either could alone. The Rodrigo selections, setting poems from the 15th to the 20th centuries, are given even greater color by Ms. Rubin's clear as crystal diction. Those of us who know how difficult it is to truly achieve value it even more highly. The Fauré selections have a different kind of passion, the music is very French and the setting of Paul Verlaine's "Clair de lune" is an especial pleasure. The art song is an underestimated art form and under-represented in many ways, the selections here may remedy this paucity. The final grouping, Noam Sivan's settings of Leah Goldberg's poetry "In the Mountains of Jerusalem," is exotic and other worldly in its exploration of love. While the love of what or who is not clear, this permits the listener license to put very personal meaning on each part of the cycle. Ms. Rubin's effortless command of the entirety of her range makes listening to this album a continual delight, repeated listening opens new vistas and this is as it should be. This CD is available now where fine classical music is sold, fresher for that Easter basket than aging peeps.
Paul Lansky's "Imaginary Islands," also from Bridge, contains three mid-length works, the first of which is a concerto for two pianos and orchestra called "Shapeshifters." Featuring Quattro Mani—duo pianists Susan Grace and Alice Rybak—and the Alabama Symphony Orchestra, conducted by Justin Brown, this is a mighty piece with some sweeping, open American Copland-esque rhythms, through a post-Modern filter. The broad expansiveness is punctuated by the grace notes of piano dueting, and sometimes doing battle, with different sections of the orchestra developing an energy that pulses through each movement. "With the Grain" is a concerto for guitar and orchestra featuring David Starobin on guitar. Developing metaphorically, each movement takes the name of a particular type of figured wood, such as in the first movement, "Redwood Burl." Colorful and evocative, the names paint watercolor pictures that have texture and life. Each grain has a different bit of complication that makes it interesting, or tuneful, vibrating the ear as much as the strings. Like beachcombing, the orchestra begins, the guitar overtakes and then they continue the adventures together. The thread of the album takes us from dreams that take different forms through grain and patterns that develop into the final, title selection, "Imaginary Islands," where the orchestra simply shines. Does this piece catalog the development of an isle of imagination or was it merely discovered? Either way, this will be a great post-tax time recording to curl up with on the rainy April days to come. There is a sound of seafaring to me that lends itself to the idea of the island being discovered, as when something is discovered it is easier to share. There is also a sound of wonder as well as energies and existences bigger than you or I and with greater magnitude that bring to mind the grand scheme includes us all. This CD culls the gems from the premieres on May 22 and 23, 2010 and was released earlier this month. It is available on Amazon and wherever fine classical CDs are sold.