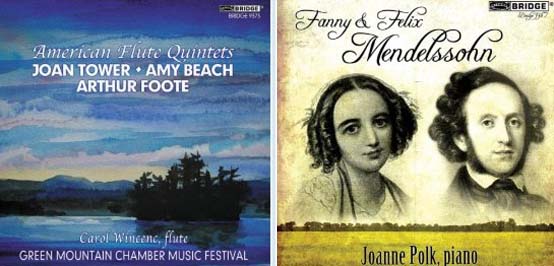 CD covers
.......................................................................................................................................................................................
New releases of well-known and little known works provide great delight post-Solstice in new releases from Bridge Records. Open up some space on that iPod, kick back, and listen to some brilliant work and equally stellar performance.
If piano is your forte—pun intended—then you may consider giving Joanne Polk's latest Bridge release a taste. "Fanny and Felix Mendelssohn" contrasts both composers' Sonatas in G minor, as well as the Prelude and Fugue of each, before considering Fanny's Largo and Allegro di molto movements and, finally, her Prelude and Toccata.
Some of Fanny's Lieder ohne Worte (songs without words) and other songs were published under Felix' name, since it wasn't lady-like to compose. Felix later had to confess to the Queen of England that her favorite of "his" songs was actually one of Fanny's. Here is an opportunity to listen to the G minor Sonata of each composer side by side–Felix's from early in his writing, Fanny's a more mature and bravura work, but then hers came about 20 years after his and represents a much later style of work. Beethoven was one of Fanny's favorite composers and some of his strengths inspire hers. Nonetheless, there are striking similarities in the approach of the siblings, even though they were working quite removed from one another.
The Prelude and Fugue works are also delicious in comparison. J.S. Bach's works were enjoying a renaissance, nearly a century after his death, and his work provided inspiration in the siblings. Felix was broader in his interpretation and application of Bach's principles, while Fanny was much more devoted to observing the conventions Bach had put forth. Their subjects are similar, but their treatments are very different and, were it not for this inspired juxtaposition, only musicologists and pianists like Polk would know this.
Seguing then to sisterhood, Polk takes up some of Fanny's most beautiful works, programming the serene Largo before returning to the flavor of Bach with both the Allegro di molto and the finishing touch–the Prelude and Toccata. Polk's deft harmonic touch brings such shape to these pieces that they feel like a conversation or a song where emotions are laid bare. The phrasing and harmonics build with a different kind of passion and one could only imagine what Fanny's contribution may have been if she had the support that women do today. The Bach-esque pieces will be great companions on days of summer showers, even as leaves turn gold and red into fall.
"American Flute Quintets," featuring flautist Carol Wincenc, brings part of the Green Mountain Chamber Music Festival into your own back yard. Joan Tower's recent composition "Rising" leads off. Tower has written several works for Wincenc's virtuosity. Tower uses different types of scales to keep the rising line interesting, as well as variations in timing and the expression of the phrases that stretch, expand, and contract the music, keeping tension and resolution in an uneasy balance through the climactic resolution. Arthur Foote's early 20th century "Two Pieces for Flute & String Quartet" leads with the contemplative "A Night Piece: Andantino languido," whose violin melody tugs at your heart strings, even while the flute gambols like moonlight. Foote's lighthearted composition has a New Age anticipation in the flute line, and then the strings take up the joy. The string quartet on this recording includes Kevin Lawrence—also the Artistic Director—and Carolyn Stuart on violin, Sheila Browne on viola, and Brooks Whitehouse on cello. They all play with such sensitivity to the music and to one another that the experience of listening is effortless. "Scherzo" is playful, like a game of tag among the instruments, yet with a bit of a minor key folk song stirred in for flavor. Truly perfect listening for a balmy evening. Amy Cheney Beach's "Theme and Variations, Opus 80" is a masterful programmatic choice. Now that the musicians have flexed their musical muscles for us, each gets an opportunity to shine, as Beach mines one of her own melodies, "An Indian Lullaby," for the string quartet, while the flute gets a special theme. The cello then takes up the theme to explore before shopping it around the quartet. The finale brings everything back together and don't we all want life to be as neatly wrapped as this quintet's finish?
The recordings are now available wherever fine classical recordings are sold. Interested in knowing more? Check out www.BridgeRecords.com.