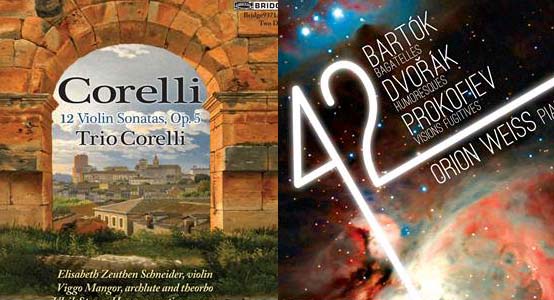 photo submitted by Sherri Rase

Bridge CD covers

.......................................................................................................................................................................................
Bridge Records, a label that specializes in fresh looks at familiar works, as well as pioneering new ones, has two recent releases are perfect for this sunny and rainy late spring time. While many of us would say "I have enough music," as in "I have enough friends," in both cases it is just not true. "Hear" what I mean:
If you're like me, Baroque music on a rainy day echoes the patter of the rain on the leaves and enlivens a potentially gray day. Trio Corelli's February 2012 release of 12 Violin Sonatas, Opus Five, is just the treat for these days in May that seem to have been borrowed from April. Trio Corelli consists of Elisabeth Zeuthen Schneider on violin, Viggo Mangor on archlute and theorbo—a Florentine lute originally designed to accompany voice—and Ulrik Spang-Hanssen on continuo organ. The violin takes the melody line, as a singer would, and it is common for the theorbo to share musical embellishment with the reedy voice of a positive or continuo organ. The texture of this selection of instruments is, again, well suited to days of rain or dappled sunlight and would be excellent companions on a brisk walk on the High Line or a roll through Central Park. The sharing of dynamic presence among these three artists is delightful to hear and the music is sublime. Considering that Johann Sebastian Bach studied Arcangelo Corelli's work, you get an idea of the mastery of form and melodic design of these works. Heard together, they make for about two hours of inspiration, whether you are fleeing from a long, hot commute or marshaling your forces to explore the Chelsea Market. The energy on Sonata 12 in D minor or "La Folia," is one of the chamber sonatas that is particularly evocative of Corelli's depth and explains why musicians still speak of the changes he brought to writing and playing music. "La Folia" is energetic, contemplative and full of dynamic power. Playful at times, deep and pensive at others this is an excellent acquisition for your summer listening.
"Orion Weiss in Concert" has a most interesting cover. Young virtuoso pianist Weiss has been making a splash for some time now, with numerous accolades to his credit, and if you're unfamiliar with his work, this CD is a brilliant introduction. The number "42" appears prominently on the cover and, while many of us know that 42 is the answer—to Life, the Universe and Everything, according to Douglas Adams—it is at first a mystery why the numerals are floating in space. Then, rewarded by opening the program notes, it becomes clear there are 42 total pieces among the works of three of the most dynamic composers of the early 20th century. Antonin Dvořák's works are from the later part of his career, Humoresque, Opus 101 first, Number Six Poco, allegretto, then Number Five, vivace, are played with great deftness, as if the keys are encoded with something like Braille that Weiss extracts with skill, wiles, and charm from the keys, as he treats the Steinway in fine way from the brilliant beginning. He ségués, then, to Sergei Prokofiev's Visions Fugitives, Opus 22. Based on poetry by Russian poet Konstantin Balmont, these short pieces range through the canon of 20th century expression through dissonance, technique, theory, and more. If you ever have a situation where you need vaguely quoted "circus music," choose X. Ridicolosamente. If you want something that seems to foreshadow a fragment of the theme from "An American in Paris," look no further than XVIII. Dolente. Shades of Schoenberg are heard in some of the attack sections, strong rhythms yet retaining Prokofiev's sense of tone and scale. Punctuated by another round of Dvořák's Humoresques, this time Numbers Two, Three, and Four, Weiss provides something so different that, even while enjoying it, our previous experience indicates something further to come. Recall that even though "humor" means something comic to us post-Modern types, the body was once thought to have four humors–blood, black bile, yellow bile, and phlegm. These pieces reflect that sense of the word–the moods that are plumbed range the way the shadows of clouds do across a plain, and Weiss is Orpheus stroking keys rather than plucking strings. 14 Bagatelles by Béla Bartók are next under Weiss' expert hands, and each reflects Bartók's perspective of that early 20th century sound. Each of these composers–Prokofiev and Bartók more toward the beginning of their creative tenure, Dvořák toward the end–brings a different perspective that displays Weiss' skill as he plays chameleon-like among the styles each composer requires. The final set of Humoresques ties this collection up neatly and lovers of piano music will find this makes for a lovely gift–Dads and Grads are both looming in June.
Visit BridgeRecords.com for more information about these recordings as well as their joyfully diverse catalog. Now's the time!