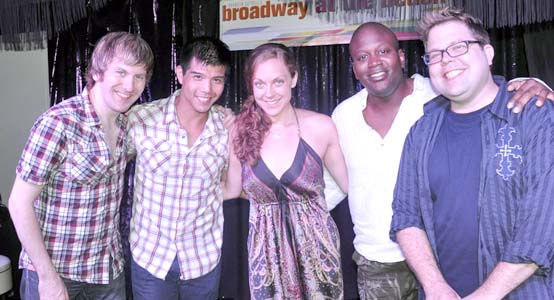 photo by Bruce-Michael Gelbert

(left to right) Joshua Stephen Kartes, Telly Leung, Rachel Flynn, Tituss Burgess & Brandon Cutrell

.......................................................................................................................................................................................
The presence of favorite performers Telly Leung, Tituss Burgess, and Poppi Kramer, on July 16, demanded a midseason review of Brandon Cutrell's music theatre show, at the Ice Palace, "Broadway at the Beach." Terrific pianist Joshua Stephen Kartes was at the new Privia piano and DJ Chuck McTague was responsible for sound and lights.
Brandon began with a rousing opening number, singing "I see what I wanna see,/I know what I wanna know," and Joshua played and sang "Nowadays," from "Chicago," with the line "There's men everywhere" repeated more times than we remember it from seeing the musical on Broadway. Later, Joshua obliged with an amazing musical improv on themes from requested shows "Aida," "Evita," "Chicago," "Annie," "Ragtime," "Hello Dolly," and "Wicked."
Fresh from a run of "Godspell" on Broadway and going into "Allegiance," with George Takei and Lea Salonga, about Japanese internment camps, in America, during World War Two, sweet-voiced Telly started with Irving Berlin's "Let me Sing and I'm Happy," and "One Thousand Kisses," from "Rent," and closed the evening in style by singing "All Good Gifts," his song from the Stephen Schwartz musical, and accompanying himself in a tribute to Whitney Houston ("I believe in you and me").
Virtuoso singer Tituss ("The Little Mermaid," "30 Rock") offered dynamite, heartfelt accounts of "King of the World" and, with Jesse at the keyboard, "Meadowlark."
Poppi held forth about turning 40 and having been on TV reality show "The World's Biggest Loser" and, claiming "I sing everything in the key of B—ea Arthur," treated us to her version of "Poor Unfortunate Souls," from "Little Mermaid," as "Poor Unfortunate [Ho]Mos," concerning giving gay men advice on grooming, sex, and so on.
Stonewall Sensation Rachel Flynn opened with an intensely emotional "You Oughta Know" and a childlike "No-one else will ever love me," and continued later with "Astonishing" and "How do I get you alone?" Eric Lajuan Summers sang sensitively of "Ordinary People" and musically queried, "How could I ever know?" Past Stonewall Sensation Ashton Parson charged, "You got me begging you for mercy," and continued, with feeling, with Lady Gaga's "Yoü And I," followed by "Criminal."
Ariel Sinclair addressed a number to a bound-and-gagged Todd—talk about taking the expression "eat your heart out" literally!
From the open mic list came Joshua Potter, formerly of the cast of "Mary Poppins" and currently running cleaning service Buff Maid, urging, optimistically, "Say Yes;" Dan Michel, from Davenport's, in Chicago, on "The Teenage Dream;" and this writer and baritone, with "All the Things You Are."
Brandon led us in singing "Happy Birthday" to Mike Cruz; taught us the imperative phrase "urban it up," which I'm not even going to try to explain; and sang a bit of "Old Man River."
Catch Brandon and Joshua and company on Mondays at 9 p.m. at the Ice Palace. Ray Fellman returns to play at the "Broadway at the Beach" season finale on Labor Day.