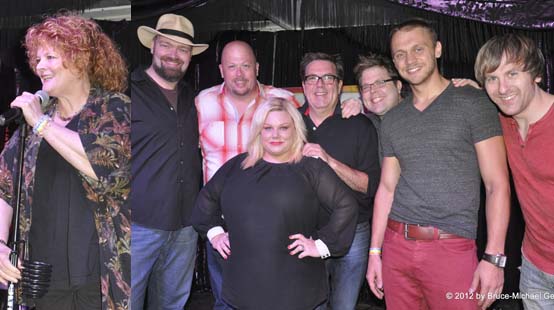 photos by Bruce-Michael Gelbert

(left to right)Sarah Rice, Ray Fellman, Kenny Holcomb, Carly Jibson, Kevin Meaney, Brandon Cutrell, Matt DeAngelis & Joshua Stephen Kartes

.......................................................................................................................................................................................
The seventh season of singer Brandon Cutrell's "Broadway at the Beach," at the Ice Palace, concluded on Labor Day and featured not only the welcome return of its founding Music Director Ray Fellman, but also, for the third consecutive season finale, of soprano Sarah Rice, the original Johanna of "Sweeney Todd," both of whom helped make this a truly gala occasion.
Brandon and Ray set the tone for the evening with "I Wish I Could Go Back to College," from "Avenue Q," and Alanis Morissette song "One Hand in My Pocket," in Ray's arrangement. Kenny Holcomb followed a torchy "Cry Me a River" by exhorting "Don't Cry out Loud" and breezily philosophizing that "That's Life."
Sarah Rice flirtatiously admitted, "I Could Be Happy with One Little Boy if there Were no Others Around," from "The George White Scandals of 1919," and ended with fickle Zerbinetta's cadenza from "Ariadne auf Naxos," as befit the sentiment of the song. She played a melancholy selection on the theremin, which she had brought with her, and gave Brandon a lesson in playing the eerie-sounding electronic instrument. She also sang "Nella fantasia" (In my fantasy, I see a just world), with music by Ennio Morricone and Italian words by Sarah Brightman, which she has been singing at gay weddings, and ended it with a gleaming piano high B-flat.
Emmy Award-winning comic Kevin Meaney suggested that he and Sarah Rice bring the theremin to the Meat Rack to make spooky sounds there; talked of taking family vacations with the dog tied to the roof of the car; described his coming out to his wife by singing "I Am What I Am;" sang "The Coffee Song" ("There's an awful lot of coffee in Brazil") as a duet with a recorded Frank Sinatra; and offered impressions of the singers in the original "We Are the World."
Cathy Jibson ("Hairspray," "Cry Baby") conquered "Good Morning, Baltimore" in a higher key than she expected; confessed that "There Are Worse Things I Could Do," from "Grease;" and emoted in "Make You Feel My Love" and "Piece of My Heart." Matt DeAngelis ("American Idiot," "Hair") sincerely reassured that "I'll Be Here;" dramatically urged "Pity the Child," from "Chess;" and pulled out all the stops in "Lost in the Wilderness," from "Children of Eden."
Joshua Stephen Kartes, who had served as pianist for most of this "Broadway at the Beach" season, assisted Robbie Neigeborn in channeling Judy Garland singing "The Man That Got Away;" sang "Fly Me to the Moon" jazz style; and improvised a medley of themes from "The Sound of Music," "Urinetown," "A Little Night Music," "West Side Story," "Once on This Island," "Ragtime," "Evita," and "Wicked." Ariel Sinclair became Norma Desmond, dazzling "With One Look," with interpolated quotes from Gloria Swanson from the film "Sunset Boulevard," and in tribute to Sandi Patty, took us to church with "Make His Name Glorious." This writer's "All the Things You Are" helped round out Brandon's dynamite season finale.